PROGRAM OVERVIEW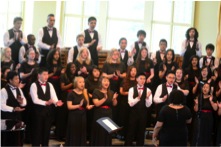 The DMCI Music Program is designed for any student in any grade with a desire to learn more about singing or playing a musical instrument. The courses are designed to appeal to a diverse student population. The program fosters a love of music from many cultures, time periods, and genres while enabling students to learn and fluently use musical notation, sight reading, and listening skills. Participation in music courses encourages leadership, responsibility, teamwork, confidence, inter-personal relationships, and fosters a sense of community within the school. The mission of the Music Program at DMCI is to equip students with musical and personal skills that will prepare them for a productive and fulfilling life.
COURSES
CHOIR10G, 20G, 30S, 40S | MCCR 1G, 2G, 3S & 4S – 1 CREDIT EACH
Choir rehearsals are scheduled three periods per cycle, and students must attend both semesters to earn a credit. Students will study correct breathing and vocal techniques to enable the successful performance of choral repertoire. A wide variety of musical styles from different cultures, historical periods and languages will be presented for rehearsal and performances. Choristers are required to attend all performances.
BAND 10G, 20G, 30S, 40S | MCBR 1G, 2G, 3S & 4S – 1 CREDIT EACH
Concert band rehearses every second day throughout the entire year, and is offered in two different slots to allow for all band students to make it work in their timetables! Students will develop their musicianship through rehearsal in an ensemble setting. Students' musical skills and knowledge will grow through performing a variety of concert band literature, music theory, individual studies and group projects. Members of the band will participate in school concerts and festivals. Pre-requisite: Previous experience playing in concert band (or permission granted by teacher).
CHAMBER CHOIR 20G, 30S, 40S | MCER 2G, 3S & 4S – 1 CREDIT EACH
DMCI's Chamber Choir is an auditioned mixed vocal ensemble with between 16 and 24 singers. Singers in the Chamber Choir are vocally challenged through advanced level singing and complex harmonies from choral music from Medieval Period up to Twentieth Century and atonal compositions. Singers learn to work in small groups (sectionals) and become leaders within the group. Choristers also get many chances to work with professional conductors and guest adjudicators from throughout North America and Europe. Chamber Choir members are also members of the Concert Choir. Co-requisite: Choir
VOCAL JAZZ CHOIR 10G, 20G, 30S, 40S | MVJR 1G, 2G, 3S, 4S – 1 CREDIT EACH
Vocal Jazz rehearsals are scheduled three times per week after school. Enrollment is limited to choir members who pass the entrance audition in September. Students will learn repertoire representing a variety of jazz styles, including swing, Latin, ballad and pop, and be required to demonstrate good microphone technique and dynamic stage presentation. As this group is in great demand for performances at a variety of functions, students must be prepared to participate in a busy performance schedule. Co-requisite: Choir
JAZZ BAND 20G, 30S, 40S | MJBR 2G, 3S, 4S – 1 CREDIT EACH
This course is for students who like to challenge themselves and their musical development by playing a variety of jazz repertoire in a big band ensemble. The jazz band rehearses twice per week after school and performs in a variety of styles including swing, Latin, rock, ballads and funk. Focus will also be placed on learning basic jazz improvisational skills, collaboration to create original songs and jazz history. Co-requisite: Registered in Band 10G, 20G, 30S or 40S
JAZZ IMPROVISATION 40G | MUIR 4G – 1 CREDIT
This course is designed as an intensive study in the process of jazz improvising. Students will learn the necessary skills to create improvised solos in a variety of jazz styles. These will include a combination of jazz theory, ear training, and improvisational techniques and games designed to allow for spontaneous musical expression. Co-requisite: Registered in Jazz Band or Vocal Jazz (or permission granted by instructor).
PIANO 20G, 30G, 40G | MPIR 2G, 3G & 4G – 1 CREDIT EACH
This program is designed for students who have little or no formal training on piano. Students learn basic music notation and the skills required for playing simple to intermediate level piano repertoire. Home practice is not required, since students can do all of their practicing at school. All piano students are required to perform at the final recital. PIIY2G is a pre-requisite for students with no previous instrumental experience who wish to join the band program.
GUITAR 20G, 30S, 40S | MGUR 2G, 3S & 4S – 1 CREDIT EACH
This course is designed for students with little or no formal training on guitar. Students will learn the skills required for playing simple to intermediate level guitar repertoire and basic accompaniment styles. These skills will include basic levels of reading music staff and TAB notation, chord shapes and chord progressions, strumming patterns, scales and finger picking.
MUSICAL THEATRE 21G, 31G, 41G | PMOR 21G, 31G, 41G – 1 CREDIT EACH
Students involved in the annual school musical may receive a half credit in Musical Theatre. Vocal, Instrumental, Dance, Drama, Art and Technical support are the components that make up this program. The program runs outside the regular timetable, allowing students to maximize their course options. This is a wonderful opportunity to become actively involved in one of DMCI's most exciting events.