Physical Education
February 4, 2021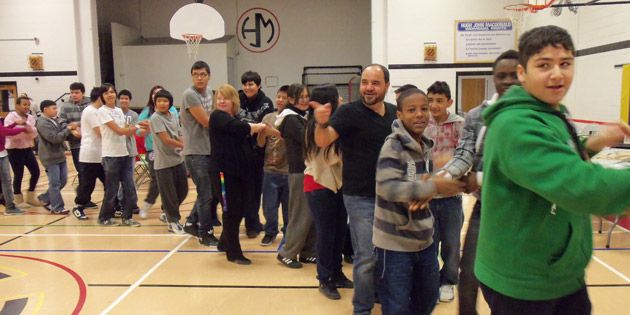 The Physical Education program at Hugh John Macdonald consists of four areas: 
a)  Instructional Program - Phys. Ed. and Health
b)  Intramural Program
c)  Interscholastic Program
d)  Sports Option

Instructional Program
It is an expectation that ALL students are properly dressed for the physical education classes. Students must wear either shorts or sweat pants and runners with soles which will not leave marks on the gymnasium floor. Students are required to change for classes and participate in all activities. Hugh John Macdonald's shorts, T-shirts, sweat pants can be purchased at below cost by all students for usage during Phys. Ed activities.

Excused participation from Physical Education classes can only be granted if the request comes from the student's doctor in the form of a medical note. Parents are requested to contact the school by phone if their son or daughter has an injury or a condition which will limit their Physical Education activities. Messages may be left with the school secretary who will forward the information to the appropriate teacher. These requests MUST be followed with a doctor's certificate.

It should be noted that Physical Education is a compulsory program for all students. Additionally, Grade 9 students require the credit for High School graduation. In other words, a student CANNOT graduate from Grade 12 if they have not successfully completed Grade 9, 10, 11 and 12 Phys. Ed. The grade 11 and 12 Phys. Ed requirements have been mandated by our provincial government as of the 2008-09 school year.

Intramural Program
The intramural program offers students the opportunity to play or participate in activities during the noon hour. The program allows students to participate in activities parallel to the interscholastic activities but at a less competitive level. A wide range of fun activities is provided. It is expected that students involved in the intramural program are regular attendees in the Phys. Ed. program.

Interscholastic Program
The interscholastic Phys. Ed. program is a competitive program. Students may be selected to represent Hugh John Macdonald in competition with other schools in the following areas:

Cross-Country Running  
Baseball
Volleyball   
Outdoor Track
Basketball  
Soccer
The Interscholastic Phys. Ed. Developmental Program encourages student participation and skill-building. If numbers warrant, students may be part of a Developmental Team.
Student Athletes
Those students who are selected to represent Hugh John Macdonald on an interscholastic team must remember that they are students first. Therefore, student athletes are expected to:
attend school daily and be on time.
behave appropriately in classes, hallways and during all school activities.
complete assigned class work to the best of their ability.
train with the cross-country or track team.
Athletic Awards
The Physical Education staff and coaches acknowledge those students who excel in a particular sport, who provide leadership and display good sportsmanship. These awards are granted to individuals or teams. Those teams who qualify for the finals in any sport are recognized by the Winnipeg School Division. 
Each year, the Physical Education staff and coaches select the outstanding male and female athlete of the year. This is the highest honour awarded in the sports program.