WSD Submission to Manitoba's Commission on Kindergarten to Grade 12 Education
April 25, 2021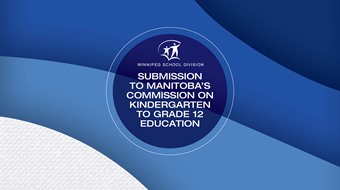 WSD Submission to Manitoba's Commission on Kindergarten to Grade 12 Education.pdf
Executive Summary
SECTION 1: Long Term Vision
SECTION 2: Student Learning
SECTION 3: Teaching
SECTION 4: Accountability for Student Learning
SECTION 5: Governance
SECTION 6: Funding
Winnipeg School Division's Recommendations
References
Appendix A
Appendix B
EXECUTIVE SUMMARY
Winnipeg School Division provides a learning environment that fosters the growth of each student's potential and equitable opportunity to develop the knowledge, skills and values necessary for meaningful participation in a global and diverse society.1
With this purpose in mind, as a key stakeholder in public education, representing over 33,000 students and over 5,000 educators and staff, Winnipeg School Division welcomes the opportunity to respond, on behalf of WSD staff and students, to Manitoba's Commission on Kindergarten to Grade 12 Education.
This document and the WSD Indigenous Blueprint are complementary documents to the submission by the Winnipeg School Division Board of Trustees.
Winnipeg School Division's submission responds to each of the requested areas of focus, provides insight to how Winnipeg School Division has addressed those areas, and presents "bold recommendations to ignite change within existing systems, structures and programs, which inspire excellence in teaching and learning."2
In depth commentary on each of these sections is included in the full analysis.
STUDENT LEARNING
WSD has high expectations for student sucess, but conditions required are many and varied. External factors to education – like poverty and mental health – are remarkably influential on the outcomes of students. Consequently, it's important that they are acknowledged and addressed appropriately. WSD has implemented numerous programs in an effort to address these external factors, but the K to 12 education system requires greater support and guidance moving forward.
Similarly, early learning initiatives have an enormous impact on students' future learning. Manitoba's K to 12 education system has yet to take advantage of these long-term gains. Extensive research supports their benefits and is the reason the WSD has, and continues, to operate a considerable number of early childhood learning initiatives.
Winnipeg School Division is committed to inspiring students to achieve academic success, reach goals and enter the workforce. Preparing for the workforce is an important outcome of education and through WSD career development, students learn their own strengths and interests.
Through a variety of curriculum choices, programs and events, Winnipeg School Division students are able to explore possible future career options. WSD partners with organizations and businesses to monitor the labour market for Winnipeg youth and provide the tools, technology and skills they need to lead to meaningful careers.
In the early 1990's, WSD created the School-to-Work initiative to promote career education to all schools at all grade levels across the division. School-to-Work Transition Education helps students learn the competencies they need, lifelong, to be healthy, self-reliant and resilient citizens, able to find work they love in times of constant workforce change. The program includes four main areas: curriculum relevancy, skill development, career building and world of work awareness and readiness.
Excellence looks different for every student and the K to 12 education system must support students with programs and services that are equally diverse.
TEACHING
Teacher training and recruitment require more attention in the K to 12 education system. Teachers should be prepared for the diverse learning needs of students in the classroom. Their training needs to emphasize in-classroom performance and should be supported by more input from teacher mentors and school divisions.
Teacher shortages – especially for language teachers – has led WSD to host a week-long event for new graduates each year and the development of the 'Build from Within' program. A system-wide effort is required to recruit teachers and to attract others to the teaching profession.
Moreover, teacher and school leader roles have changed over time and additional structures are required to support them so they can support students. WSD has excelled in this regard; providing leadership and professional support training along with strategies to help remove some burdens that inevitably fall on to teachers and school leaders.
Teachers and school leaders will also benefit from more support in harnessing technology to improve student learning and in developing home-school relationships. WSD, for example has been using a digital portfolio application (SeeSaw) to foster the relationship between students, parents and teachers and to encourage engagement.
Support services are also critical for the success of students. WSD is a leader in this area, from piloting large-scale clinical support programs to providing the extra support required for students with exceptional needs that are not identified by the province. All students should be able to access these kinds of programs throughout the province, and support services should be reviewed accordingly.
ACCOUNTABILITY
There are several forms of accountability that may be used in the K to 12 education system, some of which may misrepresent actual student acheivement. Certain accountability frameworks are designed to ignore external factors to education that influence student learning.
Consequently, policymakers must be cautious when implementing accountability and need to rely on the available research. Accountability systems should be comprehensive and balanced. Accordingly, relevant and contextual information needs to be presented alongside the reported accountability measures. WSD for example, has used several forms of accountability including; standardized assessments, student, parent and community surveys and a continuous improvement framework, among others, and has seen positive results.
GOVERNANCE
With past reforms in Canada, the presumed benefits of improved financial and operational efficiency have not materialized. The continuous issues in the Toronto District School Board are one example of the long-lasting difficulties that can be caused by government reforms. Caution should be exercised when considering education system reforms.
The role of school boards in the K to 12 education system is to represent the community voice. Community input is an integral part of the education system and local divisions are best positioned to gather that input.
WSD uses community input when developing divisional and school plans, and division budgets, among other things. Community engagement is greatest when the discussion is regarding possible reductions of services or programs. It is important, however, that this local effort remains. Parents and community members should feel comfortable in order to engage in a conversation and having a strong relationship with their local school or division helps foster this voice.
FUNDING
The K to 12 education system requires an equitable and stable funding model that is based on student needs and reflects the demands of the current environment.
Manitoba, and Winnipeg specifically, is home to some of the highest levels of poverty in the country. Within WSD boundaries, there is a significant number of low-income households, and a growing number of newcomers and refugees. Improved collaboration between Manitoba Education and Training, other government departments and external agencies is required in addressing issues that are factors in education which lead to long-term gains. This could include shared services and procurement models among divisions for cost savings. Funding gaps must be addressed, and the entire funding system reviewed.
INTRODUCTION
Since 1871, Winnipeg School Division (WSD) has been a catalyst for public education for many students. Currently, the division operates 78 schools. WSD collectively teaches approximately 33,000 students annually representing approximately 17.5 percent of the total students enrolled in Manitoba. WSD is home to a wide variety of programming for students including Nursery to Grade 12, alternative programming, advanced programming, language programming and special education for students with exceptional needs.
Winnipeg School Division is the most culturally and socio-economically diverse division in Manitoba. WSD is committed to a vast array of programming and initiatives that allow students to continue lifelong learning and enrichment. WSD offers support and services for adolescent parents to succeed as parents and learners. New Canadian families and students from a variety of diverse cultures are supported with programming to help ensure success in WSD schools and communities.
WSD's many graduation initiatives, including Indigenous Graduation Coaches, Morningstar and Student Success Initiative, have demonstrated enhanced student achievement and graduation rates. For example, WSD graduations rates from 2006/07 to 2012/13 rose from 64 percent to 80 percent – a 16 percentage point increase compared to province-wide seven percentage point increase during the same period.
Student wellness, safety and development are priorities that are evident in programming such as school therapy and counselling services. WSD is a leader in LGBTTQ+ and human rights and continues to excel in these areas.
Based on our long history and as leaders in provincial education, we welcome the opportunity to respond to the Manitoba's Commission on Kindergarten to Grade 12 Education.
We encourage the Manitoba Commission on K to 12 education to prioritize students and maintain focus on supporting them sufficiently.