Vision and Mission
July 25, 2022
Lord Roberts Mission Statement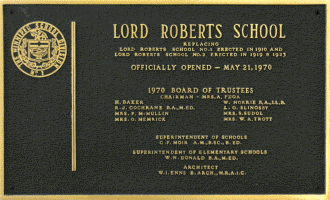 Lord Roberts Community School is an inclusive environment in which children are enabled to reach their greatest learning potential and to become responsible citizens.
Lord Roberts Vision
There is mutual respect, honesty, responsibility and co-operation among the school community. The environment is a safe, inclusive and inviting place which promotes student learning. Curriculum and instruction meet the needs of all students. Students are equipped with skills which enable them to apply their learning to the world around them. All students are equipped to use technology and research skills in the pursuit of life long learning.
Lord Roberts Community School provides an environment in which children are empowered to reach their greatest learning potential, to recognize the value of diversity and to become active participants in their local and global communities.
Lord Roberts is a nursery to grade six elementary school in Winnipeg School Division. Our school takes pride in being a strong community of learners who work hard, play hard and celebrate together along the way. We are unique for our inclusive special education program which serves students with a variety of disabilities and needs from throughout the division.
Lord Roberts provides many opportunities for students to maximize their individual potential and become active citizens in society. We have a strong academic program as well as a number of extracurricular activities such as Book Clubs, Game Clubs, Choir, Sports and Gardening.
Lord Roberts has a Daycare, a Breakfast and Lunch Program as well as an active Parent Council. With over 50 staff members, community volunteers, and strong parent involvement, the students of Lord Roberts School are surrounded by encouragement and support throughout the year.
At Lord Roberts School, we have PRIDE IN SELF, PRIDE IN SCHOOL, and PRIDE IN COMMUNITY ... GO LORD ROBERTS LIONS!!