WSD top choice for international students
October 4, 2023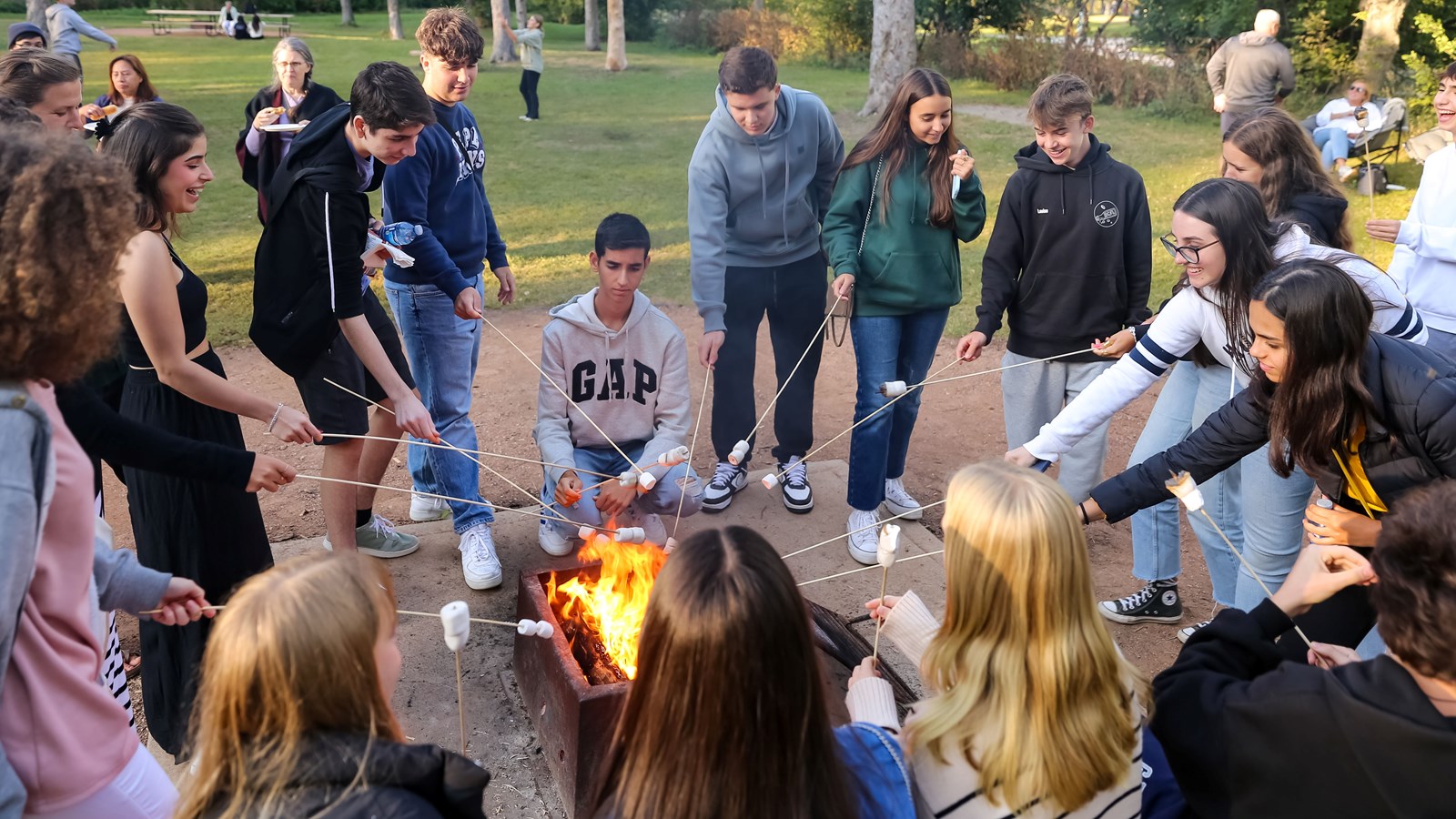 Winnipeg School Division's International Education Program has recently welcomed 84 international students from 20 countries around the world to study in our schools.
"From airport pickups and homestay family arrangements, it's been a busy and exciting time," said program supervisor Aaron Benarroch. "These students are all eager to experience the diversity of programming we offer in WSD as well as immerse themselves in Canadian culture."
On September 8, all international students gathered at the International Education Program head office for program orientation and expectations, as well as how they can make the best of their time in Winnipeg. Topics like food, how to dress for the weather, ideas on what to do and discussing some cultural differences that they may experience during their stay.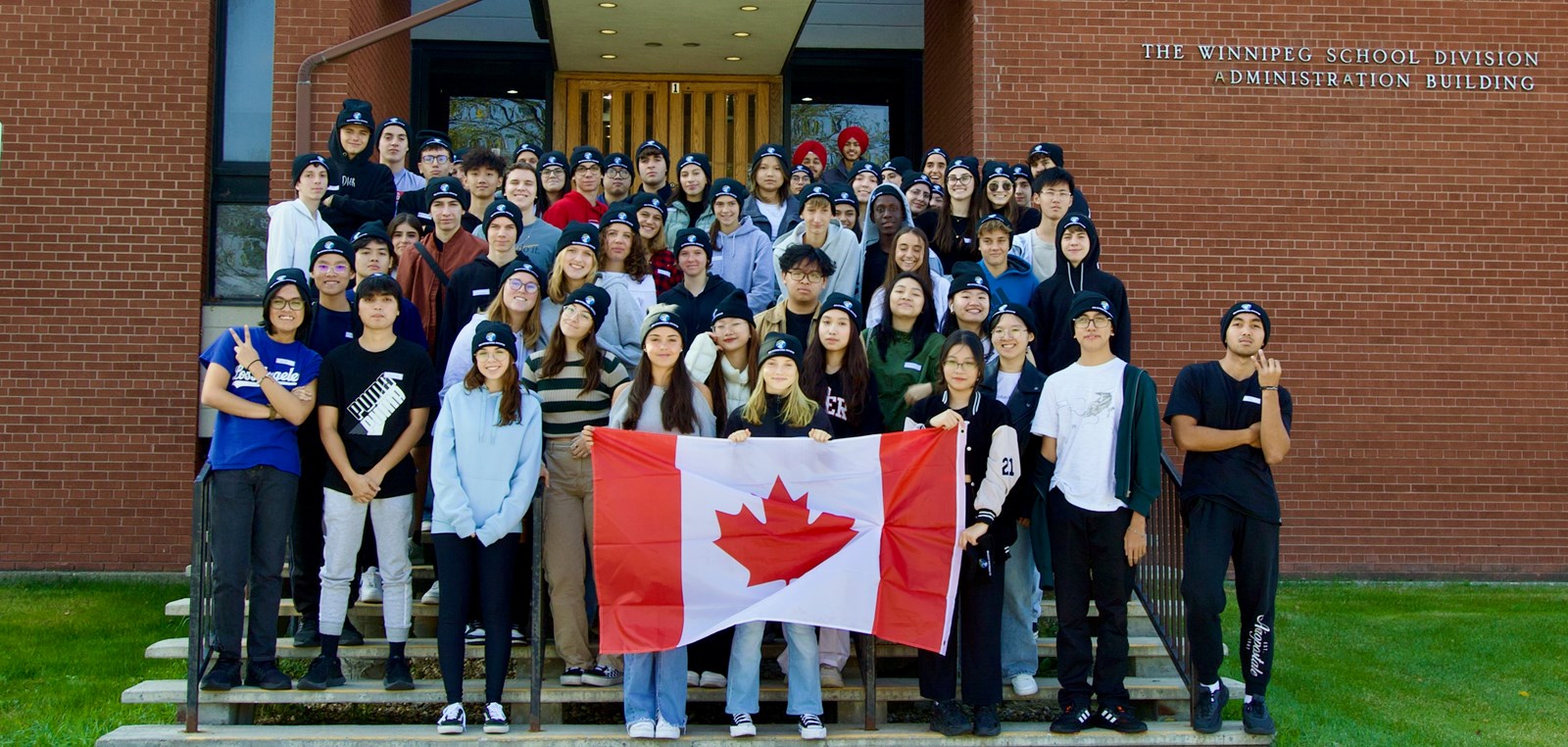 International students pose for a group shot with the Canadian flag wearing their new toques from the WSD International Education Program
For one student, it was surprising to not see bidets in the bathrooms, another shared how thrilled they were to see the diversity of their school and how friendly everyone has been during their first few days of class.
"Canada is like the most multicultural country that I've been to in my life. In Winnipeg, I see people from every part of the world, it's amazing and cool and it's so different," shared Sofia, a Grade 11 international student from Brazil.
This year, students have made the journey to Winnipeg from countries such as Bangladesh, Belgium, Brazil, Chile, Germany, Haiti, India, Iran, Italy, Latvia, Mexico, Pakistan, China, Peru, Philippines, Rwanda, Spain, Sweden, United States, Venezuela and Vietnam.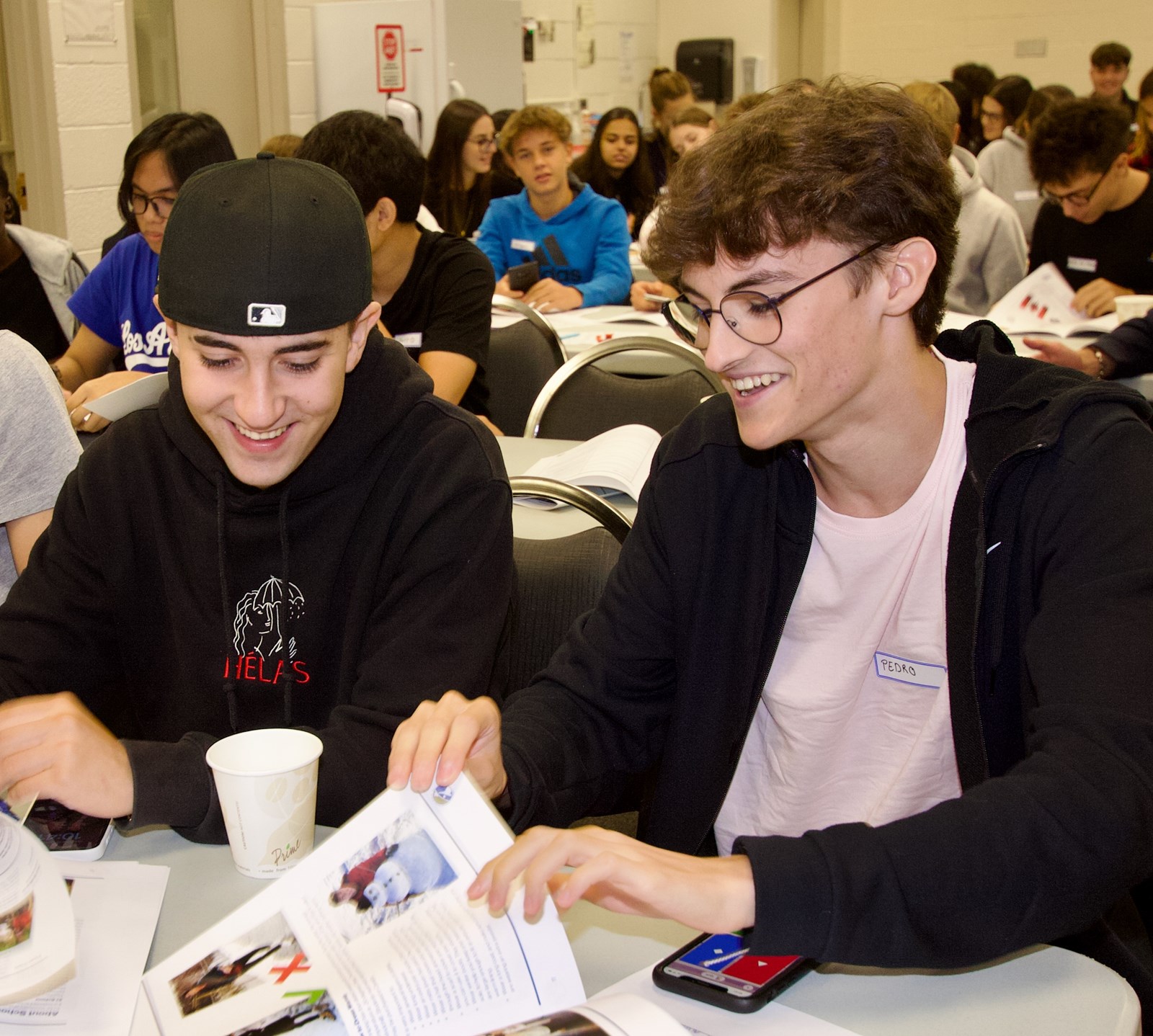 International students reviewing the program orientation booklet
International students choose to attend Winnipeg School Division for many reasons, including to prepare for university in Canada, to learn about Canadian culture and values, and to improve their language skills. They are adventurous students who add value to our school experience and to our communities.
International students either stay with family members, or, the program will provide a homestay family. Homestay families provide a safe and welcoming home for students. For many homestay families, hosting an international student brings exciting new learnings about diverse cultures, plus a lifelong connection in another country if they travel or work abroad.
"Becoming a homestay family has been the absolute best decision we ever made! We love the energy it brings into our home and getting to know young people from all around the world," shared the Vieira family, a returning homestay family.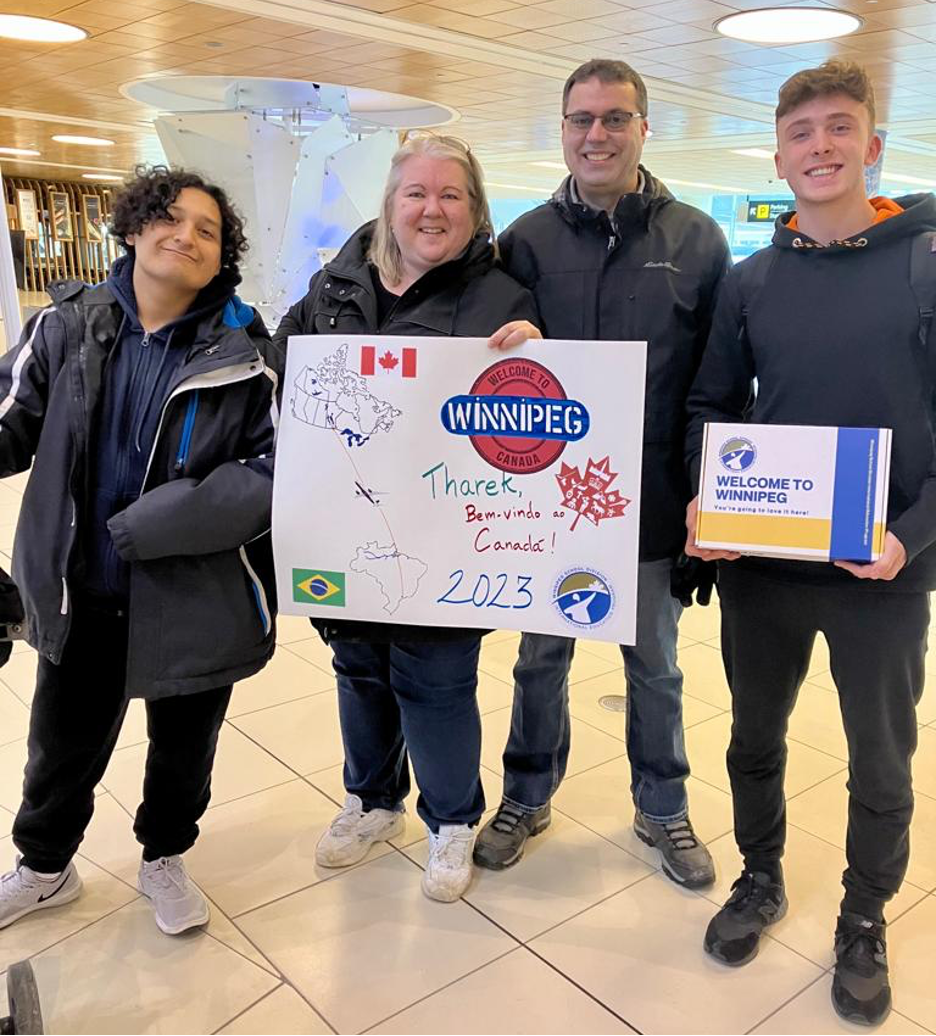 The Vieria family welcoming their homestay students at the Winnipeg airport
"Coupled with accommodating and supportive school staff and welcoming homestay families, rich and meaningful experiences are created for the students. Current WSD students also benefit from the new connections and friendships they make from meeting international students," said Benarroch.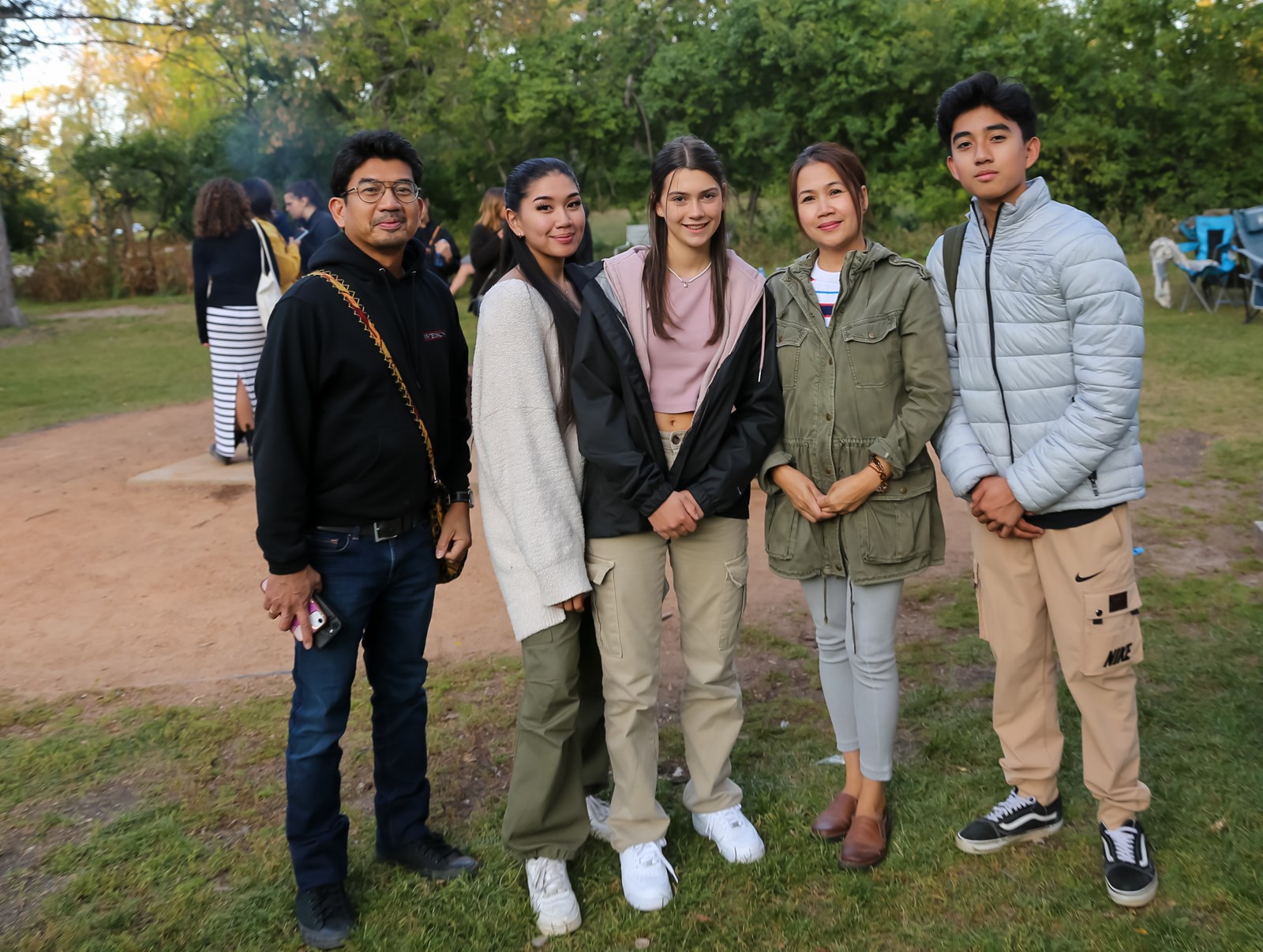 International students and their homestay family
For Joaquin, a Grade 11 international student from Mexico, the choice to study in WSD was an easy one as his older brother was previously in the program.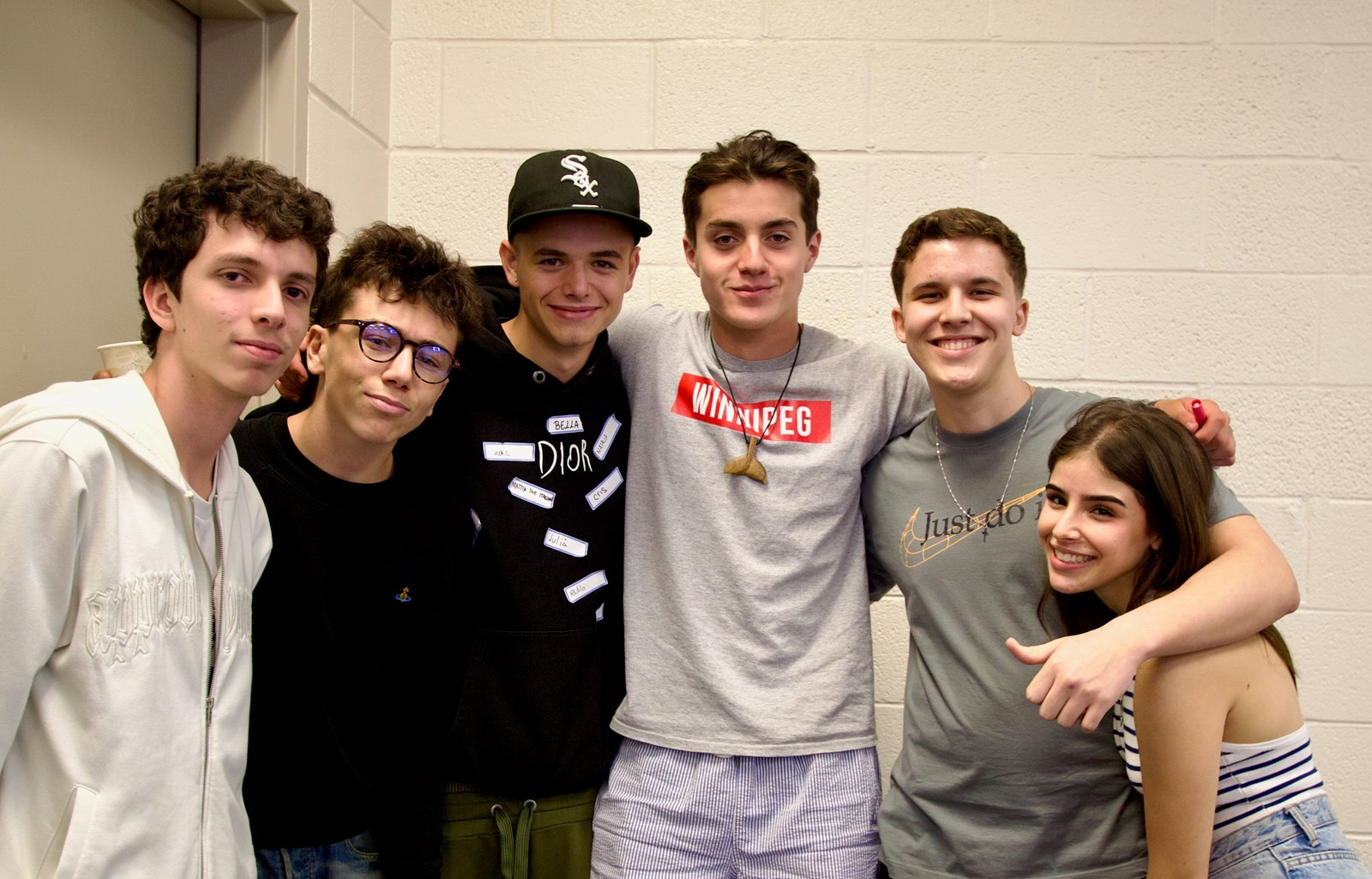 Joaquin (shown third from left) wearing a Winnipeg t-shirt his older brother gifted him while in Winnipeg with fellow international students"It's the same school and even the same homestay family that my brother had; they are very good people. We do interesting things, they are so good with me, they take me to The Forks, the parks. I would also like to see a hockey match as I have never seen one. I would like to try hockey too, but I don't know how to skate!" said Joaquin.
As of September, 116 international students will be welcomed into WSD schools with applications still coming in for second semester. To learn more about WSD's International Education Program, or for information on how to apply to become homestay family, please visit: https://www.winnipegsd.ca/wsdinternational.