Post-Secondary Information
February 5, 2021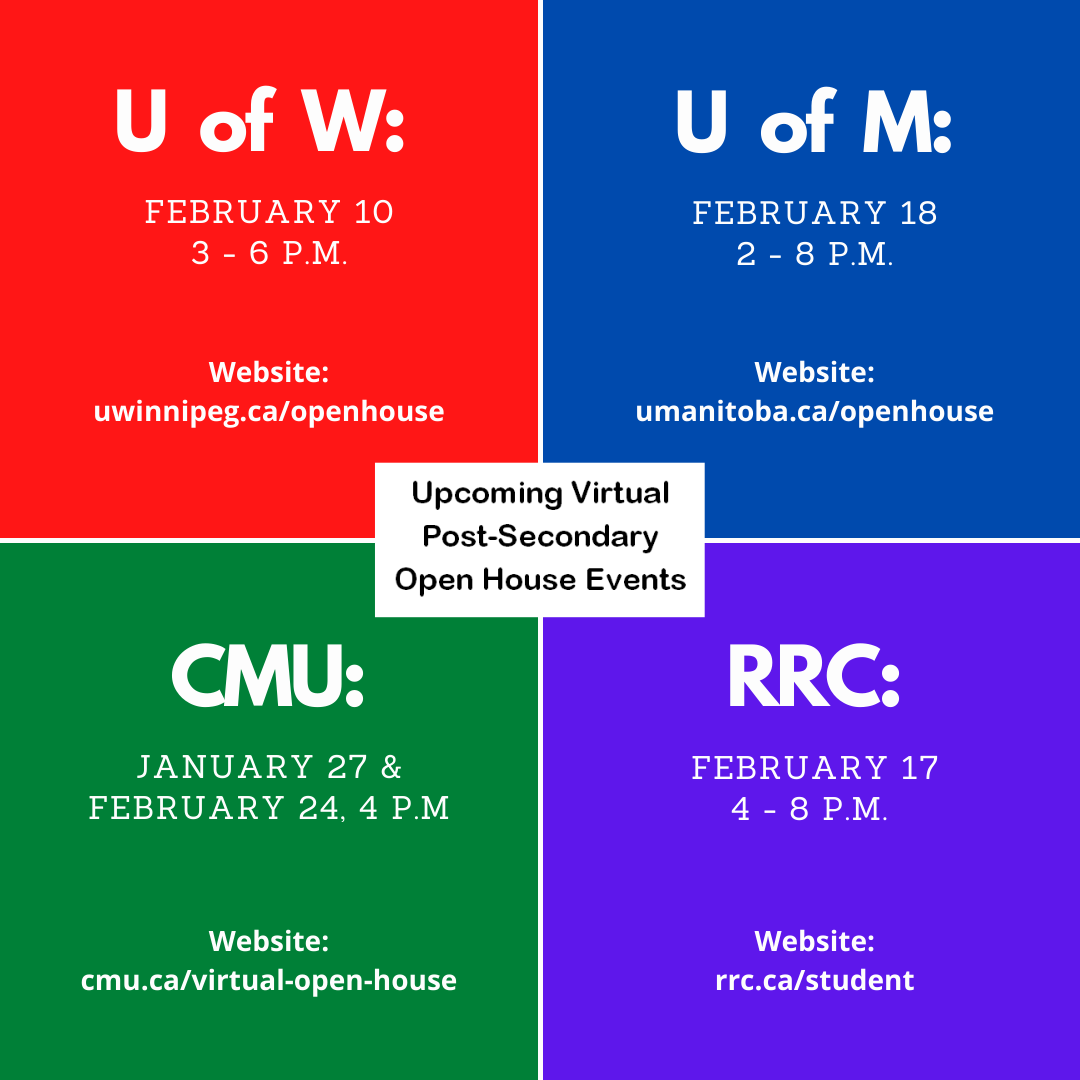 POST–SECONDARY EDUCATION OPTIONS: 
UNIVERSITIES IN MANITOBA:
ACCESS PROGRAMS, INDIGENOUS EDUCATION, AND IMMIGRANT EDUCATION RESOURCES:
The University of Manitoba Access Programs provide academic and personal supports to students who face barriers such as economic, social, lack of formal education, or residence in remote areas.  Financial assistance may be available.
Access Programs Include:
Education Assess Programs (EAP)
ENGAP (Engineering Access Program)
Health Careers Access Program (HCAP), including Nursing
Professional Health Program (PHP)
University of Manitoba Access Program (UMAP)
Asper School of Business – Indigenous Business Education Partners (IBEP) 
First Nation, Inuit and Métis students who are admitted to the U of M (either through University 1 or direct entry into the Asper School of Business) and intend to complete their Bachelor of Commerce (Honours) through the I.H. Asper School of Business are eligible to join IBEP. IBEP provides academic support, scholarships & awards, employment opportunities, and networking.
http://umanitoba.ca/faculties/management/programs/undergraduate/ibep/undergraduate-services.html
The University of Winnipeg Aboriginal Student Services Centre provides Aboriginal university students with academic support, such as free peer tutoring, laptop program, access to Elders-in-Residence, and cultural activities.  The University of Winnipeg offers a bachelor program in Indigenous Studies.    
Red River College Indigenous Education Programs:
Aboriginal Language Specialist, Aboriginal Program for College Enrichment and Transition, Aboriginal Self-Government Administration, Community Development, Computer Applications for Business, and Introduction to Trades. ​
​COLLEGES AND TRADE SCHOOLS IN MANITOBA: