Physical Education
October 4, 2023
PHYSICAL EDUCATION
At John M. King School, all students grade one through grade six participate in the physical education program. We are proud to be a Quality Daily Physical Education (QDPE) school. This means that each class receives a minimum of ninety minutes of instruction per six-day cycle. During the early years, emphasis is placed on the acquisition of basic movement skills and their use in introductory and simple activities. Students begin to understand movement skills. During the middle years, emphasis is on the acquisition and application of basic movement skills and their use in modified and lead-up activities. Students continue to develop their understanding of movement, as well as why they are important.


HEALTH EDUCATION
At John M. King School, all students in Kindergarten through six participate in the health education program with their classroom teacher as per the Manitoba Curriculum requirements. Topics are taught through discussions, role play, and activities, which help students learn about nutrition, personal hygiene, avoiding addictions, mental health, anti-bullying (including cyber bullying) and other relevant topics.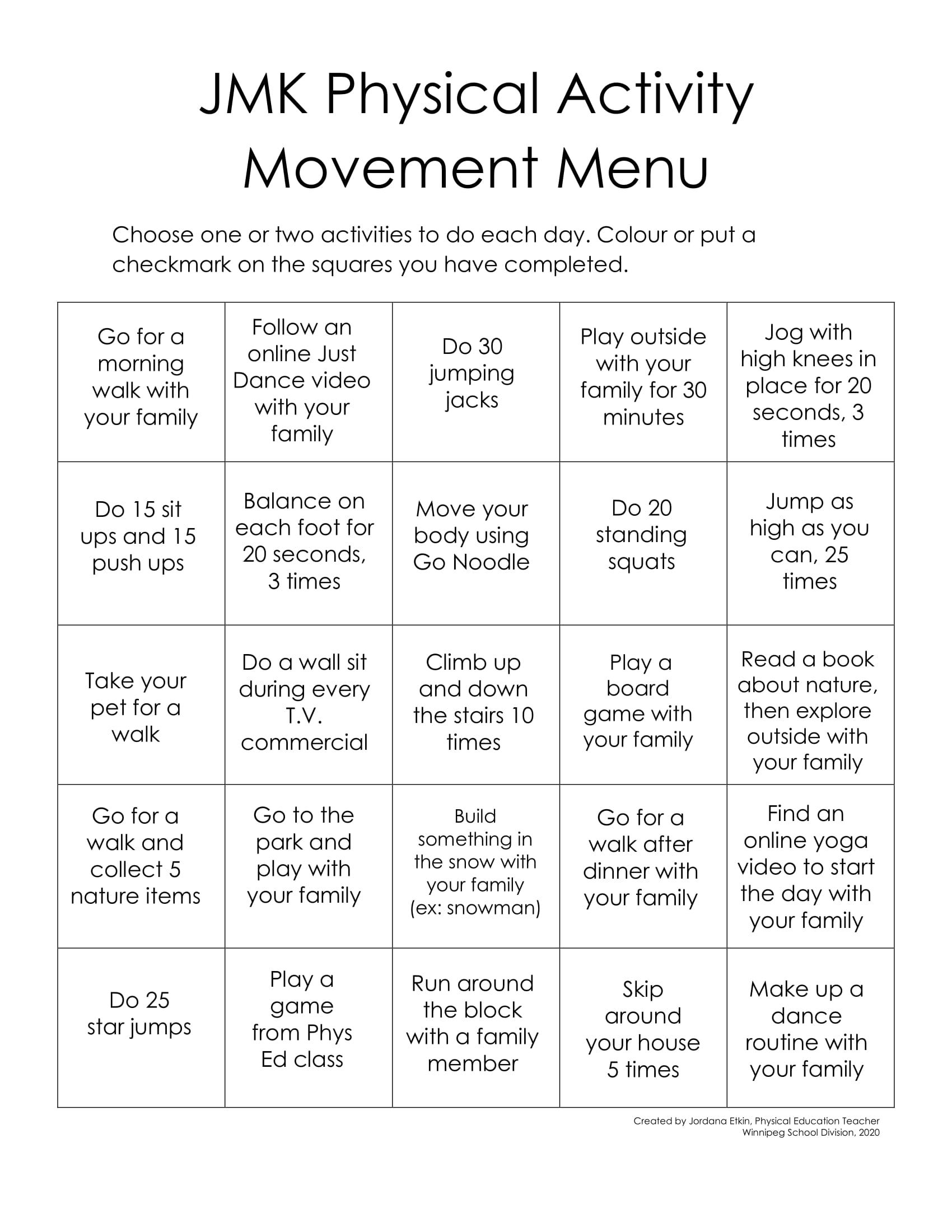 ---
Fundamental movement skills
Below is a list of the fundamental movement skills used in games and activities during physical education classes. Through purposeful instruction and continuous practice, students will develop competence and confidence in these movements, ensuring they are able to participate in a variety of activities, and use these skills to empower lifelong physical fitness and healthy lifestyles. You may click on the video for a specific skill, which demonstrates the proper positions and actions required for that skill. Thank you to Victoria Albert School and the Winnipeg School Division for making these videos available.
RUNNING
JUMPING
GALLOPING

HOPPING
SKIPPING
ROLLING
UNDERHAND THROWING
OVERHAND THROWING
CATCHING

BALL BOUNCING

STRIKING

KICKING

STATIC BALANCE

DYNAMIC BALANCE
Depending on the grade level of your child, the above skills will be focused on throughout the school year. Various skills are for various grades, in order to keep activities age appropriate.