School History
February 5, 2021
​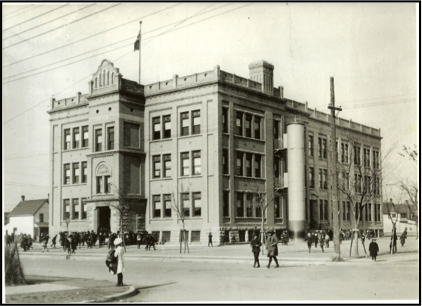 John M. King School was designed by J. B. Mitchell who also designed many of the Winnipeg School Division schools in the early 1900's. The school was officially opened in 1906. It was named in memory of Reverend John Marks King who had been president of Manitoba College. At the opening ceremony, a portrait of John M. King was presented to the school to hang in the front entranceway. It now hangs in the school library where he watches over the children.

In 1961, it was decided the school needed to be replaced. The old school was demolished and a new school was built in 1963 facing Agnes Street. It was set back from Ellice Avenue which was getting too busy and dangerous with traffic. The new school was opened in 1964. It was built in a rectangular shape with an open courtyard in the middle. When the school population grew to over 600 students, the courtyard was used to create a multi-purpose room/gym on the lower level and a library claimed the space above.
Since it's opening in 1906, many students have received an excellent elementary education at John M. King School and have gone out to practice the good citizenship skills they have learned here.​
​