Dental Technology & Medical Preparation
February 15, 2022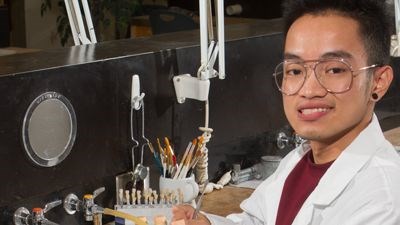 The Dental Technology and Medical Preparation course offers students the practical and theoretical components to learn the field of Technical Dentistry and Medical Terminology which is needed for students to move forward into a medical or dental stream. This two-year program provides the technical training, dexterity skills, and theoretical knowledge for the fabrication of specialized dental appliances and an understanding of the medical language used in both fields. Practical laboratory work is emphasized to better prepare the student for employment in the dental laboratory profession while still offering an authentic approach to learning. All work is custom made, and requires specialized, integrated equipment, with specific and specialized materials.

Areas of study include: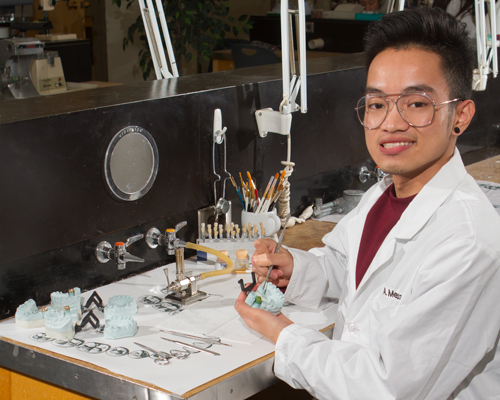 • Mouth Guards
• Occlusal Rims
• Custom Impression Trays
• Fabrication of Partial Dentures
• Casting Alloys
• Relining & Rebasing Dentures
• Anatomical Tooth Carving
• Terminology
• Nightguards (Bruxism Appliances)
• T.M.J. appliances
• Model Preparations
• Crowns And Bridges
• Gold Inlays & Onlays
• Cast Partial Designs
• Orthodontic Appliances
• Custom Bleaching Trays
• 3D Printing
• Anatomy and Physiology
• Science of Materials
• Medical Terminology
• CAD/CAM Design & Milling
• Porcelain Fused to Metal Substructures
• Construction of Complete Dentures
• All Ceramic Restorations, Inlays, Onlays, Jackets &Veneers
*This course is only available at the grade 11 and 12 level.
Grade 11 (4 Credits) DETV30
Studies in Dental Technology include a close examination of the oral and cranial anatomy as well as the mechanics and movements of the jaw. A group study into the science of dental materials is also incorporated into the program. Students will design and fabricate a variety of removable orthodontic appliances. These include dentures, retainers, mouth guards, and partial dentures. Applicants must have completed Grade 10 and have a high degree of manual dexterity.
Grade 12 (4 Credits) DETV40
In this course, Dental Technology extends to the advanced levels including studies into specific oral anatomy and the function and morphology of teeth. An introduction into the field of Metallurgy is also explored. This program includes the study and the mechanics behind fixed restorations, this includes crowns, bridges, all ceramic restorations and a practical look at implants and attachments. Cosmetic Dentistry is explored to better prepare students as technologists in the future of esthetics. Students are also trained on the latest CAD/CAM technology. The advanced study of Dental Materials is also incorporated into this level.
Dental Employment Opportunities
Graduates from this program will have the required skills for employment in the following:
· Fixed Restorations
· Removable Restorations
· Maxillofacial
· Orthodontics
· Dental Offices with Laboratories
· Dental Laboratories
· Dental Sales
· Dental Research and Development
· Dental Education and Training
· Denturist Clinics
· Dental Distributors
· Medical Establishments
· Materials Research Development
· Dental & Medical Receptionist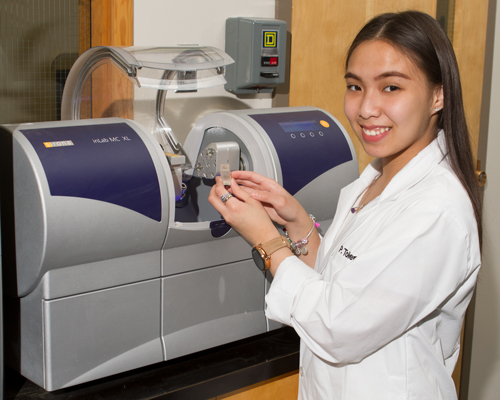 Graduates have also used the skills learned in this program to further their education in the fields of Dentistry, Denturist, Hygienist, Medical Practitioner, Pharmacist, Physiotherapy, Nursing, Medical Assistant, Radiology, and Pharmacy Technician. This is the only high school program of its kind in Canada. Practical work experience within a Dental laboratory or Dental office is offered at the Grade 12 level.