Graphic Communications and Print Technology
February 8, 2022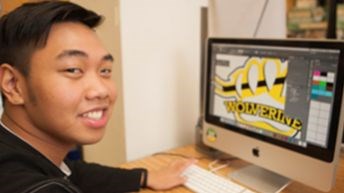 Graphic Communications and Print Technology is a blend of computer design, and hands on production work. Graphics typically includes, image manipulations, concept or idea drawing, printing, typography and lettering, screen printing, computer graphics, and bindery. Graphic students learn how to produce just about anything designed and printed (e.g. t-shirt printing, books, CD covers, packaging, flyers, greeting cards, calendars, posters). Students will learn a wide range of skills from design with industry standard software (MAC), screen printing, vinyl and sign making, laser cutting and engraving, and bindery and finishing.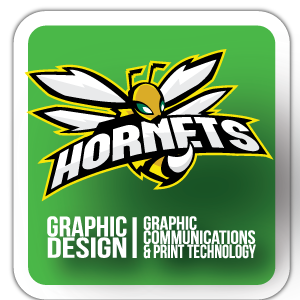 Areas of study include: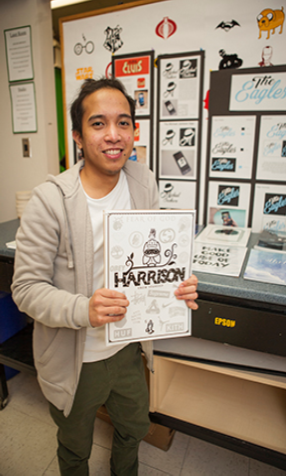 · Principles and Elements of Design
· Digital Production
· Typography
· Computer Page Layout-Adobe InDesign
· Computer Illustration-Adobe Illustrator
· Computer Photo Editing- Adobe Photoshop
· Vinyl Cutting and Wide Format Printing
· Screen Printing
· Printing, Bindery and Finishing
· Drawing concepts
· Client Relations/Employability Skills
Grade 10 (1 Credit) PM465V1S
This is an introductory course into the Graphic Design and Print Communications vocational trade. Students will spend time in each of the areas, learning traditional and digital methods of working with images and type (desktop publishing, design and image manipulation on computers) and with industry software (Photoshop and Illustrator). Students will also explore print technology, including screen-printing, digital, and wide-format. Students will use current industry equipment to create industry standard products with hands-on projects such as posters, illustrations, vinyl decals, typography, t-shirt printing, laser etching and buttons.
Grade 11 (4 Credits) PM000V30
This course will consist of theoretical and practical presentations in the form of lectures and visual demonstrations, supported with in-class and take home assignments, sketchbook work, print shop projects, discussions, critiques, and live client work. Students will learn and practice the fundamental elements, principles, techniques, and applications that are specific to the Graphic Design and Print Communications discipline. Various presentation techniques will be offered through the use of Mac technology and presenting to clients and peers. Graphic portfolios will be started this year. Students will make notepads, branding and marketing materials such as logos, dye sublimation products, digital embroidery, and digital printed products.
Grade 12 (4 Credits) PM000V40
The goal of the program is to help the student further develop personal and professional competencies in communication, problem solving, teamwork, electronic pre-press, production technologies, and post-press operations that will help lead to successful employment or post secondary enrollment. Program topics include: problem solving, basic layout & design, electronic pre-press, and screen printing. Students are exposed to the computer software applications commonly used in industry, such as: page layout, design, image manipulation, and computer graphics. Other topics include: digital scanning, colour proofing, digital image manipulations, digital printing, wide format printing, embroidery graphics and laser engraving. Students will be required to complete a Digital Portfolio in preparation for Post- Secondary studies or employment.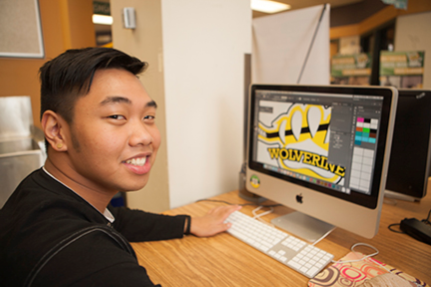 Graphic Communication Employment Opportunities
Graduates from this program will have the required skills for employment in the following:
· Car Wrap Specialist
· Digital Multimedia Designer
· Digital Printer
· Gaming Illustrator
· Graphic Designer
· Illustrator
· Screen Printer
The visual communications industry is competitive and most employers require a college diploma in Graphic Design, or Digital Media, or a university degree in Visual Arts with specialization in Graphic Design. Students may enter the work force directly from Tec-Voc Graphics.
*Students taking Graphic Communications will be studying the Print Media curriculum