Garden Grove Vice-Principal named to CBC's Future 40
November 28, 2022
Main image: CBC Manitoba
*Editor's note: since this story was first published, the venue of the April 29, 2023 Concert for a Cause has been moved to the Calvary Temple, 440 Hargrave St. Please see the concert poster below for full details.
Paul Ong, an École Garden Grove School Vice Principal who is creating change through music, has been named to CBC Manitoba's prestigious Future 40.
The biennial awards honour 10 Manitobans, all 40 years of age or younger, that are working to make the province better for future generations.
Mr. Ong found out earlier this month that he had been nominated for the list. However, with there being hundreds of nominees, he wasn't expecting anything to come of it.
"It was surprising and unexpected, but it gives me great honour to be given this award, to represent the Asian-Canadian community and to highlight what the performing arts are capable of," he said.
The vocalist and educator has been the driving force behind the annual Concert for a Cause, which has raised over $100,000 for local charities since 2015. The annual sold-out concerts have supported beneficiaries such as Siloam Mission, CancerCare Manitoba, Hands of Hope, the Winnipeg Military Family Resource Centre and the Children's Heritage Fund.
The upcoming 2023 edition of the concert will see Mr. Ong joining the Winnipeg Symphony Orchestra on stage in support of Sistema Winnipeg, which connects Inner City students to long-term music instruction (see the poster below for details).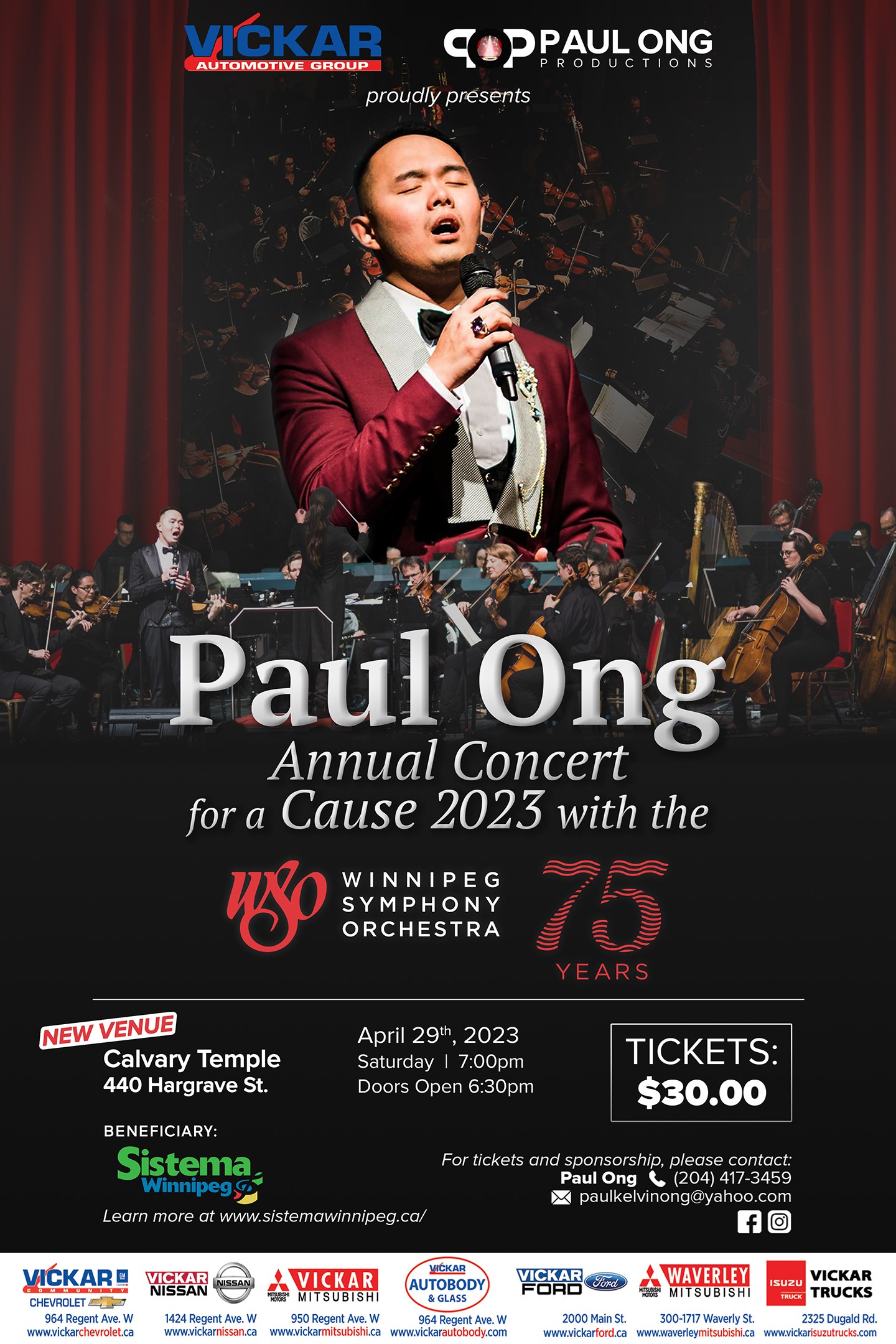 "I love performing on stage, but I always wanted it to be something more purposeful…something that has a positive community impact," Mr. Ong said. "Without the support of the community, the patrons, the audiences and the businesses that sponsor the event, this would not all happen."
Singing since the tender age of four, Mr. Ong has developed into an internationally recognized vocal talent. He represented Canada at the 2017 Water Cube Cup in Beijing and the 2015 World Championships of Performing Arts in Los Angeles, earning wins in all of his competitive classes.
"It started as a hobby, but it's always been a pie-in-the-sky dream that one day I could use this for something more profound, something more community driven," said Mr. Ong, who came to Canada from the Philippines in 2010. "Little did I know that by migrating to Canada, that dream would come true."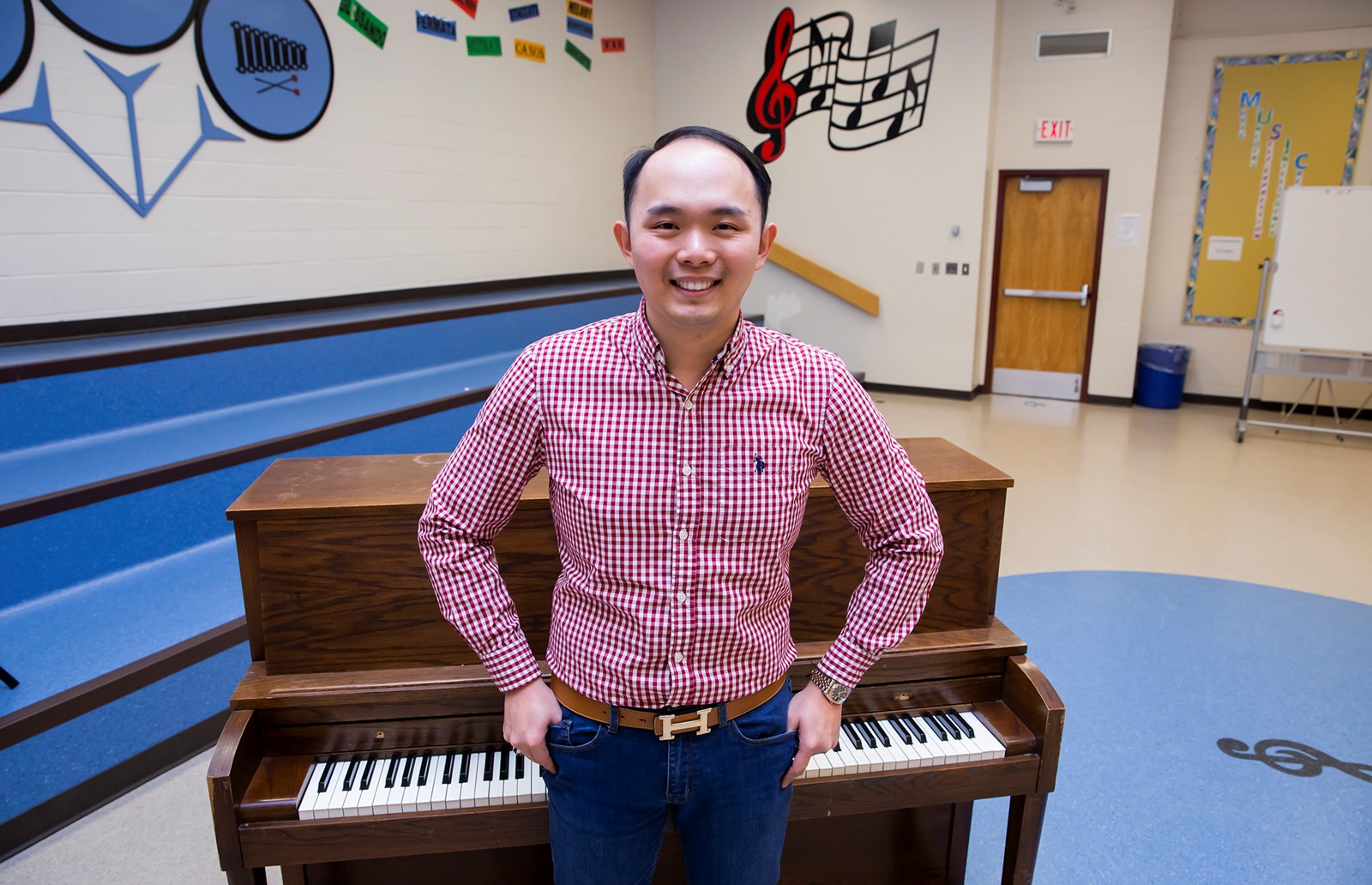 Paul Ong at École Garden Grove School. (WSD Photo)
Mr. Ong has been with WSD for seven years; prior to his current role at Garden Grove, he worked as the Inclusive Education Resource Teacher at General Wolfe School.
The Concerts for a Cause usually have student involvement, including General Wolfe students in the past and Sistema Winnipeg students in the upcoming April 29, 2023 concert.
"When you see these kids, as they are performing in a professional context, their faces are just glowing," he said. "If students are able to pursue their artistic talents, the opportunities are limitless."
Looking ahead to the 2023 Concert for a Cause, Mr. Ong said he was excited to be performing on stage once again with the WSO; the vocalist has made guest appearances at WSO shows over the years and the orchestra has also appeared in previous Concerts for a Cause.
"No matter how many times I've performed with the WSO, it gives me chills down my spine every time we start doing a show…just knowing that there are 70 other musicians behind you."
Here is the link to the CBC Manitoba article on the Future 40.