About / History
February 4, 2021
Prior to 1929, children from the West Elmwood area attended Lord Selkirk School. A doctor in the community managed to convince the authorities that it was unsafe for young children to cross Henderson four times each day. It was decided to build an elementary school on vacant land on Carmen Avenue although only an acre was available-far less than the usual area for school grounds.
The contract to build the new school was awarded to the firm of Hazellon and Walin and the school was built at a cost of $104,243, in a masonry style known as Flemish bond. The building was opened in 1929 as Glenwood School, although the original building plans show the proposed school as Elmwood School. Some longtime residents say some of the stonework over the doors once had Elmwood School carved in granite.
In 1949, presumably to avoid confusion with Glenwood School in St. Vital, Glenwood School became Glenelm School.
Glenelm remained physically unchanged until the late 1980s when the early childhood classroom was enlarged at the expense of an adjacent classroom. The library was extended into the basement hallway. Windows were replaced with the community strongly advocating for a style in keeping with the original architecture. In 1995, washrooms were redeveloped along with the staffroom.
In 1997, the Minister of Education announced plans for funding a gymnasium addition and a renovation of the basement level. The firm of Magnus Johnson Architects worked with a committee of staff and parents to create a design. Regent Construction Ltd. Was awarded the contract for a total amount of $705, 951.
Construction began in September 1997 and the students were using the new gymnasium, library, computer lab, resource room and multipurpose classroom by mid-March, 1998.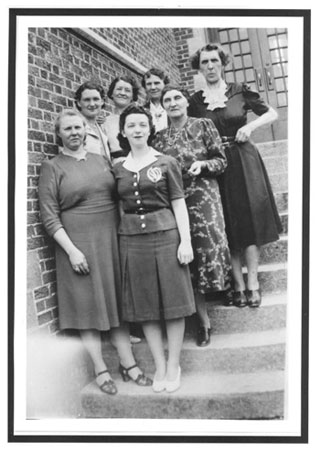 Glenwood School Staff - 1933
Clockwise from left front:
Miss Dora Little (Gr. 5/6)
Miss Cathleen Henderson (Gr. 2/3)
Miss Maude Pogue (Gr. 4/5)
Miss Margaret McLeod (Gr. 1)
Miss Frances Lander (Gr. 1/2)
Miss Evelyn Corbett (Principal & Gr. 6)
Miss Winnifred McGrath (Gr. 4)