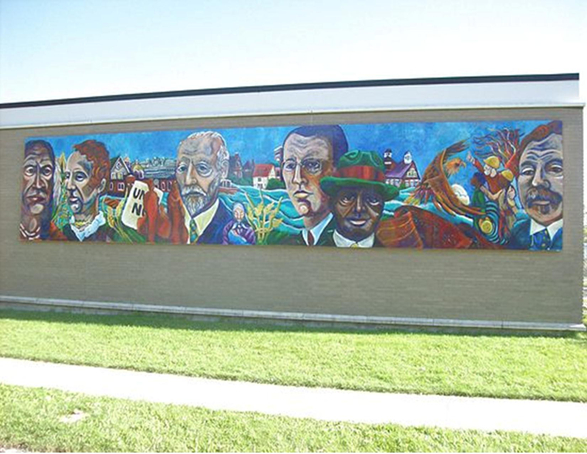 Here are some facts you might find interesting about the Mural located on the exterior wall of Norquay School:

The mural was painted in 2008 by Tim and Connie Friesen and children from Eagle Wing Daycare, students in the CSI program and children from the Norquay Community Centre.

Characters represented in the mural are all of historic significance to North Point Douglas.  Some of these characters include: Chief Peguis, Lord Selkirk, James S. Woodworth, Tommy Douglas, Sir William Stephenson, and John Norquay.

To learn more about the mural on Norquay School , please follow the link below:
http://www.themuralsofwinnipeg.com/Mpages/index.php?action=gotomural&muralid=405
Here are some facts you might find interesting about Norquay School:

Norquay School was originally called Central School and was built in 1882.

The first school was a rented two-room store and six rooms were added in 1888.

In 1890, a fire destroyed the school and a three-storey structure was built in 1892 to accommodate the growing neighbourhood.

The present school opened in 1971.

To learn more about the North Point Douglas neighbourhood and Norquay School, please follow the link below:
http://www.mhs.mb.ca/docs/features/walkingtours/pointdouglas/index.shtml​