Pinkham's Day of Pink
February 24, 2021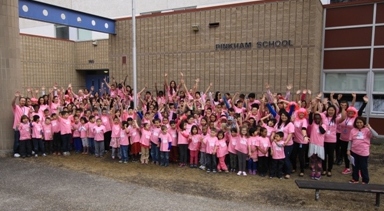 It was a sea of pink on the morning of April 8, 2015 as all staff and students kicked off the International Day of Pink with an assembly for everyone to take a stand against bullying.
Students in grades 1-4 performed a play with an anti-bullying message while Pinkham's Social Justice group did a presentation on Human Rights. The assembly was capped off with Ms. Mowez shaving Constable McIntyre's pink beard after he lost a friendly wager.
Know that standing up against bullying and celebrating diversity doesn't start and end with "Day of Pink". The Day of Pink is meant to bring awareness and to let you know that if you see bullying --- YOU have the power to stop the behaviour.
How You Can Stop Bullying:
Be an UPSTANDER - stand up for your friends who are targeted

Refuse to go along with bullying or harassment - those who laugh, agree or cheer only encourage the behaviour. Instead, take the side of the person who is being targeted.

Be assertive but not aggressive. Using insults or fighting back can make the situation worse not better.

Always make sure you are safe. If it is not safe to intervene, report what you see or hear to an adult. And most importantly.....

Gather your friends to help speak out against bullying and harassment.
ALL OF US WORKING TOGETHER, CAN MAKE A BIG DIFFERENCE AND MAKE PINKHAM A
"BULLY FREE ZONE"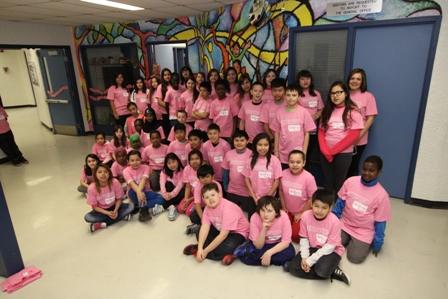 Pinkham's Roots of Empathy participants remind us to see through the eyes of another, to connect and reachout and to work and play together.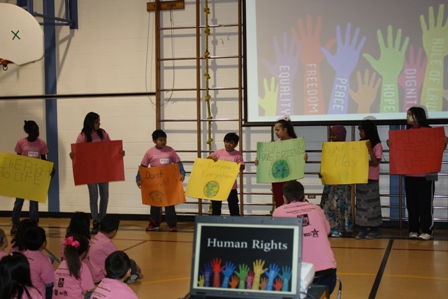 Social Justice participants