History of Fort Rouge School
February 4, 2021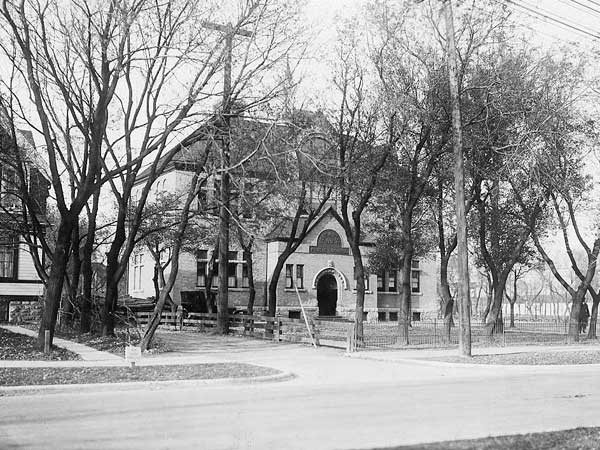 The first Fort Rouge School opened its doors in 1891 on land between River Ave and Mayfair Ave. This land had been donated to the city in 1881 by Mr. A. N. Ross on condition that a school would be built on it when conditions warranted. When it opened on October 5, 1891, Fort Rouge School had four classrooms, 190 students and a staff of four teachers. In breaking with previous tradition, the School Board appointed a woman, Miss Alice Talbot, as the principal.

In the early days, Fort Rouge School was situated in "acres of bush" much to the delight of many of its boy pupils who used to go swimming, after dismissal, at "the Swimming Hole" situated in the brick yards of River Ave. The original school must have been a dreary place to work in. The windows were so small they failed to let in sufficient light. Consequently classrooms were dark and both teachers and pupils found it very difficult to see what they were doing. In winter time, the problem was even worse. The oil lamps were so inadequate that school could not start before 9:30 AM and had to finish by 3:30 PM.  Fort Rouge was intended to be one of Winnipeg largest schools. With this in mind, in 1897 the School Board decided to add four more classrooms. Plans were prepared but the project was never carried out as the area around the school developed industrially and a large residential population never materialized.
The original Fort Rouge School was no stranger to the vagaries of the Red River. In 1916, spring flood waters were deep enough to force the evacuation of the building and in 1948 floodwaters once again forced themselves into the school. However, the Great Flood of 1950 resulted in the permanent closure of the school. After the flood it was recommended to either replace or abandon Fort Rouge School "as quickly as possible." By now it was hardly a "state of the art" building.
The second Fort Rouge School was built as a "temporary structure" between 1952 and 1953. Its temporary status lasted until 1989 when the present building was erected.
The school was torn down based on the Reavis Report which recommended either replacing or abandoning Fort Rouge immediately. "... not until August 1954 was a new school commenced by the Gardiner Construction company at a cost of about $43,000. It is situated between the old school and Mayfair Avenue, a one-storey, basementless stucco and brick building with glass brick forming part of the walls to ensure plenty of light. Surveys have led the School Board to believe that the district will become industrialized in ten to fifteen years' time, so the new school is of a temporary nature only at $10,000 a room compared to the $15,000 standard costs for permanent buildings erected today." This second building that Mr. Bell refers to was officially opened on November 17, 1953 at a cost of $44,270. In September 1957 four rooms were added at a cost of $67,050. In 1989 the second Fort Rouge school was demolished and made way for a highly modernized structure. This third structure officially opened on October 16, 1989. The present school is 1650 square metres, consisting of seven classrooms, a library, gymnasium, Family room and miscellaneous support space.​​​
​