Land Based Learning Cycling Trips
February 5, 2021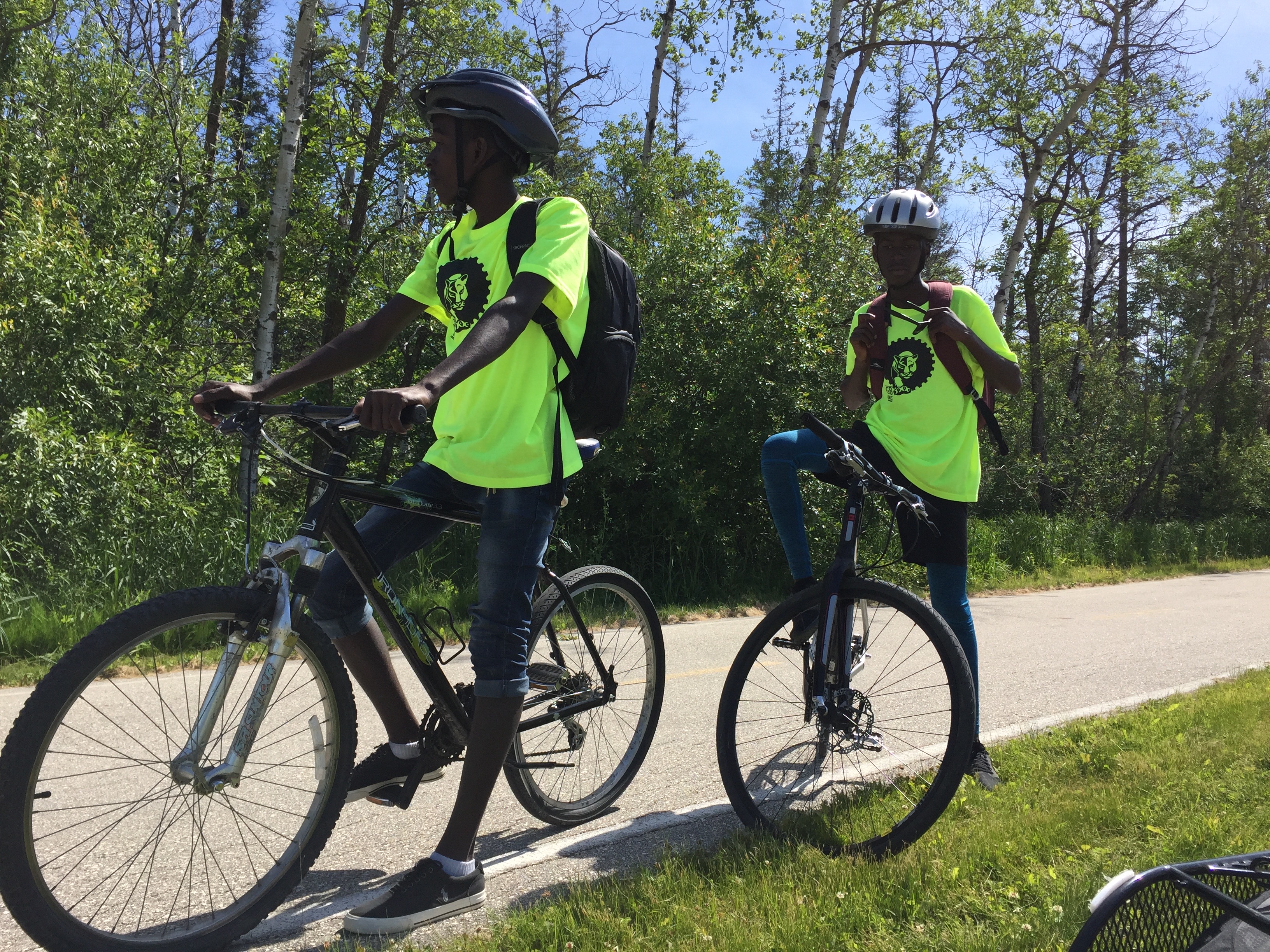 LAND BASED EDUCATION (LBE)
Samuel Jerema
In an effort to connect students with the outdoors and become more aware of how we steward our resources well, Gordon Bell, Hugh John MacDonald, and General Wolfe schools partnered during the 2016-2017 school year and created the Land Based Ed-ucation initiative. This year, Daniel McIntyre Collegiate has joined us and we look forward to expanding our LBE events next winter with ice fishing adventures. For now, our schools are collaborating to prepare students to repair and maintain bicycles through school bike shop programs with support from the Winnipeg Repair Education N' Cycling Hub (WRENCH) whose expert staff have been with us along our journey toward sustainable cycle commuting and upcycling discarded bicycle components.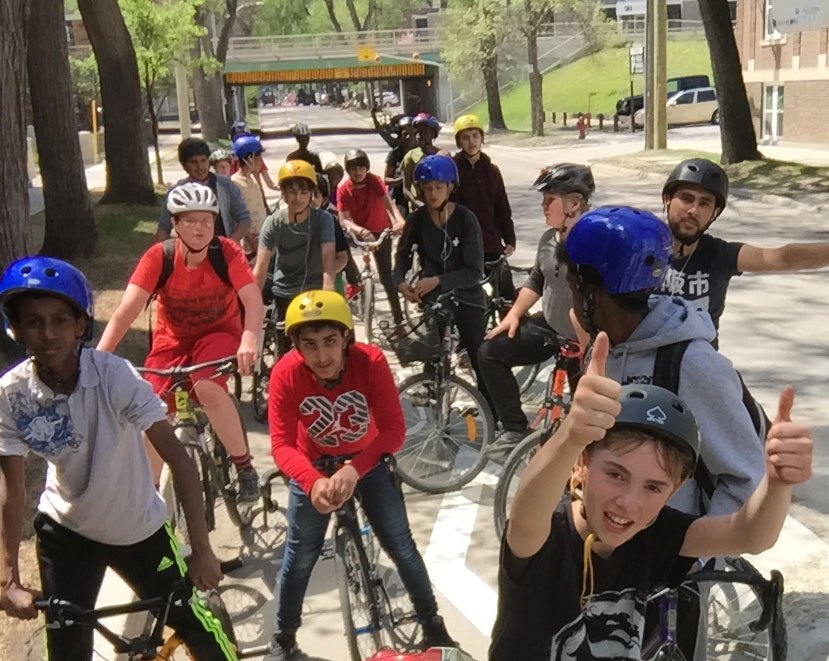 Students regroup on Assiniboine Ave. before crossing Main St. at the bike light

THE FORKS AND ASSINIBOINE PARK
On May 22nd, 32 Gordon Bell students cycled to the Forks. For many students this will have been the first time cylcing in a large group and for some of them, the first time they ventured off the sidewalk to take advantage of Winnipeg's growing network of bike lanes and crossings. "This is so fun, I've never ridden this way before" remarked Beckett, an energetic middle years student brandishing two thumbs up. Mr. Kevin Banks, business education and bike shop teacher at Gordon Bell, reflected on the day, "It was a huge success and a lot of fun. You forget that some of our students live in Winnipeg but haven't been to the Forks, we take it for granted but a lot of our students are newcomers." Mr. Banks rewarded the cyclists with ice-cream sandwiches he towed in his bike trailer. A week later, on May 29th, the Thunderstorms held off until the end of the day and 53 students from Gordon Bell, Hugh John MacDonald, and Daniel McIntyre cycled together to Assiniboine park. Minor repairs to handle bars, cranksets, and tires were completed before departure, one student even had his wheel trued on the truing stand minutes before leaving.
CAMPING AT BIRDS HILL PARK
With a couple of group rides under our belts, 15-20 students will have the opportunity to go on the second annual cycle camping trip on June 27-28, 2018 to Birds Hill Park. An "Ecology Hike" exploring local flora in the mixed biome of the park is in the works. Contact the school or email sjerema@wsd1. org if you are interested in joining us—parents welcome!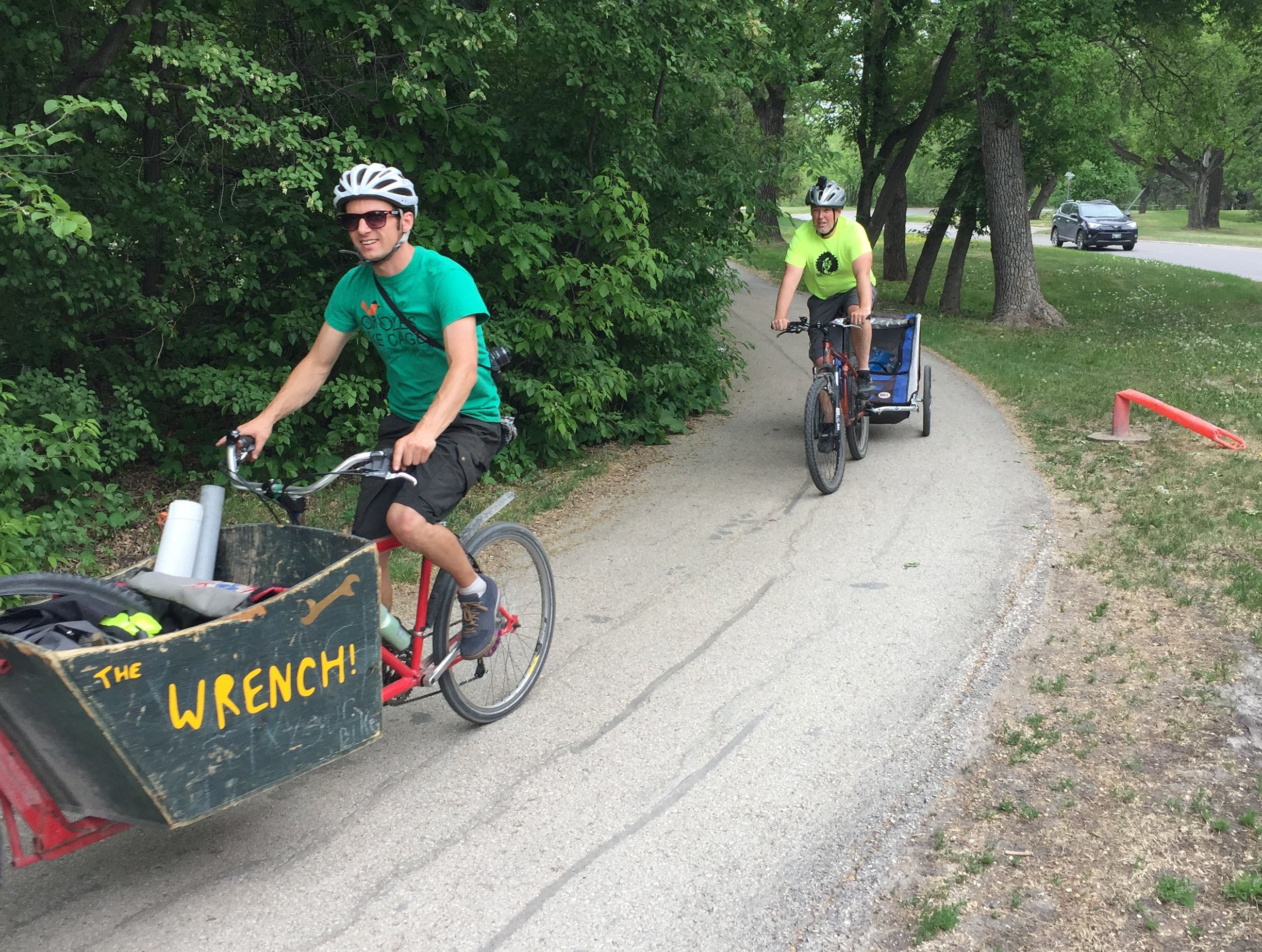 ​Geoff Heath from the Wrench and Mr. Banks follow the pack with tools and water.