Creating young leaders at Norquay School
November 16, 2022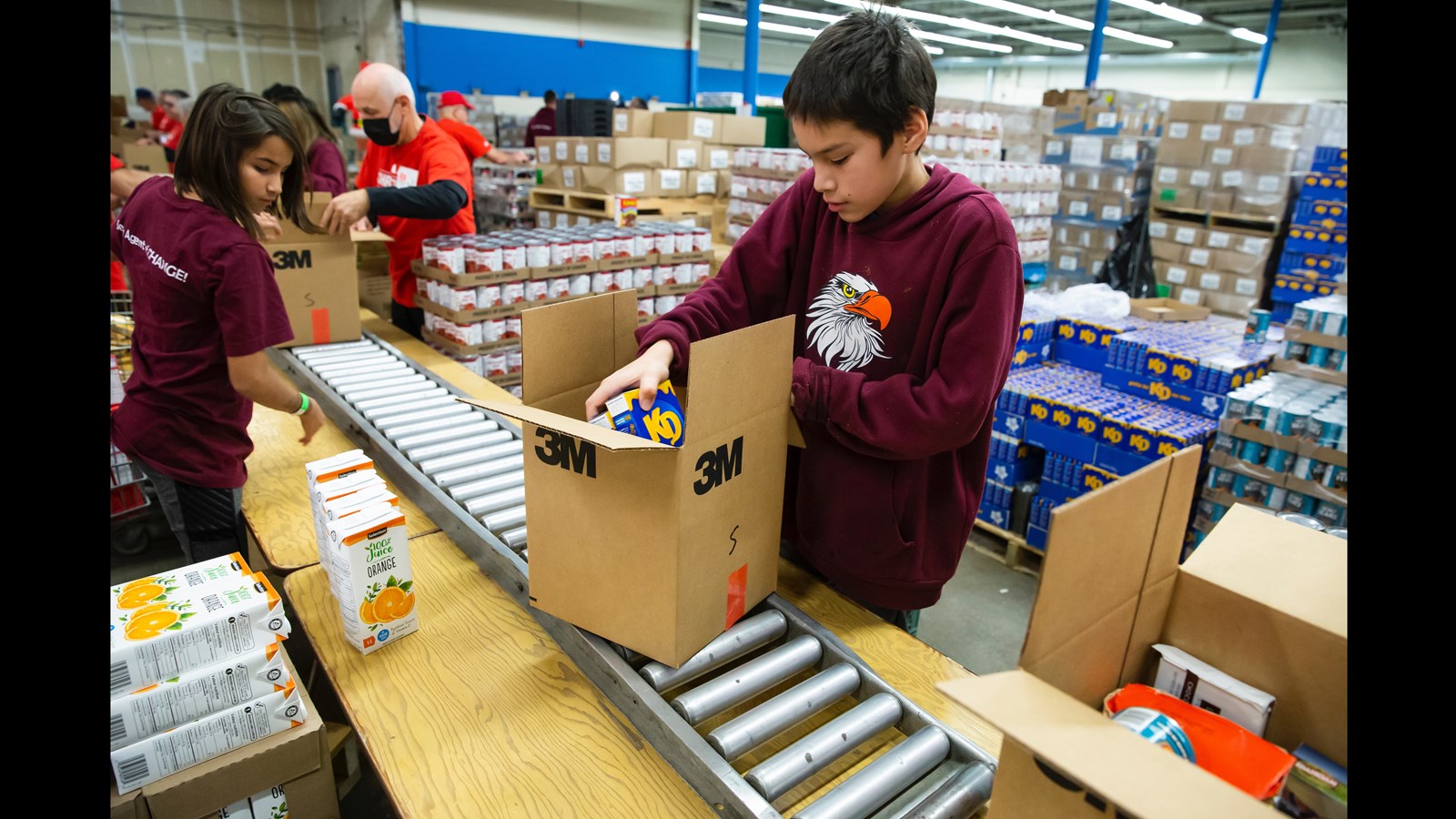 A group of young leadership students from Norquay School recently pitched in with the Christmas Cheer Board's 2022 hamper campaign.
Grade 6 students from Norquay's 21 Leaders program visited the Christmas Cheer Board's Wellington Avenue headquarters on Nov. 15 to help assemble hampers.
"Some of the families in Winnipeg School Division have received or will receive hampers through the Christmas Cheer Board, so this is a great way to give back and help others, and a great way to build leadership and capacity with our students at such a young age," said Norquay Principal Cree Crowchild.
Norquay started a partnership with the Christmas Cheer Board last year; the cheer board and local business Woodcock Cycleworks donated $40,000 worth of bicycles and cycling gear to Norquay students.
It was a kindness that Norquay students and staff wanted to pay forward.
"They've given our students so much joy and happiness…families had tears in their eyes," Mr. Crowchild said. "When I met with Shawna Bell, the executive director of the Christmas Cheer Board, I said that we wanted to give back. And the way we are doing that is through sweat equity."
Students worked on an assembly line with adult volunteers to fill boxes with food items.
"We were packing things like Jello, tuna, Kraft Dinner and juice," said student Rylee Favel. "It was actually pretty easy. I like that we were able to help out."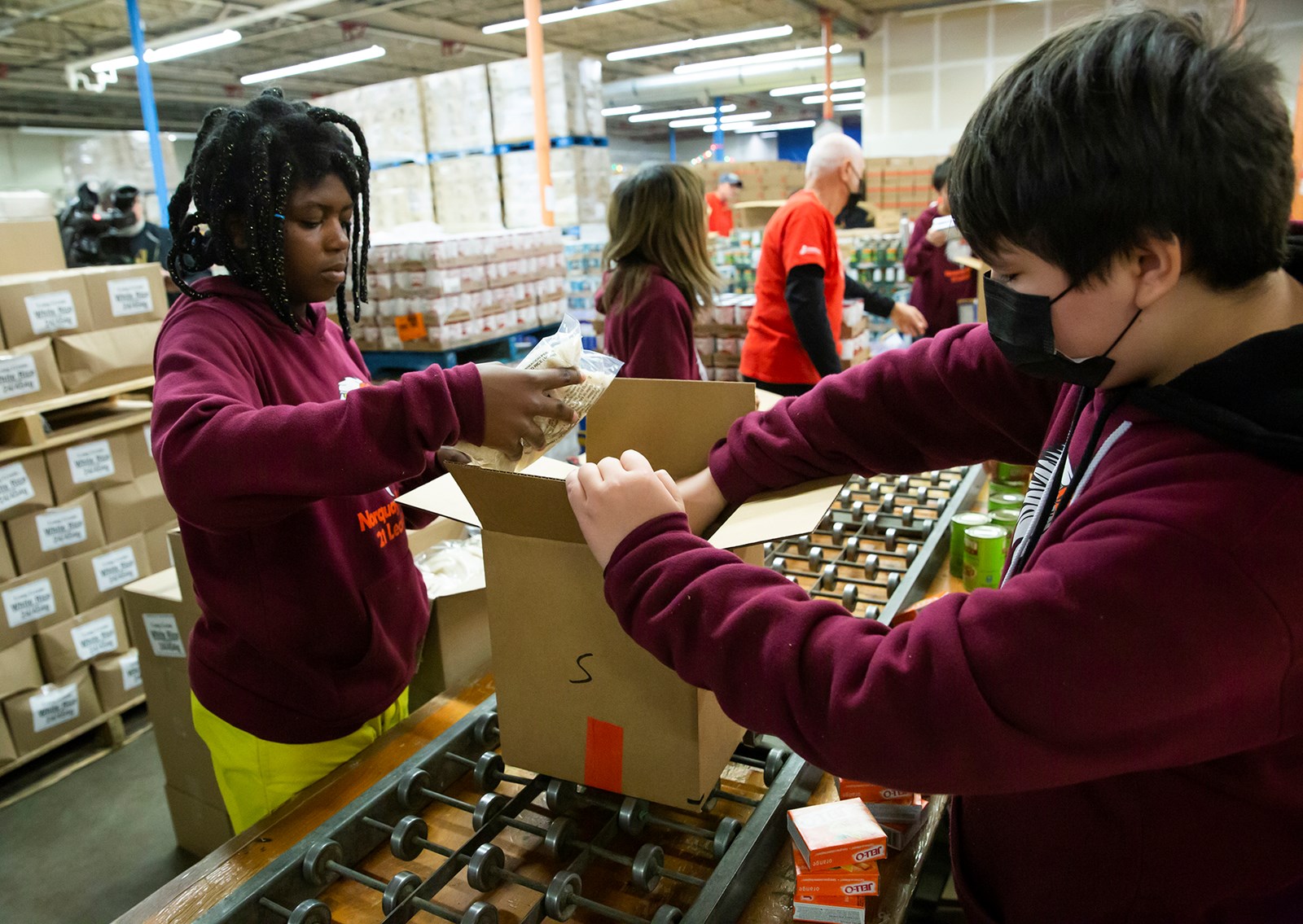 Norquay students work on the assembly line at the Christmas Cheer Board.
Student Shyleena Marsden said she and her fellow 21 Leaders were proud to contribute to the humanitarian project.
"It's pretty amazing to have this opportunity," she said. "With 21 Leaders you get to do fun activities like this and help people in your community."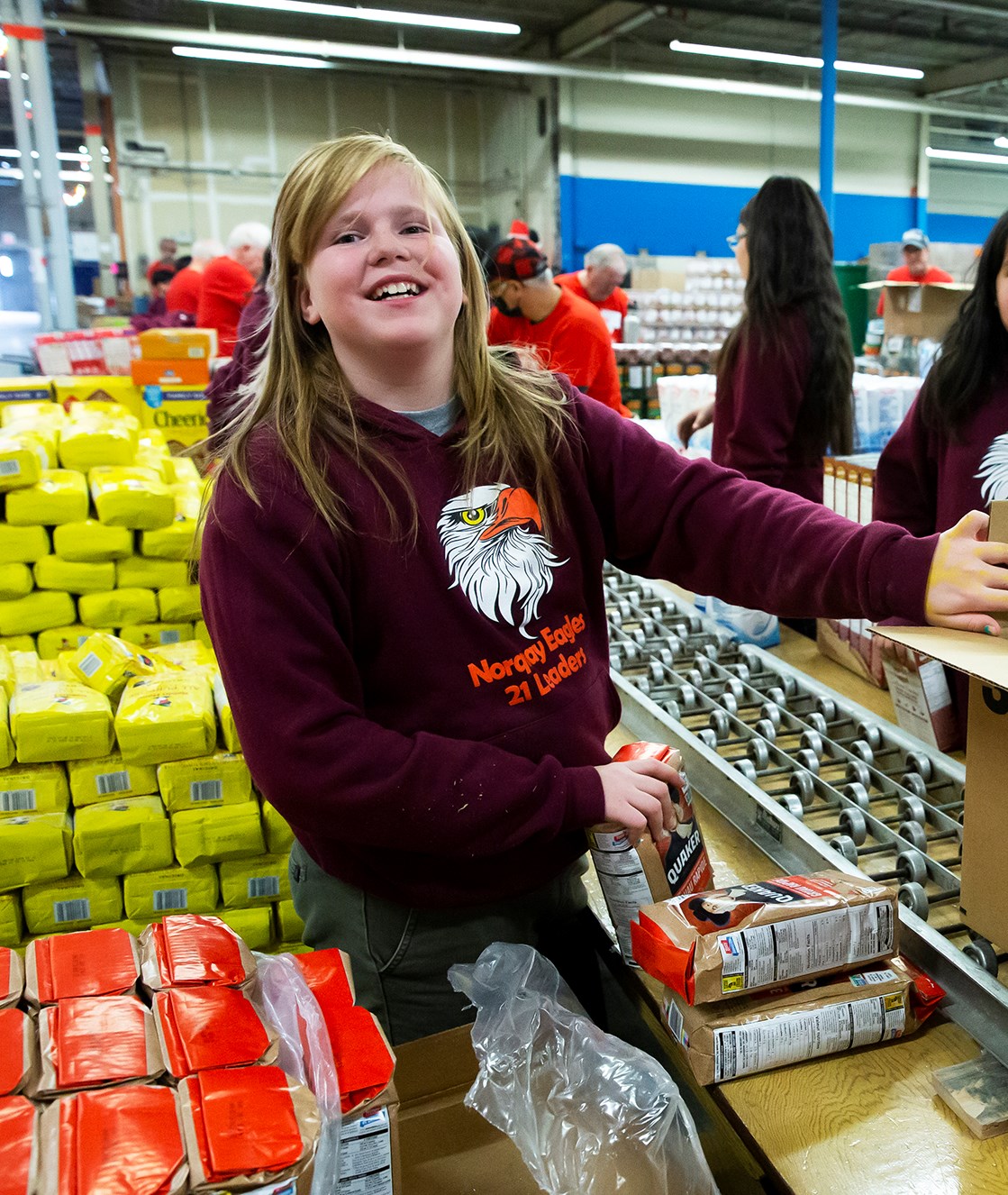 Norquay's 21 Leaders were happy to be able to pitch in with the Christmas Cheer Board.
Beginning a leadership journey
Mr. Crowchild has run the 21 Leaders program at several WSD schools during his career, including St. John's High School, École secondaire Kelvin High School and River Elm School.
Students apply to join the leadership program and go through an interview process.
"The students are reviewed and selected by a panel, just as it would be when they apply for a job or post-secondary," Mr. Crowchild said. "We're preparing children for real-life experiences through this leadership opportunity."
Along with community service, students are encouraged to become ambassadors for their fellow students.
"A key part of the program is having our kids go out into the community and teach kids about what it's like to be a student, and in particular, what it is like to be an Indigenous student, " Mr. Crowchild said.
Another aspect of the program is building partnerships with other schools. Later this school year, Norquay's 21 Leaders students will be visiting prospective junior high schools, including St. John's, to "job shadow" junior high students.
The visits are a way to demystify the secondary school experience for Grade Sixers.
"They are seeing what it's like to be a junior high student, then they will report back and make presentations to their classmates," Mr. Crowchild said. "When it comes time for the Grade 6 students to make that spring decision as to where they will go for junior high, they will be able to make informed decisions."
Ultimately, 21 Leaders is a chance for Grade 6 students to begin their leadership journey in life.
"By the time they get to junior high and high school, they already have that sense of ownership of who they are and wanting to give back to the community," Mr. Crowchild said.