Carpentry
February 8, 2022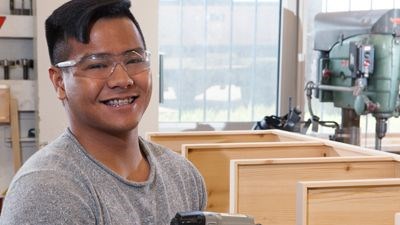 Students enrolling in the Carpentry course should enjoy working with their hands and be willing to do physical work, both inside and outside in all types of weather. Students will learn a wide variety of skills related to carpentry, cabinet making and woodworking. SAFETY is emphasized throughout the course.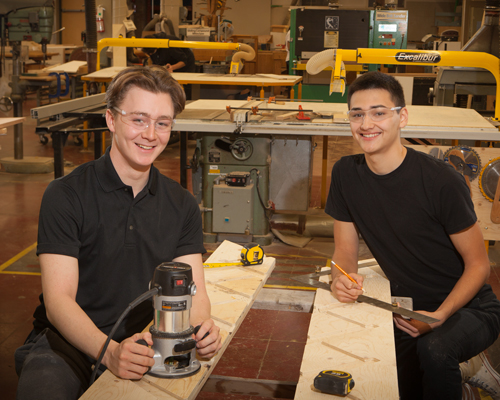 Areas of study include:
· Hand Tools
· Portable Power Tools
· Stationary Woodworking Machines
· Cabinet Making
· Roof Framing
· Framing (wood frame house construction)
· Window and Door Construction/Installation
· Stair Construction
· Concrete Forming and Estimating
· Surveying and Rrint Reading
· CNC Routing/Milling
· Interior/Exterior Finishing
Grade 9 (.5 Credits) WOHR1G
Introduction to Carpentry is intended for students wishing to sample the Carpentry trade. Curriculum content focuses on an exploration of Carpentry including safety, employability skills, career development, sustainability, and new and emerging technologies in building Construction. The emphasis will be on project-based learning activities.
Grade 10 (1 Credits) CA584V1S
Students are introduced to measurement, use and care of hand tools, portable power tools, stationary woodworking machines, project design and layout, material selection, and basic finishing techniques.
Grade 11 (4 Credits) CA000V30
Emphasis is on developing carpentry skills. The first part of the year is spent on design, layout and construction of cabinets; the remainder is devoted to roof framing and wood frame house construction.
Grade 12 (4 Credits) CA000V40
Students will learn to layout, construct and install windows and doors. They will also learn how to layout and build stairs according to local building codes. The final part of the year is spent on surveying, print reading, concrete forming, and work experience.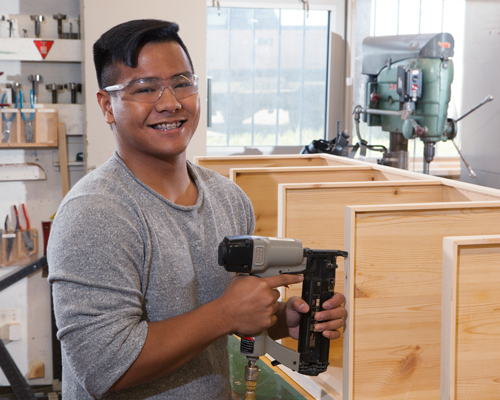 Carpentry Opportunities
Graduates from this program will have the required skills for employment in the following:
· Building Contractors
· Cabinet/Furniture Manufacturers
· Concrete Contractors
· Interior/Exterior Finishing Contractors
· Renovators
· Stair/Truss Manufacturers
· Window/Door Manufacturers
· Lumber and Material Suppliers
· Maintenance Work
· Teaching
· Tool Suppliers
As an accredited program, students who complete and maintain an average of 70% can greatly reduce the length of their Carpentry apprenticeship. Upon graduation/program completion they will receive the theory component of a level 1 Apprenticeship status in Carpentry and can immediately begin their career in the Carpentry industry upon finding suitable employment. Please contact us for complete information on our apprenticeship program.