Automotive Technology
February 8, 2022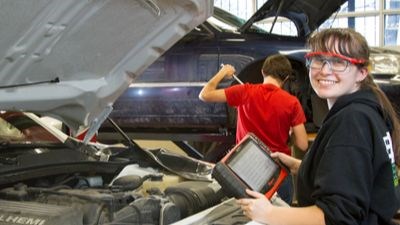 Tec-Voc's Automotive Technology program is one of the finest and most dynamic high school automotive programs in the province. The program is designed to help students develop a working understanding of the basic purpose, construction, operation and service of all automotive components and assemblies while potentially earning a level 1 apprenticeship standing. Through a combination of theory and practical application students will learn about and demonstrate their ability to service, diagnose and repair a wide variety of vehicles and systems using state of the art tools and equipment.
Automotive Technology
Areas of study include:
· Basic Automotive Systems Inspection and Service
· Engine Fundamentals, Diagnosis, Service and Repair
· Chassis and Related Systems Inspection and Repair
· Drivetrain and Related Systems Inspection and Repair
· Electrical Systems Testing, Diagnosis and Repair
· Fuel Systems Testing, Diagnosis and Repair
· Advanced Safety Systems Testing, Diagnosis and Repair
· Advanced Diagnosis and Repair (all systems)
Grade 9 (.5 Credit) PMHR1G
This course is intended for students wishing to sample Automotive Technologies in a fun and engaging environment. Emphasis is focused on hands-on projects and repairs. Students are introduced to shop safety, tools and equipment, Engine Design and Power Equipment Service.
Grade 10 (1 Credits) AT695V1S
This introductory course is intended for students wishing to explore automotive technologies, procedures and practice. The emphasis is on practical activities that incorporate a variety of automotive service based skills in a project based environment. Students are introduced to safety, tools and equipment, automotive systems, and service procedures.
Grade 11 (4 Credits) AT000V30
In grade 11 all courses at Tec-Voc become more specific, with students now locking-in to an 8 credit pathway in a technical diploma stream. Grade 11 Automotive areas of study include: Automotive Systems and Service, Engine Fundamentals, Chassis (Steering, Brakes, Suspension), and Drivetrain. Students will spend approximately 60% of their time servicing and repairing a variety of vehicles that are booked into the shop on a weekly basis. The remaining 40% of the course will focus on the study of theoretical aspects of automotive repair within a classroom/lab setting.
Grade 12 (4 Credits) AT000V40
In grade 12 the focus shifts to chassis electrical systems/components, electronic fuel management control systems, advanced safety systems and computerized engine diagnostics and correction. Also, there is an extensive work experience component in which all eligible students complete an internship at a car dealership or other licensed automotive repair facility, working under the supervision and direction of a licensed automotive technician.
Automotive Technology Opportunities:
· Automotive Dealership
· Automotive Service Centers
· Quick Service Centers
· Front-End Alignment Centers
· Muffler Shops
· Remanufacturing Shops
· Transmission Shops
Opportunities in other related areas:
· Power Sports / Power Equipment Repair Shops
· Automotive Parts Sales
· Collision Repair Shops
· Automotive detailing
· Custom Audio/Alarm Installation
· Vehicle Sales
· Engine Machine Shops
As an accredited program, students who complete and maintain an average of 70% can also greatly reduce the length of their automotive apprenticeship. Upon graduation/program completion they will receive a level 1 Apprenticeship status in Motor Vehicle Mechanics and can immediately begin their career in the automotive service industry upon finding suitable employment. Please contact us for complete information on our apprenticeship program.
Post High Automotive Program
Post High Automotive Program Post‐High applicants are welcomed but must be interviewed by department staff prior to acceptance. Students that have 20G Power Mechanics, 30G Power Mechanics and 40G or 40S Power Mechanics will be given priority but are not guaranteed a placement.