Carpathia Location
February 12, 2023
Land Acknowledgement
Carpathia School resides on Treaty 1 Land, known as First Nations Territory, as well as the Homeland of the Red River Métis. Being on Treaty One land, we acknowledge the harms and mistakes of the past and dedicate ourselves to move forward in partnership with Indigenous communities in a spirit of reconciliation and collaboration.
Physical Location
Carpathia School in Winnipeg lies between Corydon and Tuxedo Avenues, just east of Kenaston Boulevard in Winnipeg. Here is a link to an online map. The school grounds lie just just south of the Assiniboine River.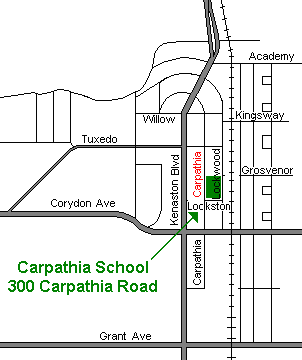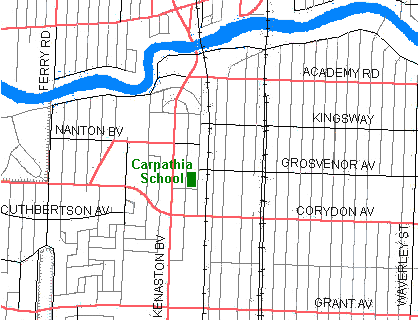 Determining Your Catchment Area
You may use the Winnipeg School Division's Find A School app to determine whether Carpathia is your catchment area school. Just enter your address in the search box at the top or click on the map. A list of schools will appear on the left of the screen. Scroll down the list to see the complete list of schools, including several division-wide program schools.