Program Information
February 4, 2021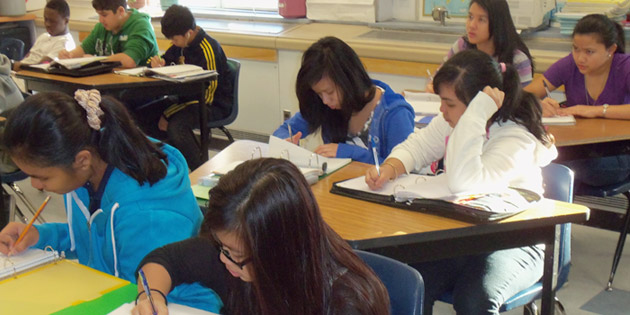 ​Hugh John Macdonald offers both compulsory and optional courses in its programs.

Grade 7 and 8: The following courses are compulsory for all students in Grade 7 and 8.
Language Arts      
Mathematics   
Science    
Social Studies   
Physical Education and Health
Industrial Arts/Home Economics   
Guidance
Grade 7 and 8: Students can select three of the following options
Art   

Cultural Studies

French

Outdoor Education/Bike building and repair 
Math Enrichment/Resource
Technology
Grade 9: Students can obtain 9.0 credits toward High School Graduation.
All students require six credits from the following subjects:
Language Arts - 2 credits     
Mathematics - 1 credit  
Social Studies - 1 credit  
Science - 1 credit  
Phys Ed. and Health - 1 credit
Additionally, students must select one subject (1.0 credit):

Industrial Arts/Home Economics
Performing Arts
Graphics                
Students must also select two subjects (two credits),
Information and Communication Technology
French  
Life/Work Exploration
Fine Arts
Planning the Student Program
Student choices in programs, subjects and options should be planned carefully based on the following:
CHOOSE a course that suits your interests, abilities, skills and aptitudes.
DISCUSS plans with parents/guardians, your teachers, and guidance counselors. They can give important information about present courses and future programs.
NEVER plan to take a course only because your friend is taking it. Consider your own abilities and skills if you are to succeed.
COURSES should be selected with your future goals and possible career in mind.
How Parents Can Help
Encourage your son or daughter to attend school regularly and be prompt for class.
Attend school functions and Student/Parent/Teacher Conferences.
Your support, as a parent or guardian, is invaluable to a young person.
If you require information about courses offered, choices students need to make or any other general information, do not hesitate to call the school and speak to the Principal, Vice-Principal, Guidance Counselor, Resource teacher, Homeroom teacher or any subject area teacher.  If the person, to whom you wish to speak, is unavailable, please leave a message with the school secretary and your call will be returned promptly.
Reporting Periods
Hugh John Macdonald has FOUR reporting periods throughout the year. These occur in October, November, March and June. Marks for term reports are determined by the completion of in-class and homework assignments, projects, notebooks, tests, portfolios and examinations. Regular tests are given in all subjects to measure progress and understanding. Formal examinations will take place in June. Our Grade 8 students must participate in Division Wide Math and ELA exams.
Marks on the report cards are given in percentages.  Each student will receive a percentage mark and a comment about their performance. The number of days or times late for Grade 7 and 8 and the number of periods absent in each subject for Grade 9 will also be indicated.
Student/Parent/Teacher Conferences will occur with the issuing of the second and third term reports. ALL parents are encouraged to visit the various subject teachers and discuss the progress of their son/daughter. Parental involvement in their child's education is extremely important. 
Parents are encouraged to keep in contact with subject teachers at any time to discuss the progress of their son/daughter.
Promotion Policy
In order for a student in Grade 7 or 8 to be promoted to the next grade level, he or she must achieve a passing grade in three of the core subject areas. If a student fails two of the core subject areas (Math, Science, ELA, Social Studies), he or she will be recommended for one of the following:
be recommended to take one of the subjects at summer school at a cost to be determined later and paid for by the parent.
be placed in the next grade after consultation between the parent and school.

Parents and students should be aware that subjects such as Physical Education, French, Art, Computer, Health, Industrial Arts/Home Ec., and Options also play an important role in determining promotion to the next grade level. It is expected that all students fully participate in these programs and will achieve passing marks.
In Grade 9, students are granted CREDITS for the courses which they successfully complete. A student may obtain 9.0 credits towards High School Graduation while at Hugh John Macdonald. The student must successfully complete all of the requirements of a subject before being granted a credit. If a student does not successfully complete the credit(s), he or she will be required to complete the credit(s) before being eligible for the next level.
Awards
Awards are presented annually to students who demonstrate excellence in their subject areas. The following awards are presented at each grade level:
Outstanding Proficiency Awards in subject areas 
Individual Subject Awards
General Proficiency Awards in subject areas 
Honour Roll
School Board Awards    
Pursuit of Excellence Award
Citizenship, Academic, Participation Awards 
Technology Awards
Memorial Awards    
Community/Citizenship Awards
Athletic Awards      
The staff also recognizes the contributions of students to the school through their participation in school activities, sports, yearbook, and student council.
High School Bursaries
Applications for high school bursaries are available to all Grade 9 students in February. Bursaries are based on financial need and attendance in Grade 10.
Industrial Arts and Home Economics
The Industrial Arts and Home Economics programs are taken at Niji Mahkwa School.  In order to ensure the safety of all Hugh John Macdonald students, school bus transportation to Home Ec./Industrial Arts is provided.  All students are expected to be on time for bus departure on their designated Home Ec/Industrial Arts day.
The Grade 7 and 8 students are assigned by homeroom to Niji Mahkwa and will rotate through a variety of programs. These programs will introduce the students to woodworking, metal, electronics, sewing, cooking and drafting. Grade 9 students who have chosen this option will have the opportunity of selecting their "shops".
English as an Additional Language
The EAL class is designed as a welcoming reception learning center for a diversity of EAL students with English learning needs. Many of these students arrive from across the globe and this is their first classroom experience in the Canadian context. The leader teacher is Ms. Schellenberg and the Educational Assistant is Ms Wesley.

Eagles' Circle
Eagles' Circle is an off-site alternative program of Hugh John Macdonald School.  It is located in Rossbrook House, 658 Ross Avenue.  It is designed for aboriginal students in Grade 7 – Grade 9, who choose to learn in a smaller setting with individualized programming.  Students enrolled in Eagles' Circle have access to classes in Art, Computer, Phys. Ed.​ at Hugh John Macdonald's main campus and Industrial Arts at Niji Mahkwa School, 450 Flora Avenue. Eagles' Circle is staffed by two teachers – Karl Courchene, Robyn Flamand, and one educational assistant - An Nguyen.
​​