School History
February 5, 2021
​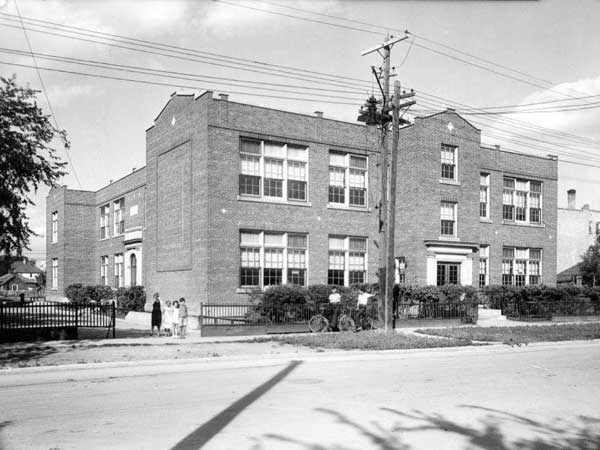 David Livingstone Community School is named in honour of the greatest explorer-missionary in Africa of the 19th century. David Livingstone (1813-1873) was an explorer, a doctor, a philanthropist and a missionary hero who gave his life for Africa. He was responsible not only for opening up the southern half of the continent, but also for disclosing to the civilized world what he called "the running sore of Africa". He battled heroically against the slave trade enlisting others in the struggle.
David Livingstone Community School opened in 1922 consisting of 11 rooms. Additions and alterations occurred in 1956-58 and 1968. A single story addition was constructed to the north of the existing building which included kindergarten and nursery spaces, library, art room, gymnasium and administrative spaces.
David Livingstone School is located in its original spot just off the heavy Main Street traffic and busy Selkirk Avenue. The status symbol of the day was a car - not too unlike the Model T Ford - but few families were its proud possessors. Horse drawn farm sleighs and delivery wagons were all part of this era. This was an active, interesting and exciting part of the city. It was primarily a multi-cultured immigrant area where many nations worked and lived in harmony.
There was the early period of the Red River Settlement when the Anglo Saxons inhabited the surrounding area. Selkirk Avenue stretched from the Red River for almost 2 miles. On one end was the river which the First Nation people had used for transportation for centuries. While the other end of the tracks was used by the settlers. Next came a large Jewish community and at one point there was a Jewish synagogue across the street from the school. Later, the Ukrainian people came into the area during the time of great immigration from Central and Eastern Europe.
The area boasted an open-air market. Fridays and Saturdays were very busy days and the atmosphere around the market was one of warmth and well-being. A four block square beautiful park known as "Stella Park" was much used. Those were the days of wooden sidewalks, open-air streetcars which ran on rails, food kept in bins at the small corner grocery store, raffia and plasticine in school handicraft classes and middies and bloomers in gym classes.
David Livingstone has made many contributions to the life of Canada. Today its graduates are found among the professions, research and business.
​​