Sisler CREATE students in spotlight at Jets' Filipino Heritage Night
November 10, 2022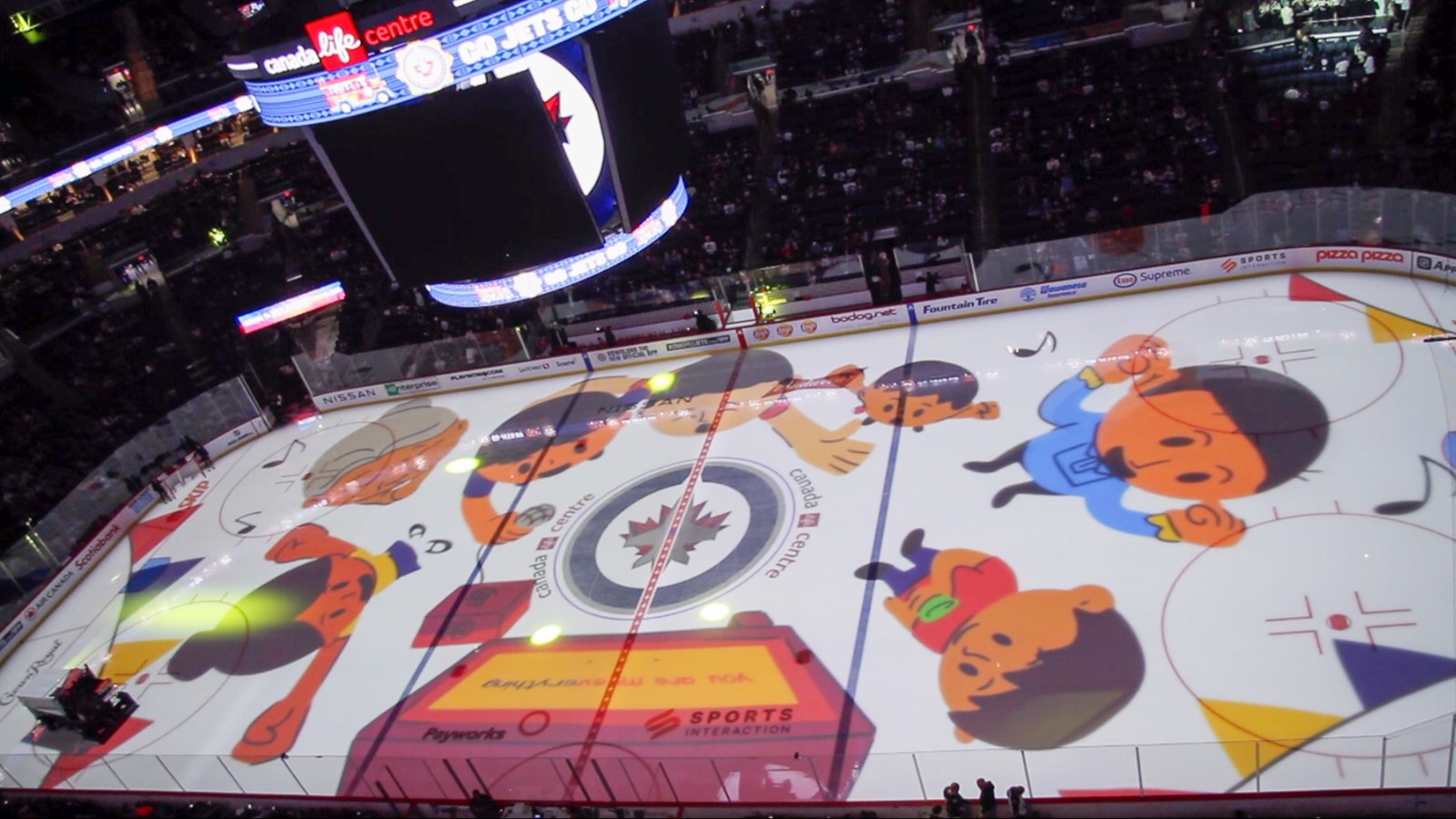 Students in Sisler High School's CREATE program made a colourful contribution to the Winnipeg Jets' Inaugural Filipino Heritage Night.
With its large Filipino population, Sisler was a natural choice to help out with animations and motion graphics for the production, including ice surface images, 360 displays and scoreboard images.
Approximately one month ago, students from the CREATE program's animation and film/motion graphics/visual effects cohorts were enlisted to assist the Jets production team for the Nov. 8 game.
Film student Lee Chiu was one of the team leads that met with True North Sports and Entertainment staff at Canada Life Centre early on.
"We had four leads that went to the arena to talk with their staff about what our canvases were—the ice, the scoreboards and the 360 degree rings. That gave us an idea of what we would be working on for the next month," he said. "After going there, we went back to class and decided that we definitely need more people to work on this, so we brought more people on board."
Gian Abad and Daphne Dizon, who are both post-high students studying in CREATE's animation cohort, worked on several different animation segments; Daphne was part of the asset development team, while Gian was involved with the 2D animation process.
"It was a really great honour to be a part of the first-ever Jets' Filipino Heritage Night," Daphne said. "Through this opportunity, we can expose more people to Filipino culture."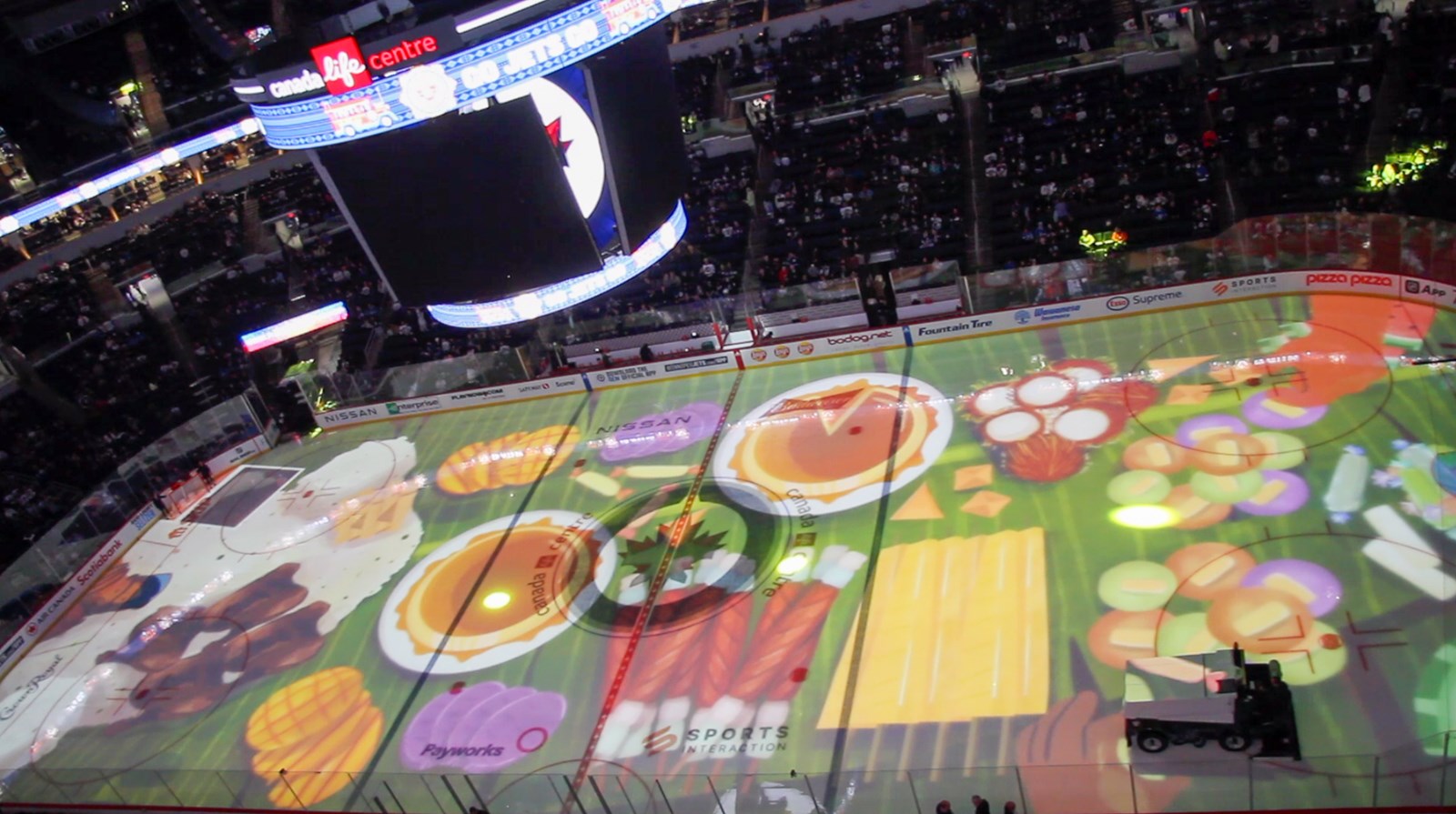 One of the Sisler animated segments involved the depiction of a Kamayan, a traditional Filipino feast where food is eaten with banana leaves instead of utensils; the feast is also called a "boodle fight" in reference to the military practise of eating a communal meal.
"It's a way of eating together…there's no actual fighting," Daphne laughed.
Daphne said the project was not only an opportunity share Filipino culture with other Canadians, it was also a chance for Filipino students to reconnect with their culture.
"Speaking for myself, I left The Philippines when I was two years old. So I grew up here in Canada," she said. "Working on this project has really opened my eyes. For example, there were some traditional games, that I didn't get to play growing up here, that we learned more about and were able to show."
Conversely, Gian left The Philippines when she was ten, so she had more time being immersed in the culture.
"A lot of the Filipinos at Sisler grew up here instead of The Philippines…it was so fun to teach people more about the culture," she said. "I have a Filipino friend who truly doesn't speak any Tagalog at all, and by the end of the project he was using Tagalog words."
Approximately 30 Sisler CREATE students, as well as some of their teachers, were able to attend the Nov. 8 game, which saw the Jets defeat the Dallas Stars 5-1. For many of the students, it was their first live Jets game.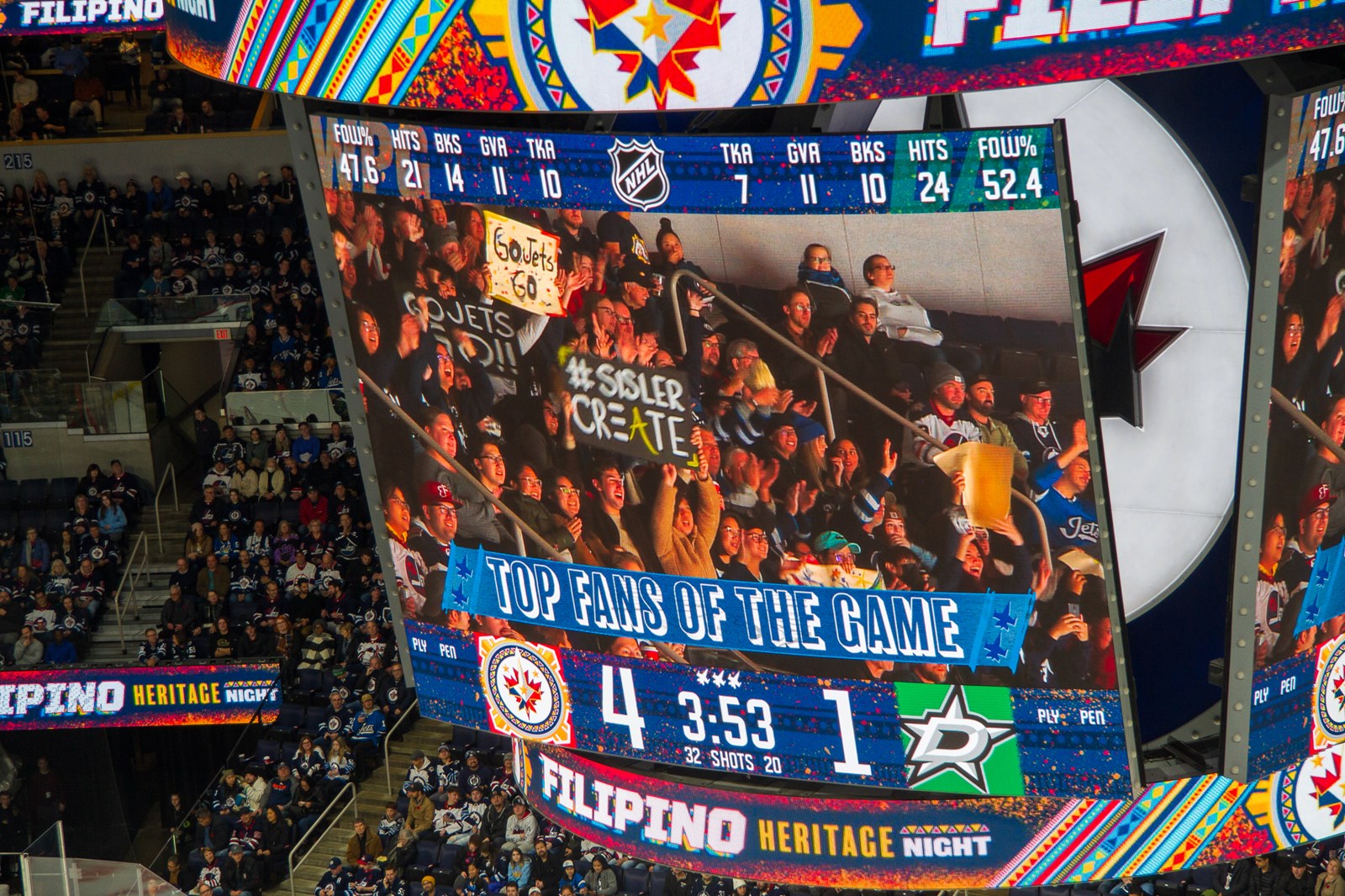 Sisler CREATE students were swept up in the excitement of a big game for the Winnipeg Jets. Supplied photo.
Students said they were excited to see their work on such a large stage.
"Having that opportunity to go and see our work live was so surreal," Daphne said. "Usually, when you think of animation, you see it on your computer or maybe at a movie theatre. With this, to see it on the ice surface in this huge arena, it was so cool. It was very fulfilling."
Film student Mailyn Ramiscal worked on a motion graphics segment (featuring some spiralling sun designs) that ended up being used several times during stoppages in play.
"I almost felt like I was going to cry at one point," Mailyn said. "I felt proud to see my work there, I've never done anything like this before. If you talked to me a year ago, I never saw myself putting my work out in front of so many people."
Lee worked on a motion graphics segment involving a jeepney—a Filipino form of transportation that is a cross between a jeep and a bus.
"We had it drive past different landmarks across The Philippines, like the Rizal Monument, the Banaue Rice Terraces, markets and the Chocolate Hills," he said.
Lee added that students were excited to see Filipino culture represented on such a vast national stage.
"We were just really excited to see ourselves on screen. We don't really get a lot of representation in media, so it was just really exciting to represent Filipinos in Winnipeg and all over Canada."
Longtime Sisler CREATE teacher Bernard Alibudbud, who also happens to be of Filipino heritage, said he was proud of the students and their work.
"It was a great opportunity for the students to share their talent with the community. They did a great job of showing our Filipino culture."
Here is a full list of the Sisler CREATE students involved in the Winnipeg Jets Filipino Heritage Night production: Gian Abad; Cedric Abejero; Ivan Abrasaldo; Carmen Acuna; Cathy Aldea; Sam Balanial; Kaitlyn Caballero; Xierra Cansino; Kim Chau; Lee Chiu; Mikhylla Dilag; Angelica Dino; Daphne Dizon; Francine Dulay; Melvin Egualan; Onah Fuentes; Maria Gotiongco; Mary-Anne Guiboche; James Gumboc; Allysa Isidro; Xav Laugo; Christian Lee; Jeremy Legaspi; Shaina Maralit; Francesca Musni; Mailyn Ramiscal; Aaron Reyes; Andrea Trajico; Julia Vallega; and Angelica Velasco.
Here is a video profile of the Sisler CREATE / Winnipeg Jets collaboration at NHL.com .