Thursday night lights
February 8, 2021

​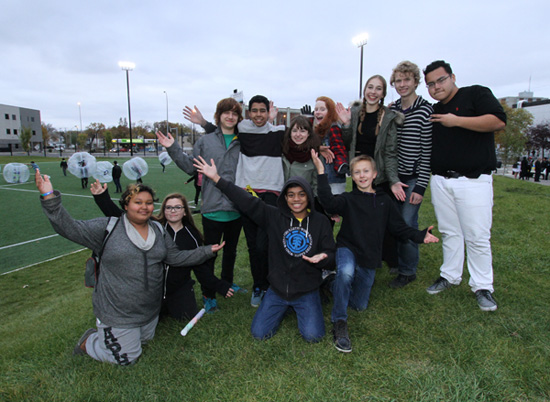 The big lights are finally on at Gordon Bell High School's Panther field.
The school turned the field's lighting on for the first time on Thursday, Oct. 8 during the school's fundraising walkathon.
"The kids are really pleased, now they'll be able to skate here in the winter after school when it gets dark so early," said Principal Arlene Skull.
Gordon Bell alumnus Peter Mikos, who is from the company EnduraliteLED, donated the lights for the field.
The school is continuing to fundraise for the remainder of the costs, which include poles, wiring, electrical boards etc.
The Lions Club of Winnipeg got the $53,000 campaign off to a good start with a  $6,000 donation; club representatives were at the walkathon to show their support.
After students walked their laps, they continued to play on the field into the early evening, using giant inflatable balls donated for the evening by River City Bubble Ball.
Students said the newly-lit recreation field has brought an added dimension to Gordon Bell.
"This brings some pride to the school, where before we were just another concrete building in the middle of downtown," said Grade 12 student Sarah Norman.
"It's a safe place where the community can come together…they can play without any worries," added fellow Grade 12 student Rachel Miltenburg.