École Laura Secord School History
March 19, 2021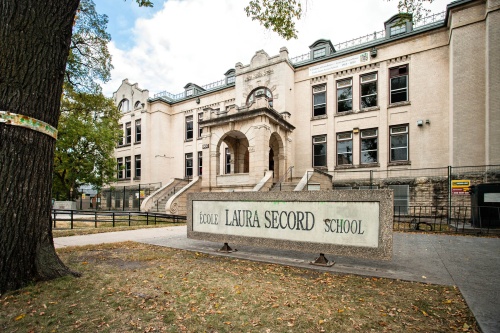 Laura Secord School
960 Wolseley Avenue
Winnipeg, Manitoba
R3G 1E7
Prepared August 1992
Updated 2010
Built: 1912-1914
•
Opened: August 15, 1913
•
Official opening: December 10, 1913
•
Contractor: Thomas Kelly & Sons
•
Contract: $215,000.00 (actual cost $218,259.00)
•
No. of rooms: 26 plus 2 manual rooms, auditorium (3 story)
Laura Secord School was supposed to have been built on Westminster but the board found the site too small and in 1912 built the school on
Wolseley in Winnipeg's West End. Although construction was not completed by 1914, the school was occupied on August 15, 1913. It was formally opened December 10, 1913, by Mrs. I.
Cockburn, the granddaughter of the heroine for whom the school is named. Mrs. Cockburn also unveiled a portrait of her grandmother, Laura Secord.
The school started with 26 classrooms. Facilities included an auditorium, shops area, full shower/bath facilities, and living quarters for the caretaker on the third floor. It was also the first time the Winnipeg School Division had named a school after a Canadian who was not a Westerner.
Laura Secord School was designed by Winnipeg School Division architect J.B. Mitchell. It is a
three-story, symmetrically planned, Beaux Arts style masonry structure. The location of the school originally appeared amid the empty market garden fields at the fertile slope approaching the bank of the Assiniboine River. This now central area was one of Winnipeg's first westward residential developments.
The school's imposing brick structure boasts many stone details, stained-glass above the tall classroom windows, and an elaborate baroque entrance stair and canopy. These features were originally crowned by a bell tower since removed.
When Laura Secord opened it was the most modern structure of its kind. It was absolutely fireproof, having no wood in the whole building except the desks and hardwood floors in the classrooms.
The school opened in August 1913 with an enrolment of 602 pupils and 14 teachers. However, only 10 of the 26 rooms were completed, with six more finished in January and the remainder of the school finished by the summer of 1914.
By 1914, there were 774 students at Laura Secord from Grades 1-9. In 1921,
Wolseley School opened to take some of the pressure off Laura Secord and in 1960, all junior high classes, Grades 7-9, were transferred to Gordon Bell School.
Pupils in the new Laura Secord School came from comfortable homes in the West End. The district, which was new in 1912, developed rapidly, and the school grew as a part of the thriving community. It was almost exclusively Anglo-Saxon in its ethnic composition and rigorously middle-class.
In its early years, a school board dental clinic was established at the school. As one of four clinics serving the city's schoolchildren, the dental clinic was one facet of a new holistic approach to education.
In 1940, enrolment reached 1012 students in 24 classes, with morning and afternoon kindergarten classes added shortly thereafter.
During the 1960s and 1970s, there was a discernible shift in the student population as rents lowered in the district and many of the large houses were subdivided. Laura Secord School has been revitalized with an infusion of new ethnicities, symbolized with a mini-
Folklarama held there in 1976.
In the 1980s, the City of Winnipeg's Historic Building's Committee evaluated Laura Secord School and recommended its historic designation. However, after numerous years of service to the public, the building required much renewal to continue modern functions.
The Public Schools Finance Board and the Winnipeg School Division committed themselves to the renewal effort in 1987.
Ikoy Architects were contracted to replace the original metal roof and to correct some exterior foundation problems. As well, the school underwent major structural and interior renovations including new administrative offices,
replanned corridors, an elevator, and new building systems.
An official reopening of Laura Secord school was held on February 18, 1991.
Since then, the building has undergone numerous changes icluding repairs from two fires, one in 1995 and another in 2011. A new gymnasium was added in 2018, complete with a skywalk connection from the original building. A revitalized playground area was added in conjuction with the addition of the new gym.

Laura Secord (1775 - 1868)
Laura Ingersoll was born in Massachusetts in 1775. That same year her parents brought her to Canada when they were forced to flee from their home because they were United Empire Loyalists.
James Secord and Laura Ingersoll were married and went to live near
Queenston. When Sir Isaac Brock called for recruits, James Secord was one of the first to volunteer. When Sir Isaac Brock fell on the battlefield at
Queenston it was to the Secord home he was taken. On the same day, James Secord was badly wounded and would have died had it not been for his brave wife who found him on the battlefield.
In the following weeks, the Americans gained a footing in Canada, and early in June 1813, the
Secords were forced to allow a number of Americans to be billeted at their home. One night, Mrs. Secord overheard them making plans. She heard the words "Fitzgibbon" and "Beaver Dam".
Beaver Dam was a Canadian outpost some twenty miles away and Lieutenant Fitzgibbon was the officer in charge. He had barely 150 men behind him. At once she knew that she must warn him. As her husband had not yet recovered, she knew she must warn Fitzgibbon herself.
Early the next morning she took a cow with her to provide herself with an alibi. An American sentry asked where she was going. She said she was taking the cow to St.
David's where she had a sick brother.
As soon as the sentry was out of sight she let the cow graze and hurried on her way. The trail led through swamps and at one place she crossed a stream by crawling over on a log. At night, she came upon a group of Caughnawaga allies, who she begged to take her to Lieutenant Fitzgibbon.
They did so and she gave her information at once. Quickly Fitzgibbon sent messengers to Twelve Mile Creek for assistance. In the morning, when the Americans made the attack, they found themselves surrounded by Mohawk, Caughnawaga, and British forces, and surrendered.
Laura Secord lived for another fifty years. During that time many people visited her in her home at
Chippawa just to hear the story from her. In 1860, King Edward VII, who was then Prince of Wales, visited her, and later sent a gift of $500.
When Laura Secord died in 1868, a monument was erected in her
honour
at
Queenston Heights with the words: "This monument has been erected by the Government of Canada to Laura Ingersoll Secord, she saved her husband's life on the Heights on October 13, 1812, and who risked her own in conveying to Captain Fitzgibbon, information by which his allied forces won the battle of Beaver Dam, June 24, 1813."