WSD SORA Digital Library
July 6, 2023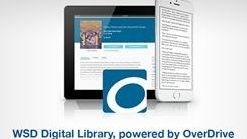 The WSD SORA Digital Library, powered by OverDrive, provides students and staff with immediate anytime, anywhere access to a wide variety of e-books, audiobooks and interactive story books.
The Digital Library can be read on a variety of devices, from iPads, laptops, tablets, and phones through the OverDrive app.
Please email us at wlsslibrary@wsd1.org or call VOIP 101-343 or 101-356 for username/password information.