Our Stories of Hope Project
May 23, 2023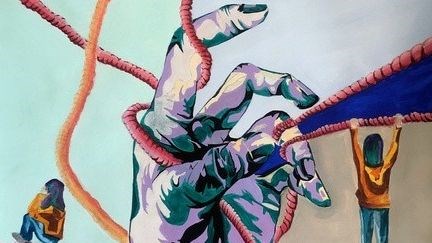 PROJECT BACKGROUND
Gordon Bell High School, located in Winnipeg's inner-city, is a thriving Grade 7-12 school whose strength lies in the diversity and resiliency of the students it serves. Our Stories of Hope Project honours the diversity of the Gordon Bell community, which includes representation from 71 cultural groups, and is dedicated to giving Gordon Bell students the opportunity to tell their personal stories. In March of 2021, Peter Leipsic, local business innovator and philanthropist, whose father Captain Barry Leipsic was an alumnus of Gordon Bell, reached out to Gordon Bell High School to come up with a project where students would have the opportunity to lift themselves and others up through the power of their story.
PROJECT SUMMARY
Our Stories of Hope Project strives to empower students through the sharing of their history, culture, traditions, lived experiences, overcome challenges, triumphs, success' and dreams for the future. Students are invited to share their personal stories through a variety of mediums, including: written text, oral storytelling, film, dance, song or visual art
GRADE-LEVEL AND PROGRAM-BASED CATEGORIES
Every year at Gordon Bell, students will be given the opportunity to share and celebrate their stories with their peers and community members in the category that applies to them: Grade 10, Grade 12, English as an Additional Language (EAL), Inclusive Education and Off-Campus. It is our commitment that students will have the opportunity to share their story at least once throughout their time of learning at Gordon Bell. Student projects will be submitted to and evaluated by a diverse panel of community members, teachers and administrators with expertise and lived experience in a variety of fields that will reflect the diverse mediums of the final projects.
PRIZES
Through the dedication of community members and the commitment of our community partnerships, students will be encouraged to share their stories, and have the opportunity to be acknowledged for their efforts. Top recipients for each category will receive bursary awards.
GALA EVENT CELEBRATION
Each year, the project will culminate at a gala event, honouring each entrant and their story and celebrating the award winners in each category.
OUR GOALS
It is our hope that with the support of community donors, community partners and the teachers and administrative staff members we can create a living legacy of stories through the Our Stories of Hope Project. Our goal is to inspire and motivate future generations of students to model agency and resilience within their communities.
DONATE
Donations can be made to The Children's Heritage Fund - Our Stories of Hope Project | c/o the Winnipeg School Division by contacting: Vivian @ vbermudowilson@wsd1.org.
Donations can also be made online via PayPal here:
Donate with Debit Card or Credit Card


If you have any questions about the project, please contact the lead: Justin Dyck @ 204-774-5401 | judyck@wsd1.org


Student Testimonials
I wrote this song because I have dealt with the feeling of being less respected than people who are extroverted. I feel like people don't understand how hard it is to change being shy, it's not something that happens overnight for most it takes years or sometimes doesn't happen at all which is okay.
Grade 10 student, Chloe T.
I spent a lot of time wondering what kind of story I could write that could make people think about the world we live in today. I wish that everyone that reads it can gain new thoughts to better ourselves and our society. It was to bring awareness to the harsh reality of the society we live in and I want people to know about it more.
Grade 10 student, Dynisty N.
The inspiration for this piece (Turning Point) comes from a personal relationship. I wrote this piece as a way of laying out my feelings of fear and frustration and leading them to a place where I could find peace and calm. A turning point is a point in a situation that begins a new direction in which the narrative will go. Sometimes in our lives we feel like we've fallen down and simply can't get up. We all have to come to aturning point before we can put the past behind us and move forward in a new direction. Simply put, this piece is about feeling lost and finding hope again.
Grade 12 student, River S.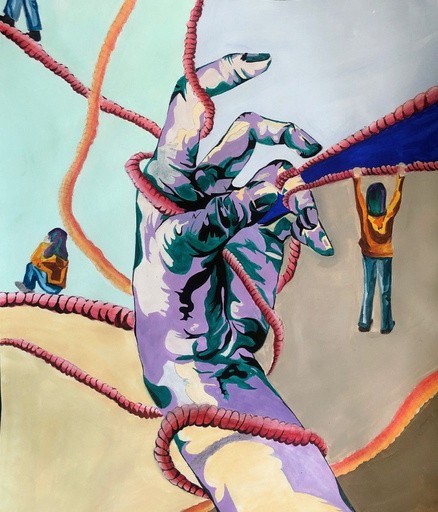 Art Piece by Grade 12 student, Irene Kim


2021 Statistics
Student submissions: 55
$4750 awarded through bursaries Community Member Panelist Participation: 25
2022 Statistics
Student submissions: 45
$6625 awarded through bursaries Community Member Panelist Participation: 25
Thank you to our sponsors
Karen & Peter Leipsic |
Canadian Human Rights Museum