Year-end Letter to GB Students & Caregivers 2022
June 21, 2022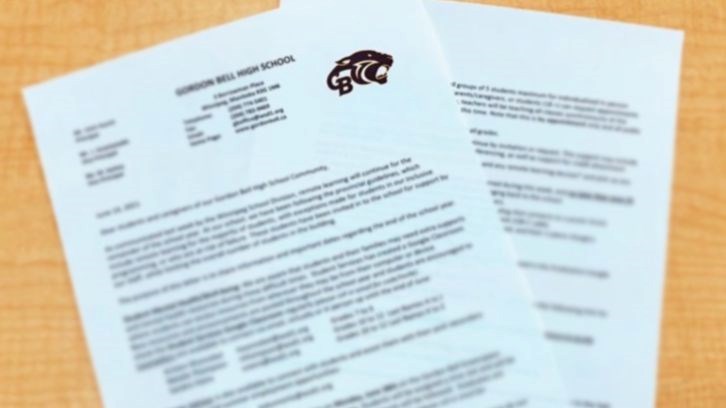 Dear students and caregivers of our Gordon Bell High School Community,
The purpose of this letter is to share with you information and important dates regarding the end of the school year.
Grade 12 Graduation: We are thrilled to share that this year's graduation will be in person!
The graduation ceremony will take place on Tuesday, June 28th at the Portage Avenue Church, located at 1420 Portage Avenue. Graduating students must arrive by 9:15 a.m. The ceremony begins promptly at 11:00 a.m.
Mask wearing is advised to comply with the Manitoba Public Health measures.
Graduates are reminded to check the Graduation Google Classroom for updates regularly.
Important information graduates need to remember:
June 10 – 17 Grad Dinner and Dance Tickets $50 See Melissa in the library to purchase the Completed grad/guest form(s) required!
Fri. June 24 Grad Breakfast 9:15 a.m. Room 129 All graduating students and their teachers should attend.
MANDATORY Grad Rehearsal Following Grad Breakfast all graduates will get on a bus together and travel to Portage Avenue Church
Please Note: Transportation is ONLY to the church.
Grads must make their own arrangements to get home. Dismissed by 1:30 p.m.
Tues. June 28 Graduation Ceremony Portage Avenue Church 1420 Portage Avenue (plenty of parking available)
The ceremony begins at 11:00 a.m. Grads MUST arrive by 9:15 a.m.!
Tues. June 28 Dinner and Dance Radisson Hotel 288 Portage Avenue Doors open at 6 p.m. Dinner at 7 p.m.
Staff members are working hard to make sure this return to in-person graduation is a memorable and joyful experience for our graduates and their families.
We would like to take this opportunity to congratulate the graduates of the Class of 2022! We are proud of all of our students and all that they have achieved. They have shown flexibility and resilience over the last two years, navigating learning through a pandemic. The skills of remote and in-class learning will assist students in future work.
This is a generation that learned new vocabulary, skills and the ability to set priorities to take care of themselves as well as their families. They say it takes a village to raise a child. This has never been more evident than during this pandemic. On behalf of our staff, we thank you so much for your support! You are truly appreciated!
Grads and Students NOT Returning in the Fall: Your WSD account WILL be deleted. This includes the contents of your WSD email, Google Drive (essays, projects, pictures, etc.), O365 or your home directory on the division file servers. EVERYTHING will be lost and CANNOT be recovered. As a reminder, it is important that you transfer or copy any material you wish to keep onto a personal account or device before June 30th.
Final Marks and Assessments: As a staff, we continue to be committed to student well-being as we wrap up and finish the school year strong. As much as possible, course marks will be based on outcomes identified and met during the course, not on final summative assessments. All teachers are working diligently to follow up with all students and caregivers. We encourage you to communicate with teachers and/or assigned guidance counsellor if there are issues related to course work and completion.
Important Year-End Events and Timelines:
There is no formal exam period for all grades, final assessments will continue until June 17th
June 20 to 30: Individualized student support and reflection of learning will continue during this time. This support may include meetings with teachers to finalize presentations or conferencing, as well as support for credit attainment.
Important dates:
June 23 – Junior High Land-based learning all day at Birds Hill Provincial Park. There will be no water activities offered as we do not have the service of a lifeguard.
June 24 pm - Junior High awards – Parents/caregivers of student receiving awards will be contacted by their homeroom teachers.
Senior High awards will follow in September 2022
June 27: Report Cards will be sent out electronically
June 28: Graduation Ceremony / Dinner and Dance
June 30: Last day of school. Dismissal for students will be at 11:30 a.m.
A reminder that the school will not be open during the summer months. Please see the following link for resources you can access during this time:
https://www.winnipegsd.ca/page/21126/healthy-minds-mental-health-and-wellness-resource-guide
Pre-registration will be accepted until Thursday, June 30th, 2022
Resource / Counsellors are available to connect via email, virtually or in-person up until the end of June:
Faridah Shams fshams@wsd1.org Grades 7 & 8
Kristen Wynnobel kwynnobel@wsd1.org Grades 9 & 10 to 12 Last Names A to J
Off-Campus: RSUN
Sandra Vieira svieira@wsd1.org Grades 10 to 12 Last Names K to Z
Off Campuses: MALL, ND, STRT & Child Care Lab
Our Career Advisor is also available until June 29th to connect with students and assist them with their post-secondary plans, volunteer and summer employment opportunities: Melanie McGillis mmcgillis@wsd1.org
The school office will re-open on Monday, August 29, 2022
Timetables will be sent out electronically at the end of August.
We wish you and your family a restful and safe summer break and look forward to seeing you in the fall!
Best Regards,
Vinh Huynh Mercy Sackey Jonathan Fast
Principal Vice-Principal Acting Vice-Principal