Circle Garden
May 25, 2021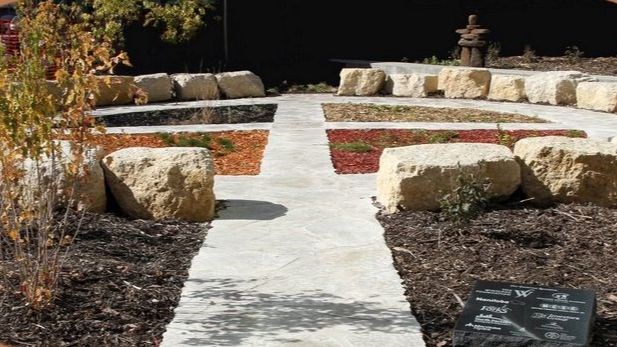 In October 2007 three Winnipeg School Division educators sat down at The Winnipeg Adult Education Centre (WAEC) to collaborate about further integrating an Aboriginal perspective into some science lessons. Their work developed into something much more than expected. These three educators were Linda Marynuk, Aboriginal Education Support Teacher, Dr. Heather Robinson, WAEC Science Educator and Rhonda Morrissette, WAEC Teacher-librarian and one of the ideas shared was Dr. Robinson's vision for an Aboriginal teaching garden. With the support of principal Dushant Persaud they agreed to submit an application for a Manitoba Teacher Society Equality in Education Initiative Grant. One month later they received notice that the application was approved, and that's how it all began.
On June 10, 2009 over 200 students, staff, community members, funders and other supporters participated in a Blessing Ceremony led by Dave Courchene Jr. Dave spoke of the significance of the garden in an urban setting, of including the Aboriginal perspective in all our lives for a better and sustainable future, and offered a prayer that the building of the garden would proceed well. A traditional feast followed including a sumptuous selection of wild meats prepared by Marcel's mother Mary Kithithee and friend Ethel Woodhouse.
In the years to follow, the garden has grown and evolved to include a medicine wheel, interpretive signs, an inukshuk, seven teachings plaques, and countless plants and native species. The Circle Garden continues to be an integral part of The WAEC campus at 310 Vaughan St. as well as an important community space for Downtown Winnipeg. It is a key component of Indigenous lessons, celebrations and sacred ceremonies throughout the school year, and is used year-round by community members.
To learn more about the significance of the Circle Garden (in four different languages), click here.