Hairstyling
January 16, 2023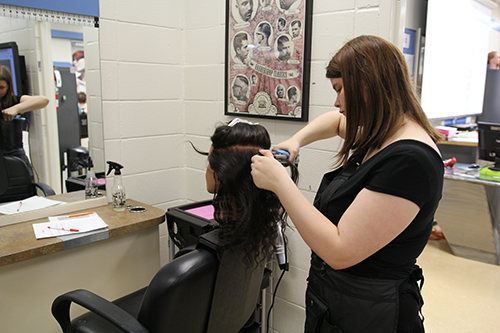 The Hairstyling Program is designed for students who enjoy meeting and talking with people and working creatively with their hands. Hairstyling is an art often associated with the world of fashion. A successful career in Hairstyling requires a creative flair, an artistic imagination, good finger dexterity, a pleasant personality, strong customer service skills, and the ability to stand for extended periods of time.
The Hairstyling Program is a 1400 hour accredited program which meets apprenticeship training standards. Students must attain a 70% average in both the theory and practical components in all twelve courses in order to enter the apprenticeship program. Once all the portions of the course are completed, the student may challenge the government exam. A total of 1400 hours must be completed before application of license, so ATTENDANCE is of the utmost importance.
Post-grad industry training option for high school grads:
The 20-month (2 year) 1400 hour accredited hairstyling ADULT program is delivered in a high school format. The 12 credit courses are administered in the salon environment, adheres to the in-services and observes the structure of the Winnipeg School Division practices. During the program you will be prepared for employment as an apprentice for the Hairstyling Industry or other career options.
Career Opportunities
• Salon Hairstylist
• Color Technician
• Salon Receptionist
• Hairstyling Assistant
• Manufacturer's Representative
• Cosmetic Chemist
• Salon Owner
• Platform Artist
• Hairstyling Educator


The Hairstyling Course
Grade 9 (.5 Credit)
Exploration of Hairstyling: Students will explore the Hairstyling, Esthetics and Fashion industry.
Grade 10 - Beginner Level (4 Credits)
Introduction to Hairstyling:
Orientation with trade tools and learn basic fundamentals.
Basic Hairstyling:
Learning the principles of Hairstyling through wet setting and formal up do's.
Basic Haircutting & Thermal Styling:
Students will gain knowledge of four basic haircutting techniques.
Related Salon Services:
Working on clients and exploring the components of the curriculum in manicuring, and make-up.
Grade 11 - Intermediate Level (4 Credits)
Intermediate Haircutting Techniques
: Introduction to clipper cutting, razor, taper and design lines.
Hair Coloring:
Students will learn the theory and practical aspects of coloring.
Intermediate Hairstyling and Artificial Hair:
Explore materials and demonstrate skills regarding wigs, hairpieces, and hair extensions.
Chemical Texture Service:
Students will work on wrapping patterns, chemical texture waves, chemical hair straightening and relaxing techniques.
Grade 12 - Advanced Level (4 Credits)
Advanced Hairstyling and Coloring:
Continue demonstrating skills in thermal styling, wet setting, braiding, UPDO's, hair coloring, highlighting, and special effects.
Advanced Haircutting and Chemical Texture Service:
Students will learn new trends and take a closer look at industry.
Salon Operations:
Learning fundamental practices, safety (WHMIS), and business operations of the salon environment.
Certification Preparation:
This course provides student with skill preparation for the Government Provincial theory and Practical exam.
Would you like more information, contact the instructors:
Instructor: Rosa Colatruglio
Telephone: (204) 589-5301
Email: rcolatruglio@wsd1.org