Gordon Bell - Field Day
February 8, 2021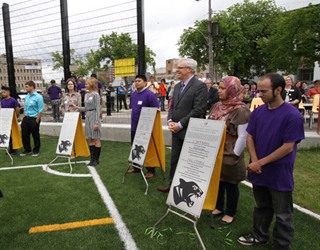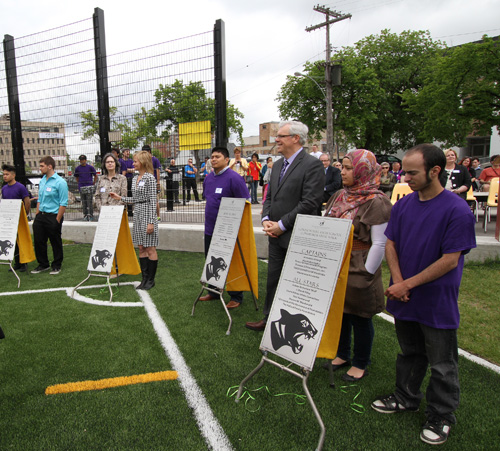 To the strains of ELO's "Hold On Tight (To Your Dream)" students at Gordon Bell High School took to the field en masse to celebrate the Grand Opening of their school's new Greenspace.
In attendance for the June 10 ceremony was Premier Greg Selinger,

Education Minister Nancy Allan, Trustee Anthony Ramos, Chief Superintendent Pauline Clarke and a host of other dignitaries.
After the unveiling of several plaques that will honour major contributors to the project, the ceremony had a multi-sport face-off to officially announce that it was "game on."
Winnipeg Blue Bomber greats Bob Toogood and Stan Mikawos, Winnipeg Jet and city councillor Thomas Steen, Winnipeg Goldeyes Nick Lilies and Kaohi Downing, lacrosse player Kevin Settee, U of W soccer player Lamin Colly, and ultimate Frisbee players Kaiya Seaman, Latitia Seaman and Ethan Kovacs faced off with their Gordon Bell Panther counterparts to the cheers of the crowd.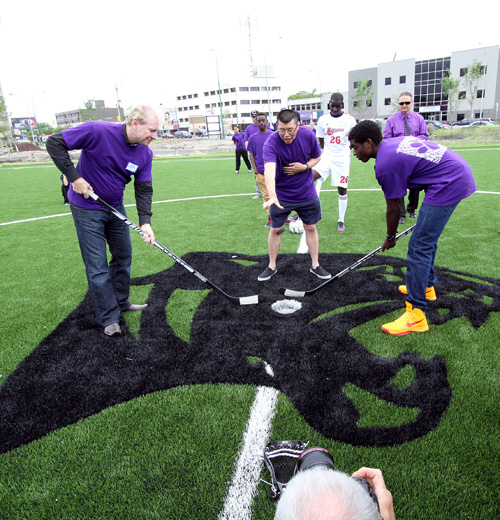 The ceremony marked four years of efforts from students, staff and community members to provide the school with some much needed greenspace.
Previously, the land adjacent to the school, located at 730 Portage Ave., was owned by Canada Post; the corporation graciously sold the 2.5 acres of land in 2009 to Manitoba Education, which in turn allocated it to the Winnipeg School Division.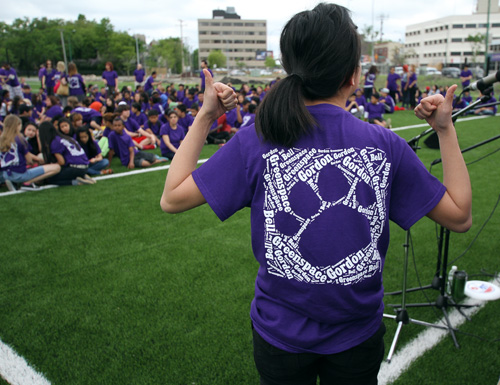 Through grassroots fundraising, the school raised approximately $500K, in addition to the $1.5M from the Province to install an artificial field turf, as well as a stage, cross country loop, prairie plant gallery and outdoor classroom that will be added in the coming months.