Queenston helps launch Cool 2Be Kind campaign
November 8, 2022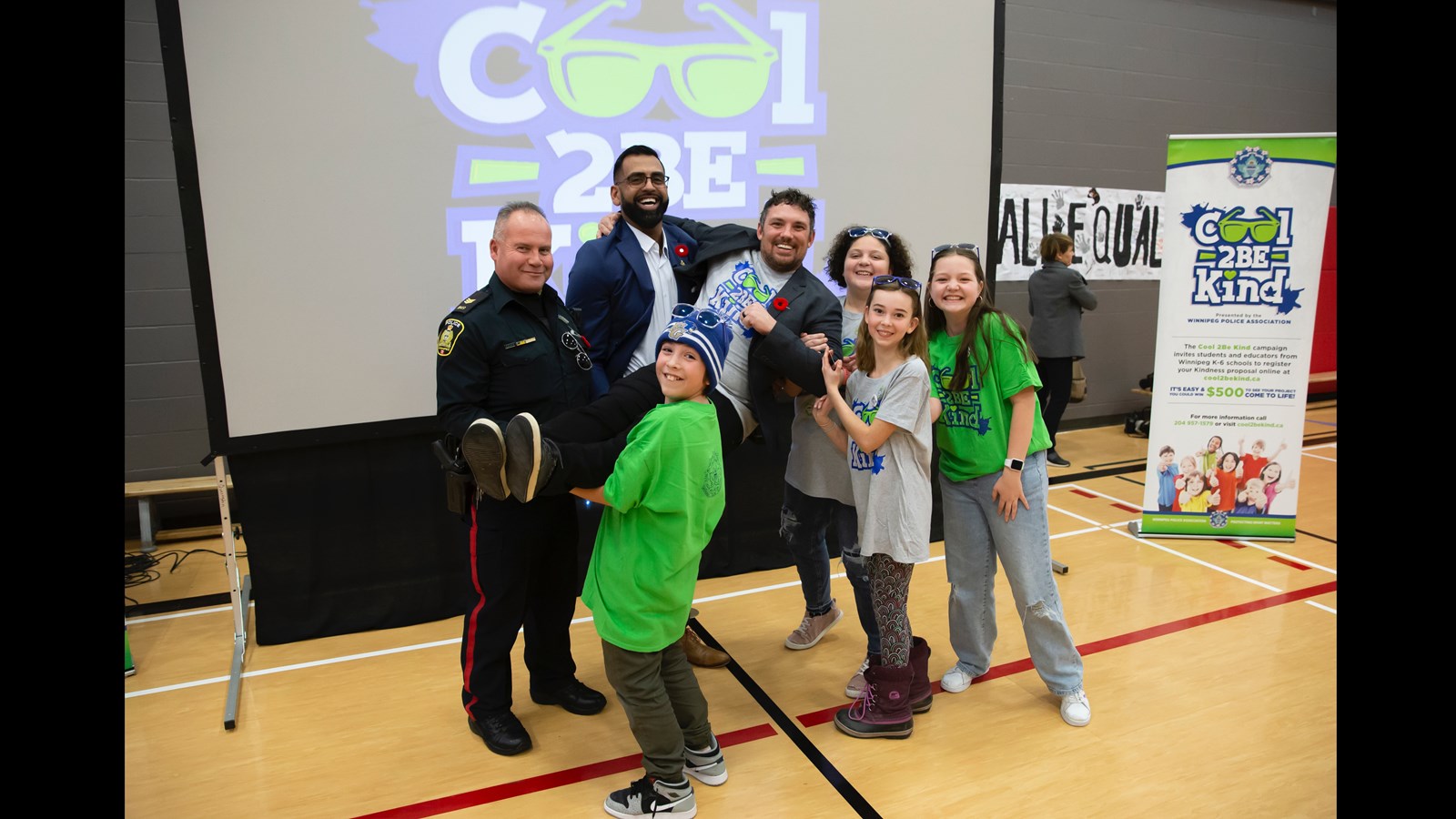 Promoting the power of kindness, Queenston School students and staff helped the Winnipeg Police Association launch its annual Cool 2Be Kind campaign.
The positive behaviour program, now in its 11th year, provides funding to support school-based kindness projects. In the past ten years, Cool 2Be Kind has funded 256 school kindness projects totalling $228,000.
"We want young people to experience the power of kindness," said Winnipeg Police Association President Cory Wiles. "Education is all about preparing young people to be happy, productive citizens and being kind to others is a recipe for success in life."
The school hosted a special launch event on Nov. 8 that included Mr. Wiles, QX104 deejay and Winnipeg Jets game day host Brody Jackson, Manitoba Premier Heather Stefanson, WSD CEO and Chief Superintendent Pauline Clarke, Fort Whyte MLA Obby Khan and Queenston Principal Michelle Namaka.
Mr. Jackson—who is serving as Cool 2Be Kind co-chair this year with Ms. Stefanson—said while he has a good life and a great career now, he experienced bullying growing up.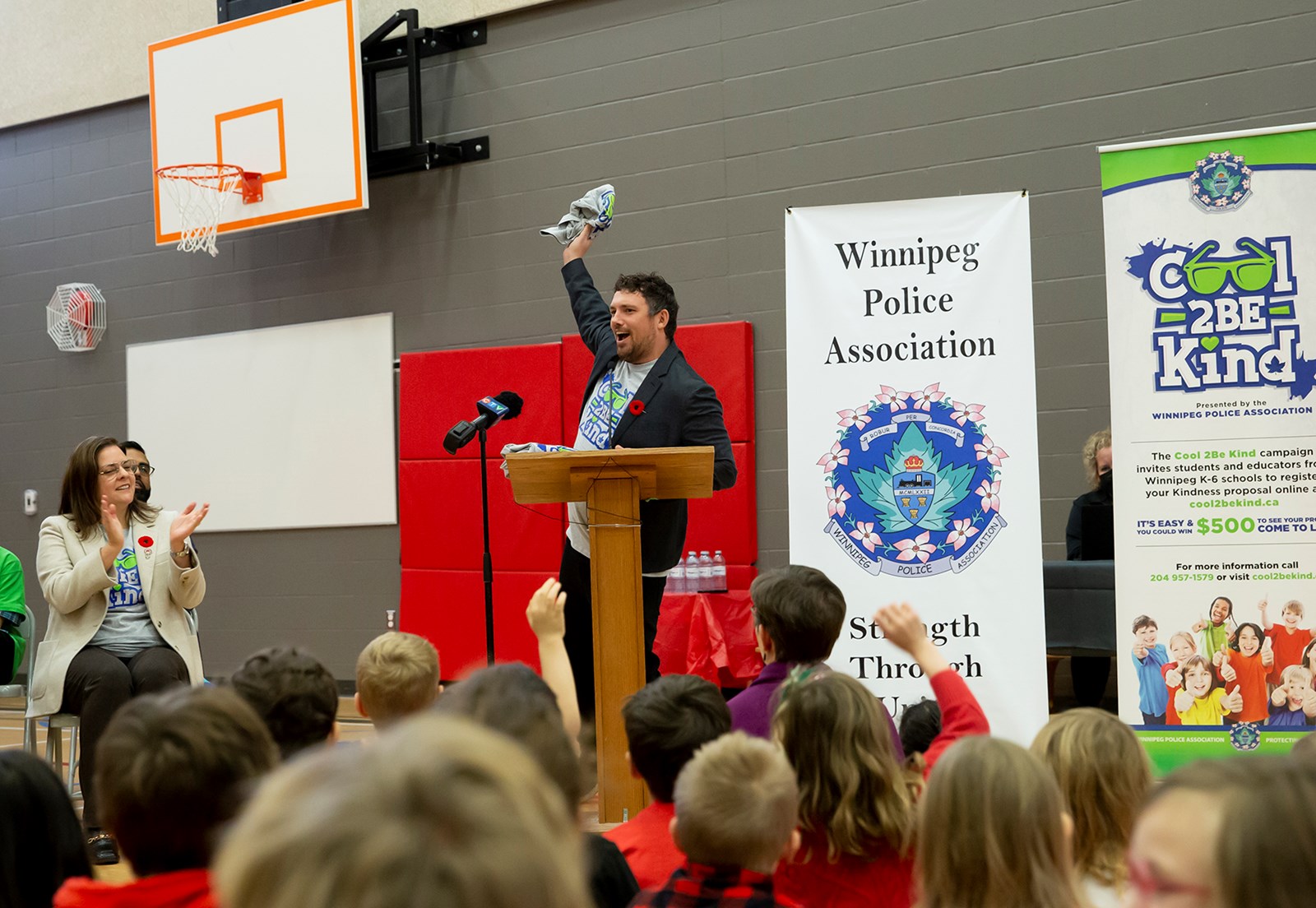 "I personally…did see and experience bullying when I was younger," he told students. "And you know what those people are doing in their adult years? Apologizing. Making amends from the damage that they caused when they were your age. Their lives would have been so much easier had they realized that it is so much cooler to be kind."
Mr. Jackson believes it is by being kind that he has been able to have a cool career, where he gets to interview and meet famous musicians and NHL players.
"I can tell you I've had a very successful career in broadcasting because of two important things: being kind and being compassionate. You can do exactly the same," he told students.
Principal Michelle Namaka said the school was proud to host the event, adding that students and staff were focused on carrying out small acts of kindness every day.
"We look forward to this partnership so we can continue to spread the word and messages about kindness throughout the school, community, city and province," she said.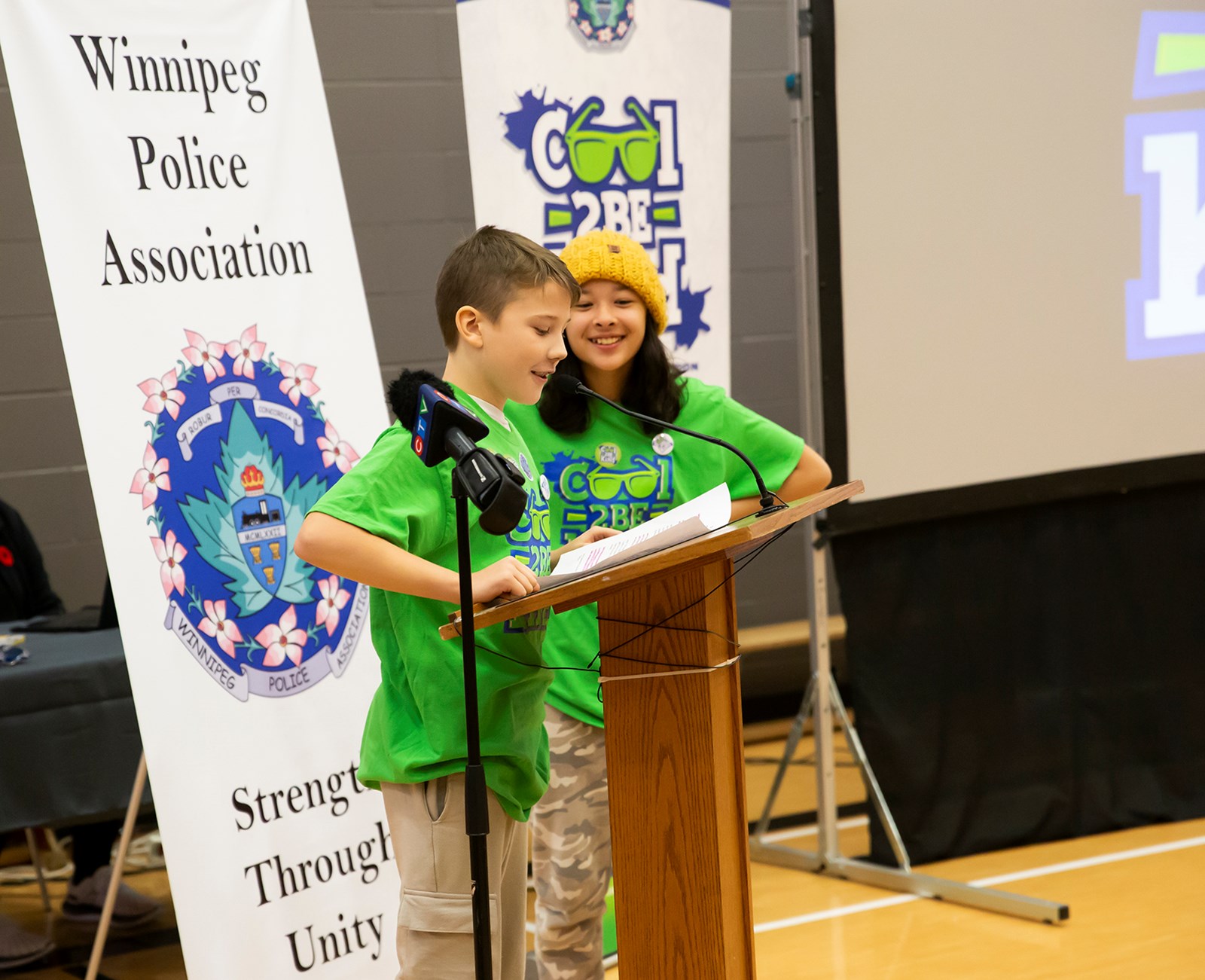 Students Jack Quinn and Jayda Wong said Queenston defined kindness as being friendly, generous and considerate.
"Random acts of kindness are everyday things that all of us Queenston students do, such as: holding the door open for someone, picking up trash off the playground, cheering someone up if they look upset, and asking someone to play if you see them by themselves," Jack said.
Jayda added that sharing time with our family and friends is another way to be kind.
"Last night I Facetimed my Grandma. I usually try to call her once a week. She gets extremely happy when she gets to see my brother and I and hear about our day. She wishes she lived closer and could see us often. Making time for loved ones is an act of kindness."
Students and educators from Winnipeg's Nursery to Grade 8 schools can visit www.cool2bekind.ca to submit their kindness proposals online. The deadline for submissions is Dec. 31, 2022.