Remembering history's lessons at Kelvin
November 10, 2022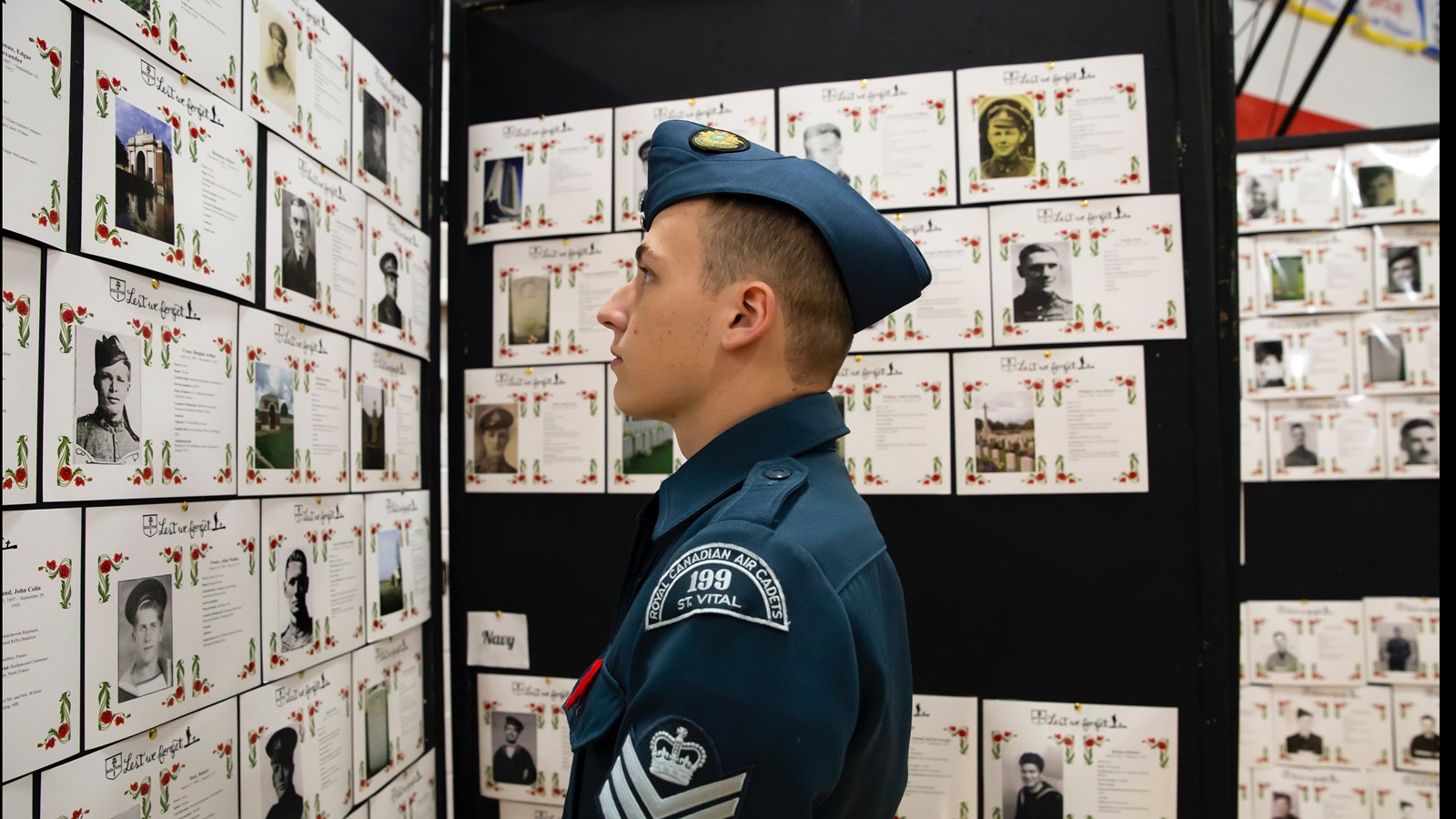 During advance Remembrance Day services on Nov. 10, schools across WSD honoured the sacrifices of Canada's military personnel in wartime and peacekeeping missions.
Among those schools was École secondaire Kelvin High School, which has a sizeable group of alumni who fought and died in the First and Second World Wars.
"This is a time to come together as a school community. It's an opportunity for us to reflect on the sacrifices of Canadians from all over Canada and also from our own school community here at Kelvin," said Principal Tim Cox. "We need to look towards our future, so that the sacrifices of so many of those individuals won't need to be repeated."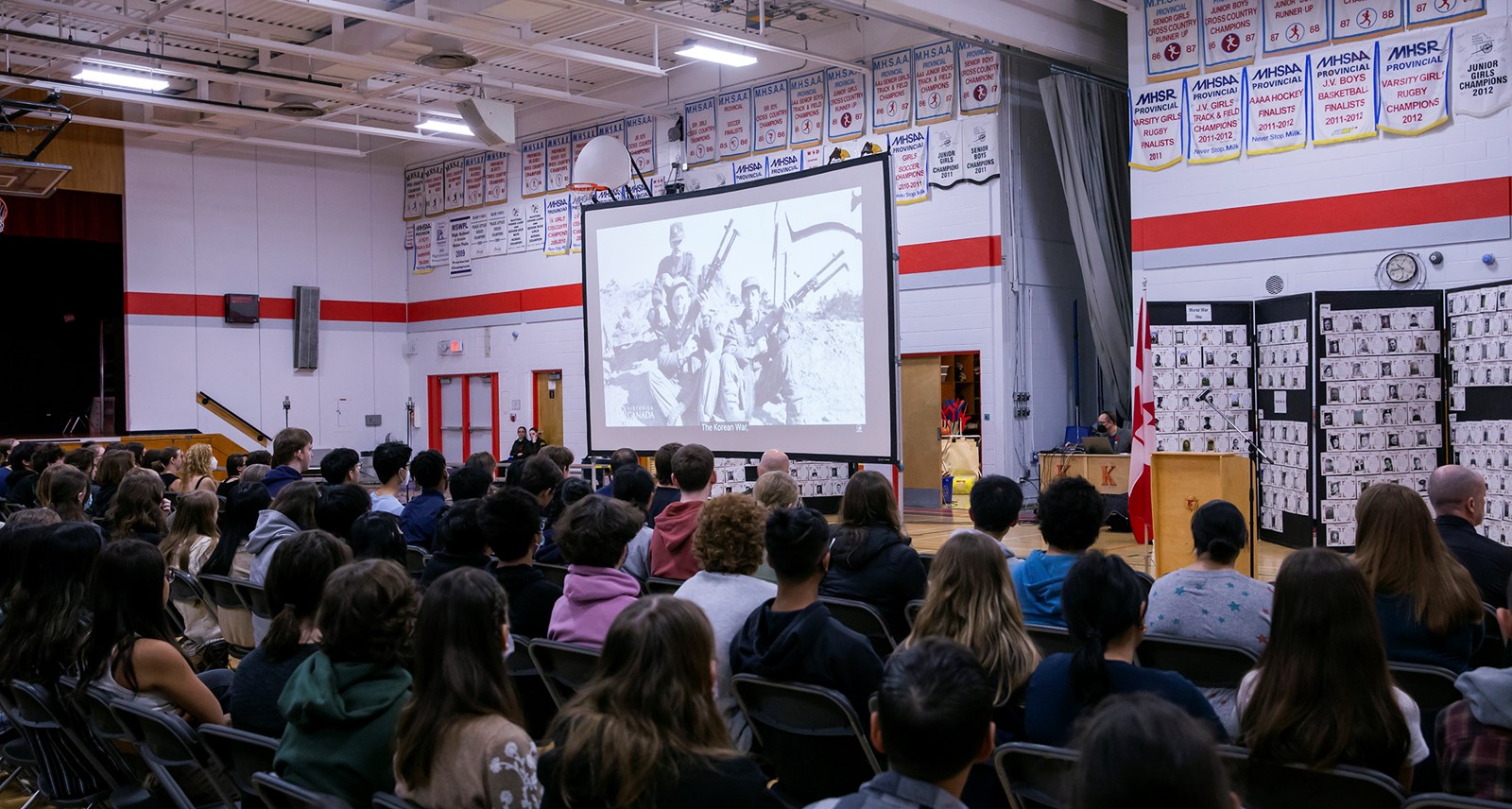 The stories of those Kelvin alumni have become an important part of Remembrance Day services at the school.
History teacher Christopher Young told the story of First World War soldier Alexander Logan Waugh, a Kelvin student who had a passion for writing; he was also the son of Winnipeg Mayor Richard Deans Waugh. Alex died in France on Dec. 1, 1917, after being shot by a German sniper. He was 22 years old.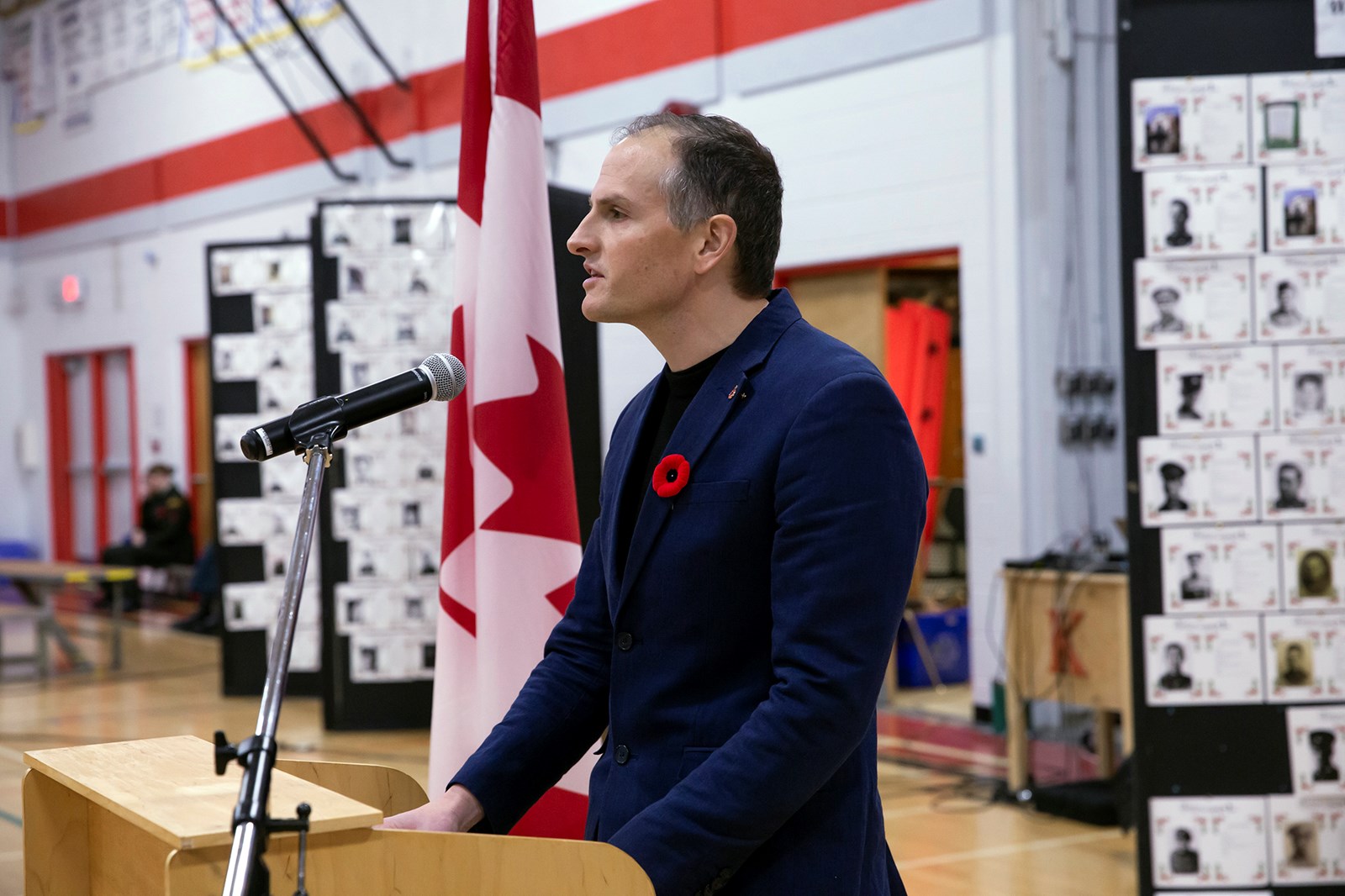 Kelvin history teacher Christopher Young.
"Remembrance Day is an opportunity for us to make authentic connections with soldiers from the past like Alex Waugh. To recognize their enormous service and sacrifice by remembering them not just as numbers but as real people, with real lives, real feelings and real families. Families who grieved the loss of their loved ones, who searched for their graves overseas and who erected modest memorial stones in Winnipeg churchyards, thousands of kilometers away from the battlefields, to do their best to commemorate their child's life," Mr. Young told students.
Student Vsevolod Dzhenkov, who came to Canada from Ukraine in 2014, urged students to remember the enormous sacrifices made to ensure the freedoms we enjoy today. He spoke of the countries around the world that are currently at war, including his country of origin.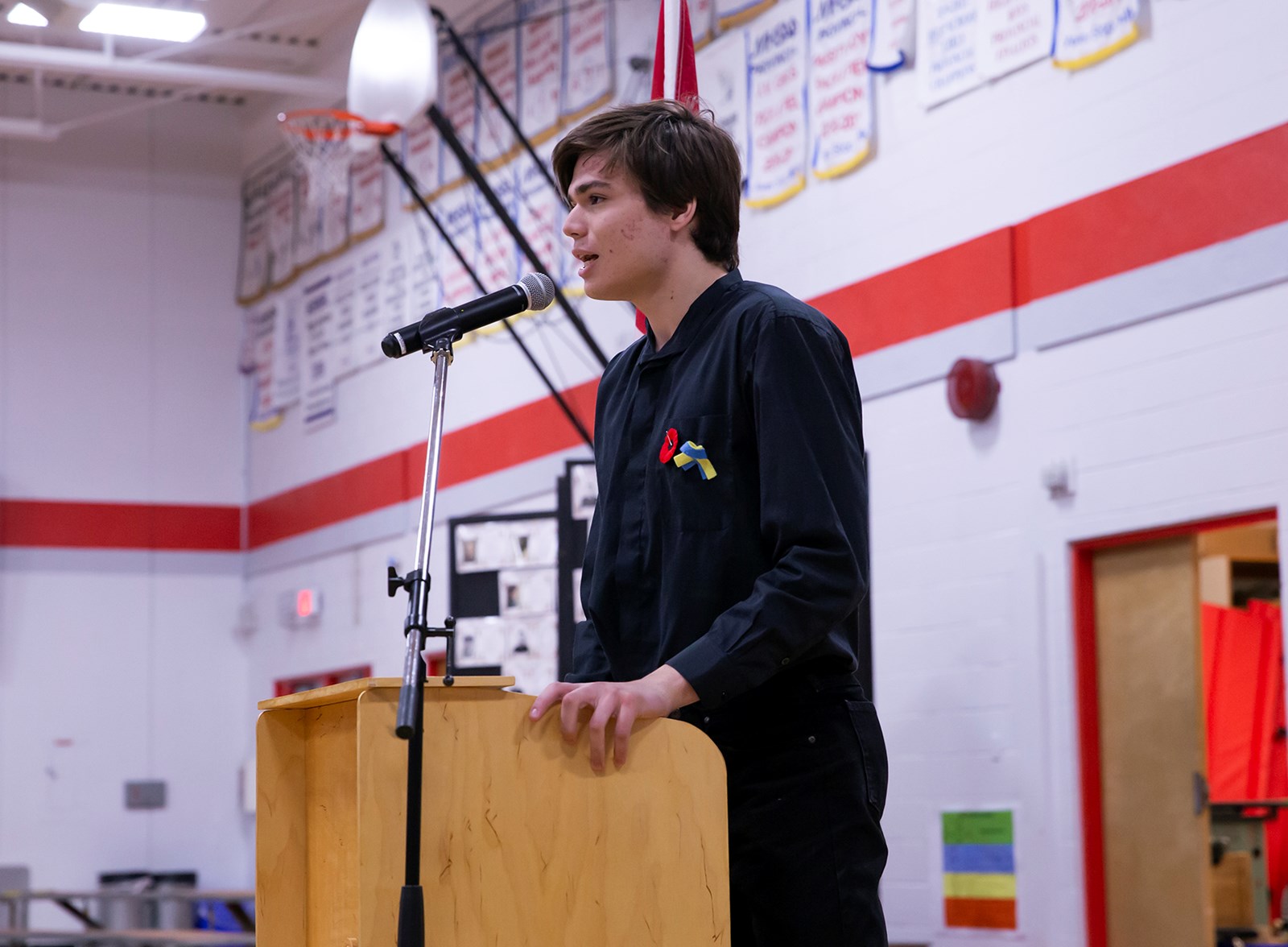 "Please take a moment to remember people around the world, many of whom are the same age as you and I, who are living in countries engaged in wars and conflict today as we speak," he said. "Never take the safety and freedoms we enjoy in Canada for granted."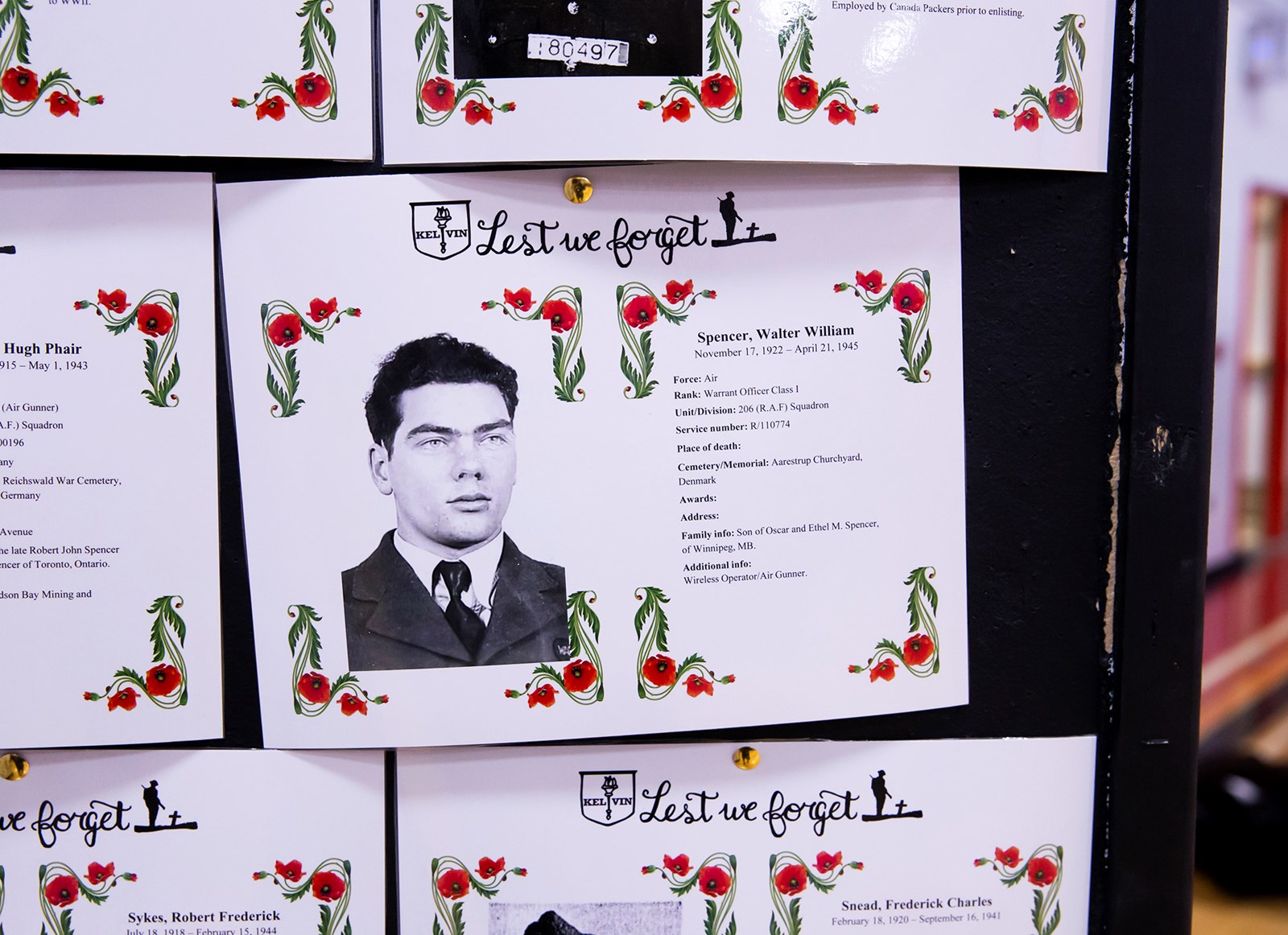 Mr. Young and Kelvin's History Club played a major role in Remembrance Day services. Over the years, the club has developed biographical cards for all the Kelvin students who died in wartime. The cards were on display during the Nov. 10 services.
Kelvin's History Club students also hosted a gallery walk on Nov. 9 to share the individual stories of the school's wartime veterans.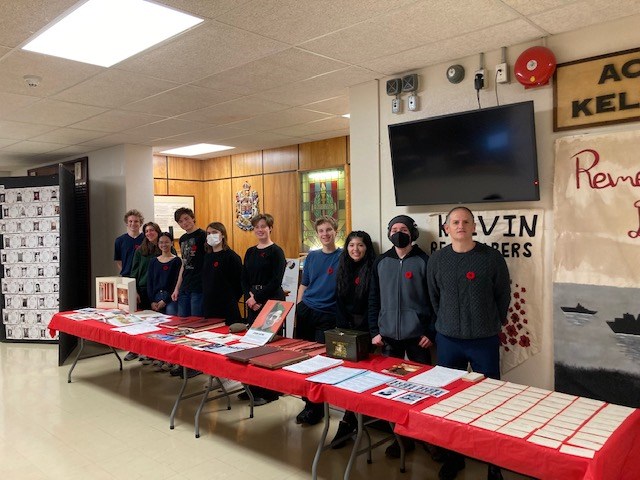 Mr. Young and Kelvin's History Club during their Nov. 9 Gallery Walk.
"We try to find as much information as we can about them, in order to preserve their legacy," said Grade 12 student and Kelvin History Club member Mackenzie Klein.
She said those individual stories can be lost when learning about war in a generalized context.
"When we start to research the soldiers individually, you really see how unique their experiences are," she said. "They come from all over the city. You can walk past one of their homes on the street and see how their story is not the same as someone from four houses down. You connect a little bit better when you can recognize qualities within yourself as you're looking at their stories."
Vsevolod, who is also a member of the history club, said history has many important lessons for those who are willing to listen.
"Sometimes people don't realize how history can repeat itself…it's important to reflect on events that have happened in history, and it's important to think critically about who you are voting for, and what they promise to achieve if they get into office."