Grant Park team takes the Water Polo Championship
December 23, 2022
News Story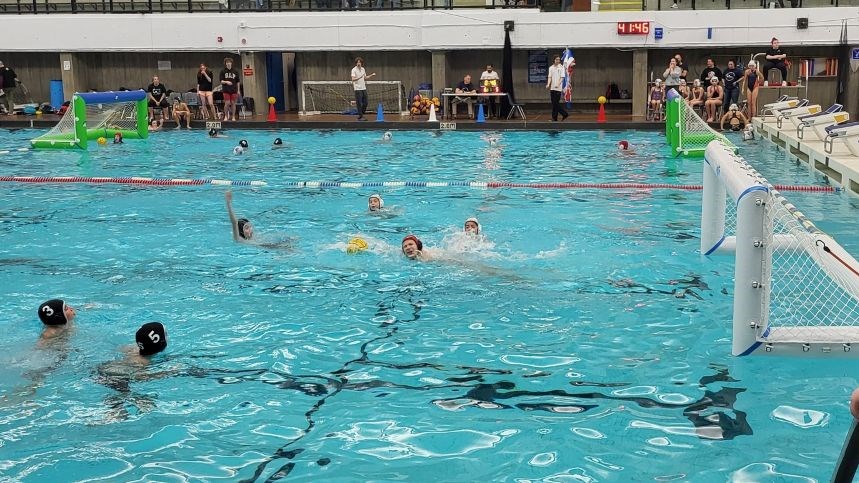 The Grant Park Middle Years Water Polo team is in celebration mode, winning the Manitoba School League Championship held at Pan Am Pool on December 5, 2022.
The Middle years team was undefeated, and quite excited about their win, since roughly 80 percent of the members were new to the sport. Grant Park had not had a team for a few years because of the pandemic.
"At the beginning of the season, we barely had enough to field a team and continued adding players as the season progressed," says teacher Supervisor Richard Znidarec. "The majority of our players have never played and showed great improvement in winning the championship, defeating the River Heights Hawks in the final 15 to 13."
River Heights had three teams and finished with Silver, Bronze and fourth place.
Assistant Coach, Maddie Stewart, a Grade 11 student at Grant Park, noticed the growth of the team's skills as well.
"The Grant Park athletes improved dramatically throughout the season. Each game they got better both individually and as a team," says Stewart. "I'm very proud of them and glad they were able to finish in first place."
According to Head Coach Michael Reid, Grant Park has a storied history in water polo, having two Olympic stars come through their doors. Distinguished alumnus are Shae La Roche (formerly Fournier) - an Olympian and Canadian National Team and professional water polo athlete (Italy) and Brenda Vosters, the captain of the Jr. National Team and scholarship athlete to Cal Berkeley, in California.
Reid credits experienced Assistant Coach Maddie Stewart with being a strong force in Grant Park's success.
She's played water polo for several years and gone into coaching, most of the games she was the primary coach." says Reid. "I helped organize the games and do some coaching as well, but the playoff games and the championship game, that was all the kids and Maddie."