From bases to books at Collège Churchill High School's Softball Academy
May 9, 2023
News Story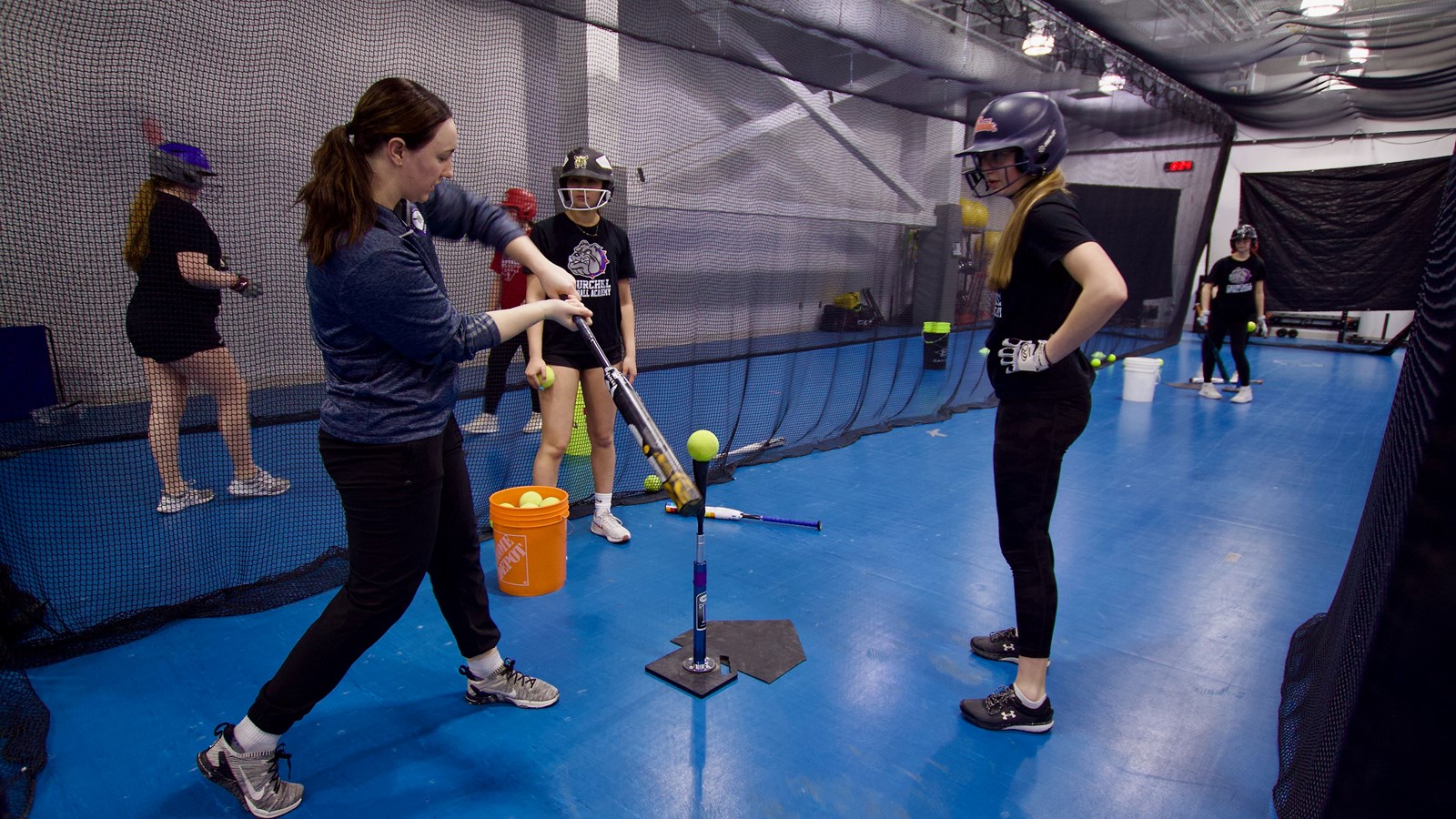 "Bunt!" yell out students in centre court at The Manitoba Sport for Life Centre. The Collège Churchill High School Softball Academy students commute to the complex four days a week starting an hour before classes to hone their skills. In the gym half the team practice bunt coverage over and over until it becomes second nature.
Upstairs, in the four batting cages, students perfect their form and deliver hits that thunder through the facility. Each cage has a pair of students who take turns tossing and hitting. The power behind the bat is evident, thanks to their rigorous training schedule that includes four days a week at the complex and one day a week strength training at the gym in the school.
For Grade 9 student Emily Dahl, who travels from Transcona every day, the choice to wake up early and be part of the academy is an easy one, "I thought it was cool that there was a high school with an academy for softball, I love getting to play and practice every morning."
Emily isn't the only student who travelled to be part of this unique high school opportunity.
"My family moved from Brandon so I could be here," said Grade 10 student Sally Leask.
The practicing has paid off for Sally who said since September her family as well as coaches have seen a big improvement, not only with her pitching and hitting, but also her mental game.
"I've had a more positive attitude because I've been around positive people, coaches, and classmates, who are also my teammates. We work on the mental part of the game and have classroom sessions about how to stay positive and I think that's really important," said Sally.
Sally, along with two other teammates will be attending the NAIG (North American Indigenous Games) on Team Manitoba this summer.
Teacher, and director of the softball academy, Hailey Unger, was instrumental in getting the program off the ground. She believes that the softball academy gives students a chance to link their passion of softball with their education which will increase school engagement and foster an enthusiasm for achieving their potential within all areas.
For Sally, joining the Softball Academy at Collège Churchill was the right move and said she can't wait to start playing on the field with the team she's practiced with day in and out all year.