Elmwood student to take the stage with WSO
February 8, 2021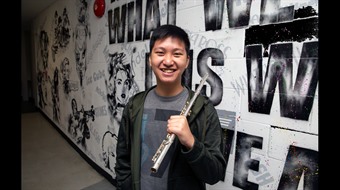 An Elmwood High School student will take to the stage alongside the Winnipeg Symphony Orchestra after winning a provincial music competition.
Grade 12 student Selwyn Sarmiento, who plays flute in Elmwood's concert and jazz band, was named the winner of the WSO's 2019 Provincial Student Soloist Competition. As a result, he will be performing live with the WSO on Oct. 10.
"I am very grateful and appreciative of this opportunity," Selwyn said. "At the same time, I'm also a bit nervous."
Dan Scholz, conductor of the Winnipeg Youth Symphony Orchestra, first made Selwyn aware of the competition and suggested that he submit a recording for the first round of judging.
"I had a video from a year ago, performing at the Winnipeg Art Gallery for the Winnipeg Music Festival, during the Junior Music Club Trophy Class," Selwyn said. "I ended up winning that, so I thought I should just take the audio from that and send it in to the WSO competition."
The Elmwood student ended up being one of four student finalists selected to perform live in front of a judging panel in June.
"We played for a panel of five people that included the WSO's Principal Conductor Daniel Raiskin," Selwyn said. "Thankfully I was already done my exams at school."
When it came time for Selwyn to perform for the panel, it didn't go precisely as he had planned; he chose to play the second and third movements of Carl Reinecke's Flute Concerto in D Major.
"I was nervous coming in and I messed up on my page turns—I didn't quite arrange it well, but thankfully I practised the piece enough that I had memorized the last page of music," he said. "And then when I bowed at the end, I hit my foot on the stand so I hoped that they didn't notice that either."
The Elmwood student still obviously hit the right notes with the judging panel.
He has come a long way since first starting to learn the instrument as a Grade 7 student at Elmwood; during his tryouts for the school band, he was barely able to make a sound on the instrument. But there was something in his attitude that impressed band director Mark Sawatzky and professional flutist Charmaine Bacon, who was overseeing individual tryouts.
"Charmaine had this one student come up to her and say, completely deadpan, 'I want to play flute…because one day I want to play with the WSO.' Now here we are," Mr. Sawatzky said.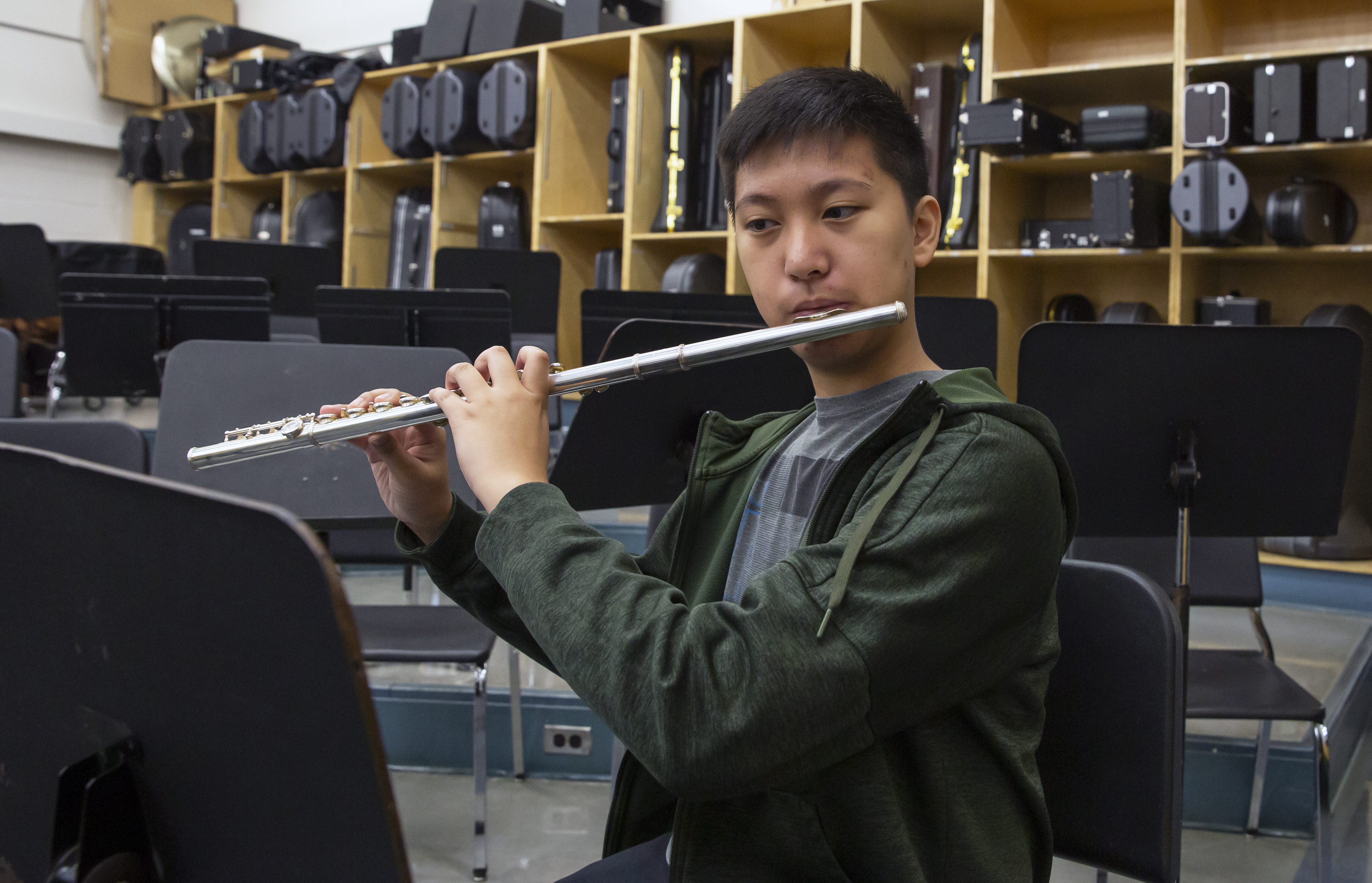 Selwyn has also played the violin and sang as a member of the Winnipeg Boys Choir, where he worked under the direction of WSD choir teacher Carolyn Boyes. He also performs in Elmwood musical and theatre productions.
Before coming to Canada with this family, Selwyn played recorder as part of an extracurricular club in the Philippines.
"I used to play the recorder sideways and imagine I was playing the flute," Selwyn laughed, adding that he became serious about wanting to learn the instrument after watching video tutorials on YouTube.
"When I came to Canada, I found out through my cousin that you could play in a band in high school. I didn't know that high schools in Canada even had bands. You could have students who truly appreciate music but might not have access to an instrument…so it's great that Winnipeg School Division and the schools are providing us with the instruments and everything else."
Mr. Sawatzky said Selwyn has been a complete asset not just to Elmwood's concert and jazz bands, but to the school as a whole.
"Selwyn is very talented, very humble and always willing to help," Mr. Sawatzky said. "Within his section and within his band, he draws people in. People just want to be around him…he's a great individual."