Guidance Counsellors play vital role
February 8, 2021

​
When it comes to working with students in schools, guidance counsellors do it all, supporting the personal, social, educational, career development, mental health and general well-being of students.
The Canadian Counselling and Psychotherapy Association had declared Feb. 5-9 Canadian School Counselling Week; the week offers an excellent opportunity to reflect on the many roles guidance counsellors perform in our schools.
"The primary goal of school counselling services is to enhance the well-being and academic achievement of our students," said Jón Olafson, WSD's Student Services Consultant. "School counsellors not only provide support to our students, but also the families and sometimes even staff. When you sum it all up, school counsellors are an integral part of a school-based student support team, which includes the principal, vice-principals, resource teachers, clinicians, and other support staff."
WSD Counsellors from different schools frequently connect for professional development and to discuss policy; they frequently collaborate with external agencies and organizations for professional development, or for special events and programming for students.
"As much as counsellors may sometimes be engaged in reactive work, the goal is always towards doing preventative work with classroom or group sessions," Mr. Olafson said.
Despite the numerous tasks guidance counsellors perform on a daily basis, they all connect in the larger picture of student health and well-being. And that, in turn, leads to greater student academic success.
"When you are feeling grounded, safe and well-cared for, we notice a dramatic increase in student's academics and engagement," Mr. Olafson said.
Guidance counsellors are a valuable component of the staff at any school, such as R.B. Russell Vocational High School.
"Guidance Counsellors are without question, a fundamental part of our school based student support team at R.B. Russell," said Principal Jackie Connell. "On a daily basis they provide direct support with mental health, system navigation, access to emergency services, advocacy and social emotional regulation. They work tirelessly to assist students and families in our community with the ultimate goal of graduation in mind."
Counselling the Early/Middle Years
Working with younger students, especially those in Early Years, presents its own unique challenges. Younger students often have difficulty articulating their feelings and troubles to adults and their peers.
Meadows West School Guidance Counsellor Michelle Bevan uses art and the provincial MindUp curriculum, which explains how the brain works in an age appropriate manner, to help students find a means of understanding and communicating their feelings.
"Students learn how their brain works and where their feelings are coming from, rather than just thinking that everything is out of control," said Ms. Bevan.
With Meadows West being a kindergarten to Grade 8 school, Ms. Bevan also works with junior high students in a variety of ways, including teaching the health curriculum every term.
Ms. Bevan spends much of her time in one-on-one sessions, working on anxiety issues, behaviour and social skills, learning skills and supporting student success in the classroom.
"We always have kids who may need some help with being successful in class and managing their behaviour," she said. "A lot of students are either working on regulation, and anxiety ties into that for many students. Early years students may be a bit different from middle years students in the way they communicate about it, but they still need support."
Ms. Bevan also helps teachers implement preventative/positive behaviour programming in the classroom, such as Second Step, a positive social skill, behavior and learning program. Other classroom initiatives include MindUp and drug/alcohol awareness programming.
"All students are learning behaviours that will help them be successful in the classroom. It also moves into emotion management, friendship and as you get into the junior high levels, it's more about social skills and stress management."
The guidance counsellor also works with students in smaller groups to address specific, common needs; this can include anxiety management groups or friendship clubs, where students establish essential social skills. Ms. Bevan will work with the school social worker and other partners to deliver these kinds of services, as well as professional development for staff.
Ms. Bevan said the rewards of the job are seeing students develop emotionally and academically.
"My goals are seeing improvements and successes as a whole school, and seeing the individual students become more independent. If I have a student who wasn't attending and now they're at school every day, or if I see a student working and achieving academically, or I have a student who is now able to engage socially with other students, that's great. They get to a point where they no longer need to see me."
Counselling at the high school level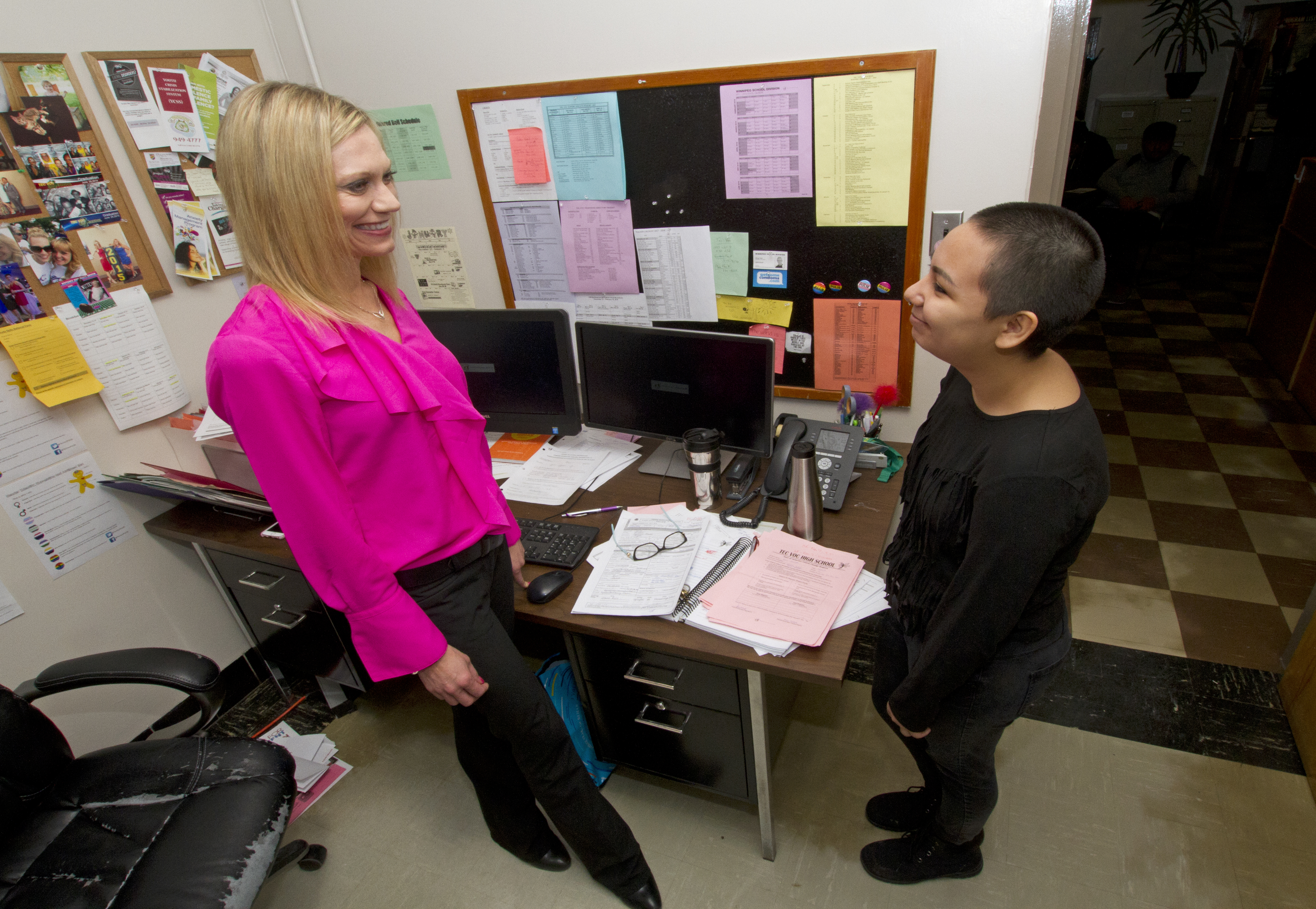 At the high school level, as students face many different course options and post-secondary/career paths, guidance counsellors play a vital role.
"We really do a bit of everything at the high school level. It's always busy here. The great thing about Tec Voc is that we have so many different types of students from all over the city. They have many different needs, so we often do a lot of individual counselling," said Shannon Falkenberg, Head of the Guidance and Resource Department at Tec Voc High School. "We also use WSD's Clinical Support Services, with its social workers and psychologists, to help with group counselling and other areas."
Staff in the Guidance and Resource Department often helps students manage their timetables to attain the credit hours needed for graduation and post-secondary programming.
"With the start of the new term, we're doing a lot of timetable changes right now," Ms. Falkenberg said. "Once that rush is over, then we are into the university tours and post-secondary planning for students. We also plan visits to our feeder schools, and their students also tour Tec Voc."
The Tec Voc guidance and resource team includes four guidance counsellors, a guidance clerk, a resource teacher, a vocational resource teacher and an EAL support teacher.
"Here at Tec Voc, we have a great team. We're very close, we work well together, support one another and sound ideas off each other," said Ms. Falkenberg, who has been at Tec Voc since 2011.
 The counsellors' day-to-day activity is not only supporting students who are struggling or in crisis, but also preventative programming and action.
"With a school this big, there is a lot of maintenance and checking in on students, where we may have a parent or teacher ask us to talk with the student," Ms. Falkenberg said.
When asked what the most rewarding aspect of her job is, Ms. Falkenberg doesn't miss a beat.
"The students are what keep me here," Ms. Falkenberg said. "This job is so rewarding. Especially when you have kids come back, where you've seen them have to go through some absolutely terrible circumstances, but yet their resiliency gets them through it. To have them come back and say 'thank you' is just really rewarding."