The Arts
December 30, 2022
Band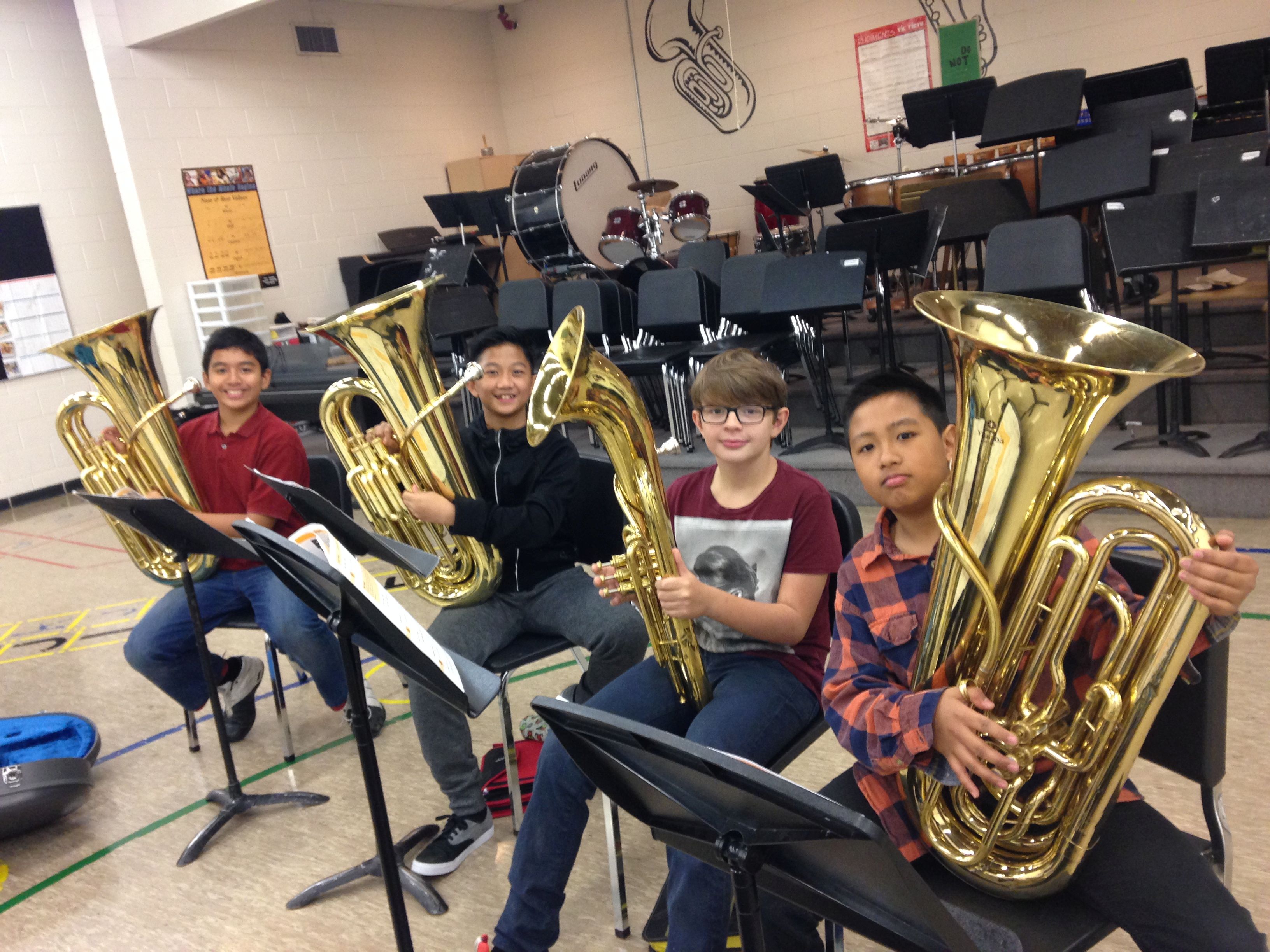 You could hear them laughing all the way down the hall. First a loud, crazy sound on the tuba, then some giggling. Then another deep note from the brass beast and more crazy laughter.
It's my favourite time of year. The first lessons on how to put together their instruments, their first sounds, their first notes, even their first time emptying their spit valve – I enjoy it all. I don't think any teacher is as lucky as the one who gets to watch a young person discover a new part of themselves. And discovering that you are a musician is pretty special – it's something you will have as part of your identity for the rest of your life, even if your time as a band musician only makes up a small portion of it.
The Grade 7 students pictured above had just had their first lesson on the tuba. Posture, care, maintenance, sound production and an introduction to note reading in the bass clef – I had blazed through all of it in under 40 minutes. There is just so much to do, and I'm hoping they remember it all. What I remember are the smiles. No one can be grumpy while learning to play the tuba. It just isn't possible.
Of course, the group wants to get going as a full band as soon as possible. We learn Hot Cross Buns, a few Christmas tunes, a few scales, then the actual band repertoire. I try to expose them to as many different kinds of music as possible. The Level One Band Festival awaits us in April.
In Grade 8 we get more technical, but more fun. We learn some marching drill and some ear tunes and play for our athletes. It is such a wonderful rush. We all wear our green shirts with pride and feel sorry for anyone who doesn't get to be a Flame.
In Grade 9 the group is smaller and many of us are now studying jazz music as well as concert band. Playing abilities shoot up several levels. I get distracted thinking of all the amazing music we could learn. Folders bulge with all the music. The kids are always thirsty for new music, but more so, for a feeling of mastery over it. Polishing a few good tunes to perfection is the main goal of entering the Optimist Festival, where we wear our green again and "represent." If we can get to where we make people feel something when they hear us play - be it deep emotions or just the urge to move and clap along, to share a moment of being human with our audience – well, there's nothing more rewarding. There just isn't.
Later I see them at concerts, often at DMCI, where talented staff care for and feed their love for music. In many cases, their skills and musicality have reached levels I couldn't have imagined when I was in high school. And I always cry. Because I'm so happy for them, and I know a bit about the journey they are on.
People say you have to be a little bit crazy to enjoy teaching Grade 7 Band. (Fair enough.) But I can't help being awed at the whole process, at every step along the way, that makes them feel like a part of something larger than themselves, and develops an important part of who they're going to be forever.