Faraday, other WSD schools join Million Tree Challenge
November 7, 2022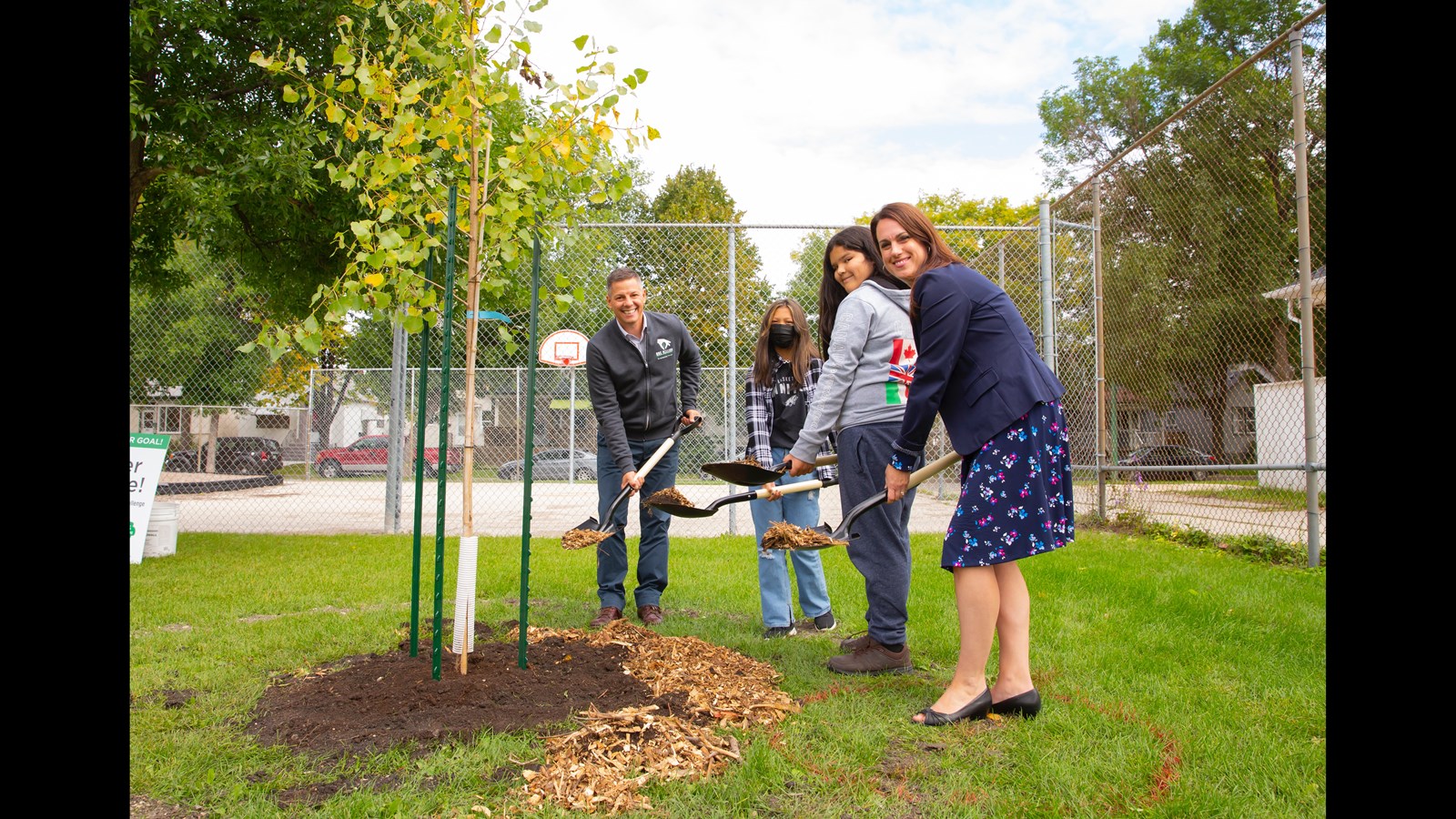 Faraday School recently hosted Mayor Brian Bowman and officials from Trees Winnipeg to spread the word about the Million Tree Challenge.
The challenge calls on all Winnipeggers to help plant one million new trees in the city before its population reaches a million.
Trees Winnipeg is teaming up with WSD and the City of Winnipeg to plant trees at 10 Inner City schools this fall, including Faraday.
Mayor Bowman, WSD Board Chair Betty Edel, Manitoba Historical Society President Dan Furlan, Trees Winnipeg's Executive Director Christian Cassidy and President Gerry Engel were at Faraday on Sept. 21 for a special tree-planting ceremony.
Mayor Bowman initiated the challenge back in 2019; Trees Winnipeg has since become the organizing body for the regreening effort.
"This is a challenge for all of us…for politicians, for schools, for people in every corner of our community," Mayor Bowman told students.
He said students could support the challenge in many ways, including planting their own trees.
"The reason we want to have more trees is because it creates a more beautiful city for us to live in (and) it's probably one of the best ways to combat climate change," he said.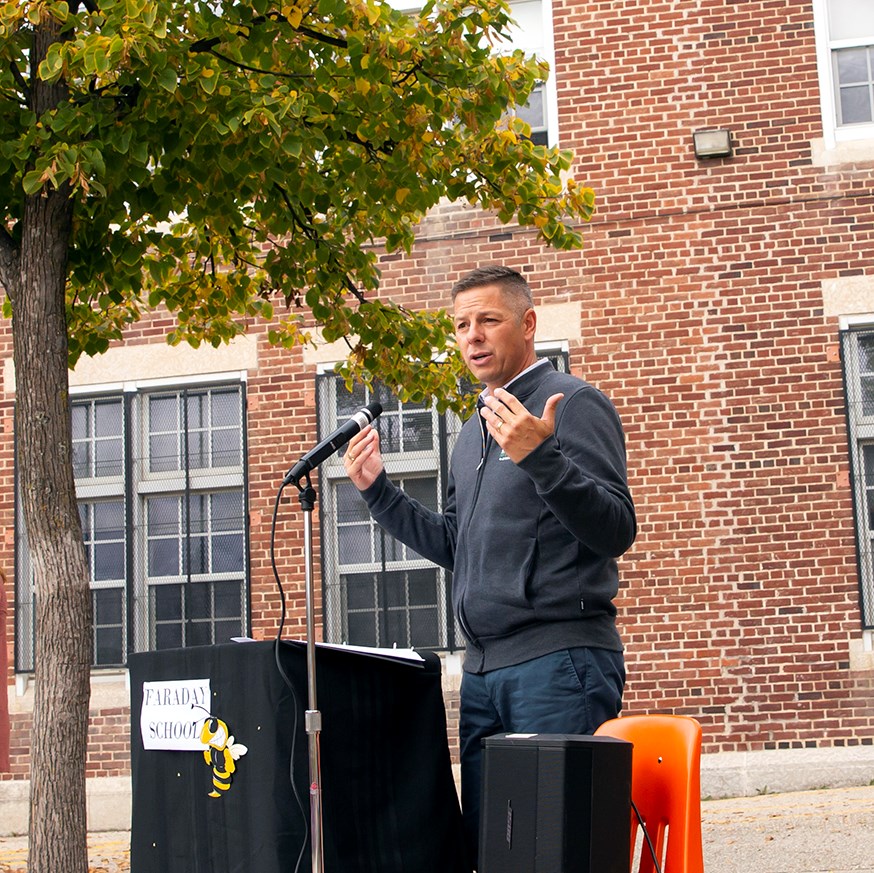 While Winnipeg is known for its colourful tree canopy, that canopy is in crisis due to invasive insects and severe storms that have decimated many trees in recent years.
Mayor Bowman said that as of Sept. 12 of this year, over 30,000 trees have been planted towards the one million goal: "We have to get those numbers up. The pandemic has slowed community planting, but we know in the coming years we will be able to ramp it up."
Faraday received an American Linden and a Skyfest Poplar for the tree-planting celebration.
Principal Jennifer Cox said it was a special day for both the school and the community.
"We know that trees provide us with shelter, they help to cool our cities, clean our air, help our environment, help with our mental health and so much more," she said.
"We love our new trees. They will help serve as a legacy for our recent centennial and will continue to grow for many years to come, providing comfort to our students and our community."
Students said they were happy to have some new trees in their schoolyard.
"It will be better for our Earth," said student Jadelyn Altares. "And it's nice to have shade when it is really sunny."
Student Brian Courchene added the new trees "will help to fight climate change."
Faraday anniversary recognized by historical society
At the outdoor assembly, Mr. Furlan also presented Faraday with a Manitoba Historical Society Award for the success of the school's 100th anniversary celebration in June.
"This award is for recognizing the school's enhancement of the social, cultural and economic life of the city and the province for over 100 years," Mr. Furlan said.
"This award recognizes your efforts of being students, your parents' efforts in getting you out to school every day, and the thousands of people who went to Faraday before you to make this school wonderful."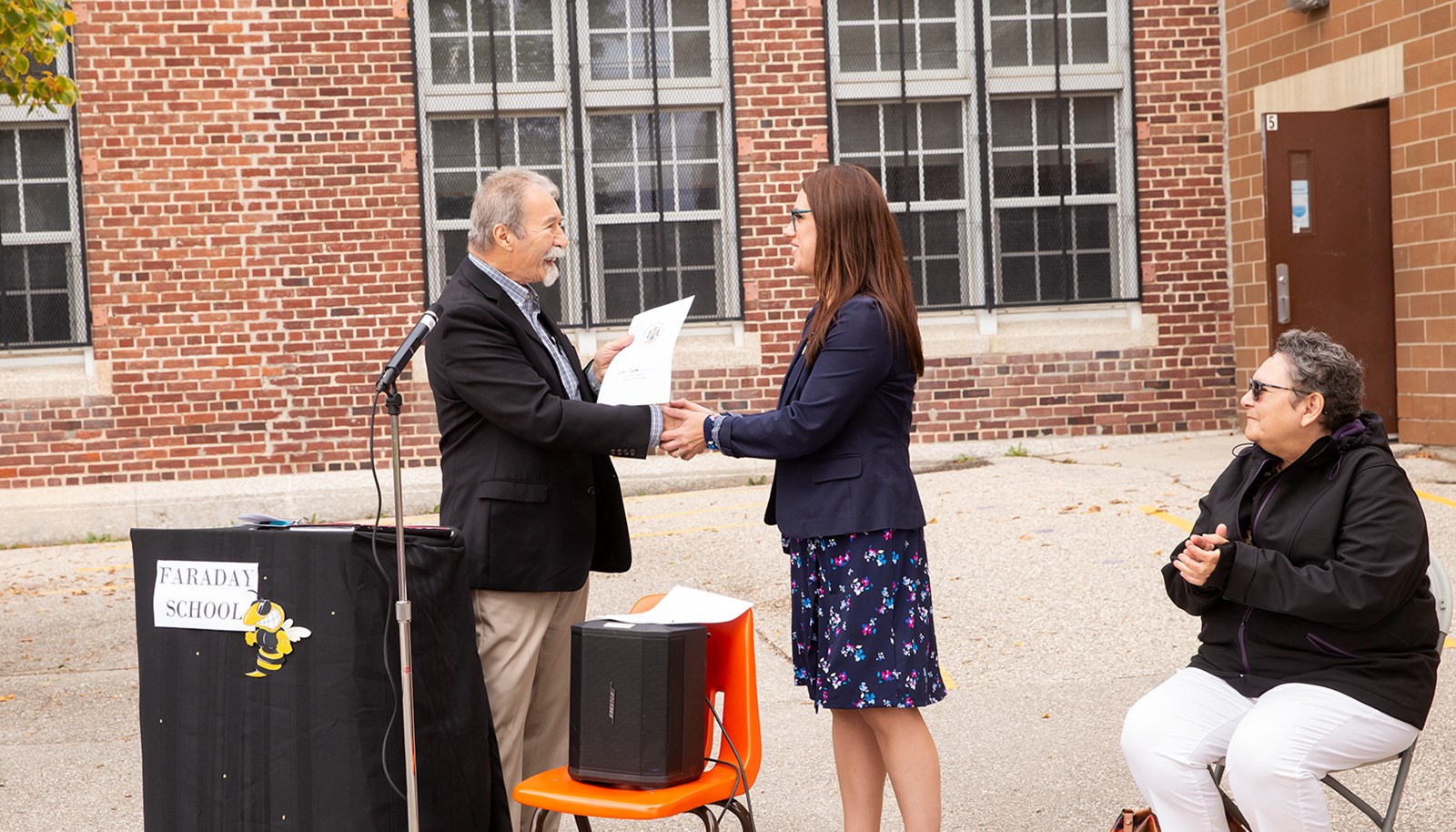 Manitoba Historical Society Dan Furlan presents Principal Jennifer Cox with the special award.