Buses & Transportation
August 31, 2023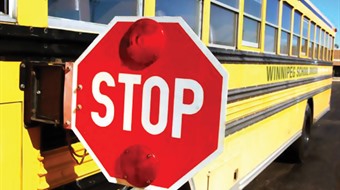 Winnipeg School Division will provide transportation services where necessary and subject to WSD regulations, The Public Schools Act and Regulations thereto, and The Highway Traffic Act. The Transportation Supervisor (under the general direction of the Secretary Treasurer) is responsible for the implementation and operation of pupil transportation within Board Policy and these regulations.
Bus cancellation
During the school year there may be times when school bus transportation is cancelled due to inclement weather or poor driving conditions, but schools will remain open.
School bus transportation for all school divisions in the City of Winnipeg is cancelled:
A. If the actual temperature is -35°C (regardless of windchill) based on the 6:00 am Environment Canada reading at the Forks, Winnipeg or;
B. If the wind chill reaches -45°C (regardless of air temperature) based on the 6:00 am Environment Canada readings at the Forks, Winnipeg.
The temperature and windchill readings can be found at the Environment Canada website (click here for latest readings at The Forks). When bus transportation is cancelled in the morning, it will not resume later in the day even if weather conditions improve.
All major Winnipeg media outlets are contacted in the early morning and are asked that they broadcast and/or post bus cancellation information.
Severe weather conditions and poor roads may extend the running time of some buses, resulting in late arrival and departure.
Parents/guardians should make sure that children are suitably clothed until picked up and that they have a place to go in the event the bus does not arrive. Parents/guardians must also ensure that children have a place to go after the return trip.
Inclusion Support Services: Students who are supported in a low enrolment program through Inclusion Support Services may be provided with transportation.
Language and Alternative Programs: Students in Kindergarten to Grade 6 in a language or alternative program, whose both residence and daycare is 1.6 kilometres or further from the school.
Nursery students attending one of WSD's four French immersion milieu schools and Niji Mahkwa School are also bussed, subject to distance requirements.
Special situations: There are a number of special situations where transportation may be provided to accommodate mobility considerations, safety considerations or geographic locations.
All requests for transportation services should be directed to the student's school. All enquiries regarding scheduling and operations should be referred to Winnipeg School Division's transportation department at 204-789-0452 (8:00 am - 4:30 pm).
In lieu of school bus transportation, students may be provided with bus tickets for the following:
Inclusion Support Services low enrolment classrooms/programs - where students can safely utilize transit services and in special circumstances.
Special Circumstances - individual schools may be provided an allocation for bus tickets for students due to special circumstances.
Training children in acceptable behaviour and safety.
Ensuring that children are suitably clothed to withstand weather extremes, taking special care during very cold weather to ensure that students are properly cared for until the bus arrives.
Seeing that their children get to the pick-up point on time, and behave in a responsible manner at the bus stop.

Ensuring that an adult is available to meet the bus for all students enrolled in an Inclusion Support Services classroom/program, Nursery and Kindergarten.

Providing for alternate arrangements for their children in the event a bus does not arrive or is late due to unforeseen circumstances.

Cooperating with the school in correcting their child's behavior following reports of misbehaviour on the bus.

Understanding and accepting the fact that neither the bus driver nor the principal has the authority to change the bus route or schedule.
Getting to the bus stop on time.
Behaving in a responsible manner at the bus stop, on the bus, and during loading and unloading.
Following the instructions of the driver.
Students should remain at least 2 metres from the curb until the bus is stopped and the loading door opened. Loading and unloading should be conducted in an orderly and safe manner.

Safe behaviour on the bus requires that students remain seated and quiet. Disruptive behaviour causes the driver distraction and creates a safety hazard.
The driver is responsible for the safe operation of the school bus. They require the support of the parents and the school.
The principal has the authority to suspend students from riding the school bus.
The Public Schools Act states: Passenger Behaviour
13(1) "The principal of a school whose pupils are being transported in the school bus has the same disciplinary authority over the pupils during the period in which they are in, entering upon, or alighting from the school bus, as is provided by the regulations under The Education Administration Act."
13(2) "Where a pupil in a school bus persists in conduct likely to be detrimental or hazardous to the welfare of the passengers, the principal has the same authority as is provided by the regulations under The Education Administration Act."
13(3) "The driver of a school bus shall report to the principal any misconduct of pupils while entering, leaving, or being conveyed in a school bus under that driver's charge."
Any behaviour which could endanger safety on the school bus is unacceptable. Examples are:
Failure to follow driver's instructions

Possession of dangerous weapons or objects

Possession or use of drugs or alcohol

Failure to stay seated

Fighting, poking, hitting or pushing

Throwing objects

Vandalism

Putting arms or head out the window

Profanity

Smoking

Loud talking or yelling

Littering

Spitting

Teasing

Rudeness

Eating
Students are expected to behave in a responsible manner during loading and unloading and while the bus is enroute.
Unacceptable behaviour may result in disciplinary action.
Minor Problems
First Infraction: Driver warns student. Records details, informs principal. Principal takes appropriate action.
Second Infraction: Warning is repeated and recorded. Principal is informed. Principal takes appropriate action and may inform parents/guardians.
Third Infraction: Driver informs principal, records details. Principal treats as major problem and informs parents/guardians. Transportation privileges may be revoked.
Major Problems
First Infraction: Driver informs principal, records details. Principal takes appropriate action and informs parents/guardians.
Second Infraction: Driver informs principal, records details. Student is suspended from the bus. Return of bus privilege depends on agreement between parents and principal.
Subsequent Infraction: Driver informs principal, records details. Principal informs parents/guardians. Bus privileges may be revoked. Winnipeg School Division retains the right to suspend a student permanently from the bus at any stage. The following inappropriate and dangerous behaviour while entering, leaving or being conveyed by bus will result in an automatic suspension of transportation privileges:
behaviour resulting in physical or psychological harm to other students

behaviour resulting in physical harm to the bus driver, transportation aide or other adult on the bus.
Children using wheelchairs which do not meet the standards below will be expected to transfer to a school bus seat, (if a therapist deems this is safe for the student), or will need to have alternate transportation provided by the Transportation Supervisor.
Maximum amount of camber = 6 degrees on wheels. This will allow the proper securement on any type of restraint system. All wheelchairs must have wheel locks and seatbelts.

Maximum width of chair not to exceed 29 inches.

Door opening height will be 59.5 inches on newer buses. The length of the ramp is 48 inches, therefore the chair and occupant height/length should not exceed these dimensions when possible.

Wheelchair back must come to at least the bottom of the user's shoulder blades.

Push handles are required on all wheelchairs (for evacuation purposes).

Trays should not be used during transportation unless they are a necessary part of the child's support system – determined by the therapist. Storage of trays to be determined by the Transportation Supervisor.

Trays which will be used during transportation should have a mechanism to limit how far the tray can be slid (in case of accident).

Backs which fold forward must have a position lock and be secured.

Q-straint lap belt must be able to go around the user and be positioned properly against the pelvis for safe and effective use. Some wheelchair armrests interfere with the position of this belt. Chairs should be wholly or partially open sided to allow for the lap belt.

The Transportation Supervisor has the authority to deem whether a wheelchair is transportable or not.
Carry on items that may be considered dangerous to the safety and/or compartmentalization concept (those with sharp edges, or dangerously unsafe items for the riders on the bus (e.g. skates), must be transported in enclosed athletic bags on the school bus and kept under the occupants' seat.
Non carry items (including brooms, hockey sticks, shovels, large pieces of athletic equipment, large musical instruments, etc.) are not allowed on the bus with passengers, as they do not fall within the Manitoba Regulation 465/88 and may interfere with the safe transportation of passengers.
A) All Regular / Special Education Programs
Requests for transportation service, reporting changes of address or anticipated long term absences (over three days) - please telephone student's school.
B) Transportation Information
Scheduling, operations and enquiries – refer to the Winnipeg School Division Transportation Department at 204-789-0452 (8:00 am – 4:30 pm).
C) Daily Information
Bus time enquiries, daily absences, lost articles, call Radio Dispatch (7:00 am - until last child is dropped off) at:
Winnipeg School Division - 204-586-8800

Handi-Helper - 204-999-9949

W/C Services - 204-982-0799

Duffy's Taxi - 204-925-1305

Tony's Team Transport - 204-489-3200