École Sir William Osler expansion
September 8, 2023
Announcement, Community, Division Activity, School Activity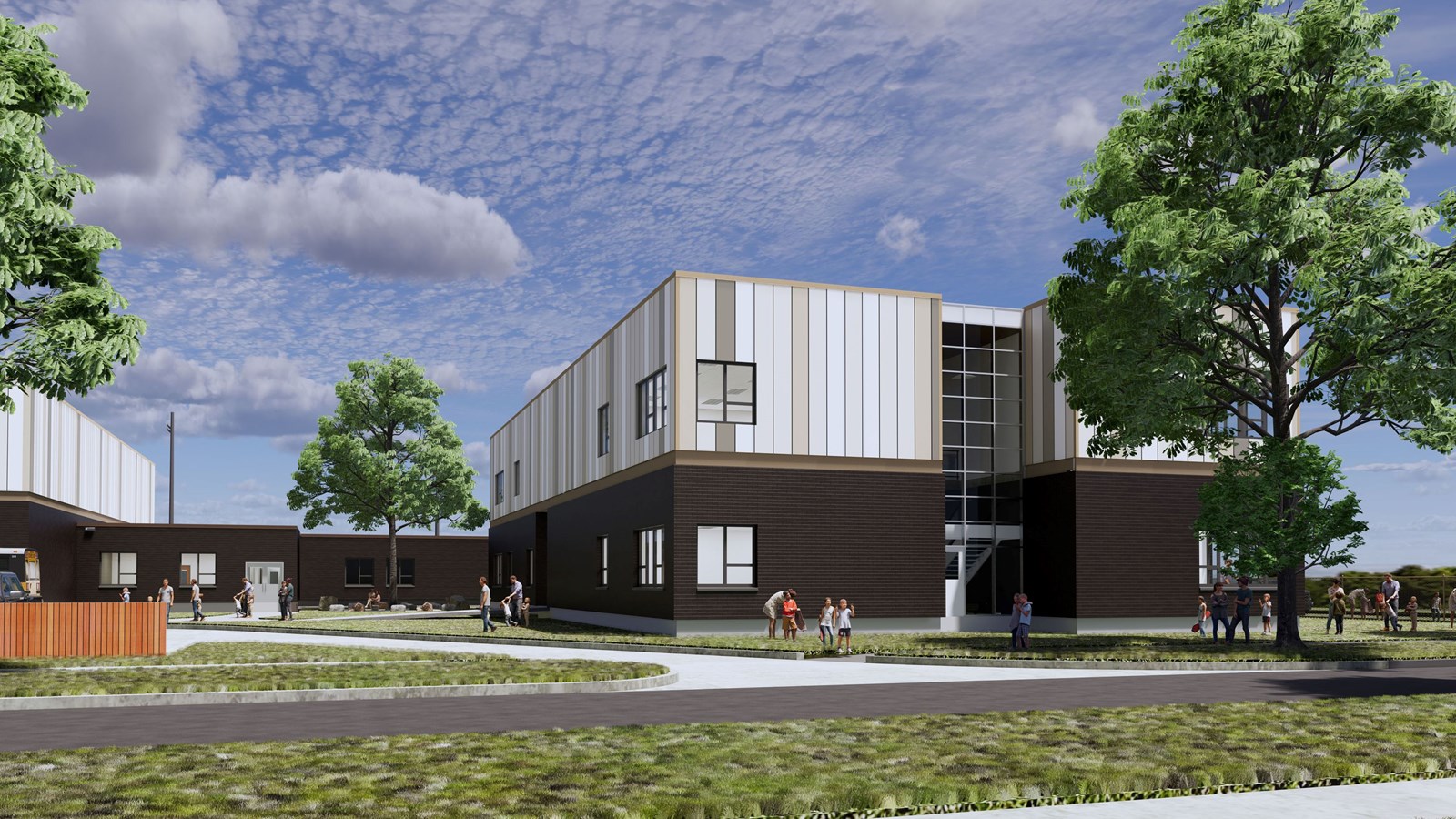 For more detailed information, please see the attachments below.
ESWO Traffic Study Report (PDF)
École Sir William Osler is growing! As planned in 2015 when the school reopened to students, it is growing from a Nursery to Grade 6 French Immersion Milieu to include Grade 7 and 8.
Project update September 2023:
With the tendering process finalized, formal approval has been given by the Province of Manitoba's Education Branch for Winnipeg School Division to enter into a contractual agreement with Gateway Construction to begin work on the addition of approximately 35,600 sf gross area spaces that include a new gymnasium, seven new regular classrooms, a music room, an art room, a science classroom, a special education lifeskills suite, and accompanying ancillary space.
In addition, the scope of work will also include construction of a new 74 seat child care located just South of the new classroom wing addition (on the school site).
Gateway Construction will be the General Contractor of record for the entirety of the project.
Currently, we are awaiting the Building Permit approval from the City of Winnipeg, which will allow construction to officially begin. We expect that to happen imminently.
A bit of history…
The school was originally built in 1955 as single-story building with 10 classrooms, with a further 4 classroom addition in 1957. It hosted various education programs before it was closed as a school in 1991 and used to house several divisional programs, including an adult English-as-an-Additional-Language program site.
In 2015, École Sir William Osler was chosen to address the increased demand for French Immersion Milieu language programing in the southern part of Winnipeg School Division. To initially accommodate Nursery to Grade 6 students, the school saw internal refreshing as well as subsequent renovations including upgrades to the building envelope (walls and roof) to meet current Manitoba energy efficiency requirements for schools.
Why ESWO is growing to Grade 8…
Having a full Nursery to Grade 8 French Immersion Milieu School is a great asset for the community. Parents and guardians want this option for their children, and there is no other French Immersion Milieu school for grades 7 and 8 in the southern part of the division. The current school is completely full with classes at capacity and all rooms being used. A full-size daycare in the community also responds to the needs of a growing and thriving community.
Our Architectural/Consulting design team and Divisional Leadership worked with school administration, Manitoba Education, and City of Winnipeg representatives in the past year to help shape the concept design that was shared with the École Sir William Osler community on January 25. We continue to welcome the community's thoughts and questions before completing design.
The Architectural/Consulting design team is reviewing comments raised by the community regarding location of stand-alone daycare, parking and student drop off loop, improving safety for student access to the buildings, and impact to the site.
What is being added…
The school will see the addition of a new 74-space child-care facility on its property. For the school itself, the project will include a fully accessible 35,000-sq.-ft. expansion for seven new classrooms, a new gym, music room, art room, science classroom and special education life skills suite. The existing gymnatorium will be renovated into a multi-purpose room.
Mindful of costs and minimizing the footprint of the school, the addition is a two-story building placed to best suit the operational flow of the school and the safety of students and staff.
Our commitment to sustainable construction…
With the funding support and guidance provided by Province of Manitoba, all major additions to our schools are being designed to achieve a LEED (Leadership in Energy and Environmental design) standard, this project is targeting a minimum LEED Shadow (Silver). WSD is also striving to ensure that construction and maintenance materials utilized in the renovation and maintenance of facilities follow LEED resource re-use, recycled content, low VOC (volatile organic compounds) and durability criteria.
Maintaining trees and greenspaces…
Winnipeg School Division is committed to sustainable development and has made it a priority for this construction and school expansion to maximize the greenspace and urban forest. More than 70 percent of the property (4.80 acres) will continue to be park-like green space suitable for outdoor sports and play. Changes made to the design after the January community consultation have resulted in a design that will maintain all mature trees on the property and Brock Street boulevard area. Additional landscaping on the property is also part of the project including additional trees.
About traffic and parking…
Across the entire city of Winnipeg and its suburbs, student drop-off in front of schools has become a major traffic congestion and safety issue. To address this, the new construction at École Sir William Osler will include a student drop-off loop on the property. Not only will this solution drastically reduce traffic congestion on side-streets and Grant Avenue, it also significantly improves safety for children as they are picked up and dropped off directly onto school grounds.
Design of lighting in the parking lot will ensure the area is safely lit while minimizing light spillage into the surrounding neighbourhood. With additional staff parking included in the building project, fewer staff are expected to be parking on the street.
A traffic study for the project has been complete and is available to view (see attachment above). This study will address pedestrian, car and bus traffic and parking issues.
Why a separate daycare building…
While it may seem as though adding the daycare to the school would lead to cost savings and more efficiencies, in fact, marginal cost savings would result and it creates some other issues. By separating the daycare from the school, the daycare can have full administrative control of their building meaning they have their own climate control, no end of period/start of period bells disrupting their schedules and ease of access through their own exterior entrance. Included in the new daycare are 20 infant spaces as well as toddler spaces and having no school bells makes it much easier to make sure babies can nap without interruption. The current before and after school-age spaces will remain within the school building.
While safety requirements for both types of buildings is significant, building requirements for schools are different from a daycare as they address the flow and movement of hundreds of students on an hourly basis, compared to the more static movement found in a daycare. These considerations add expense to building requirements making it more viable to have a separate building for the daycare.
Placement of the daycare on the property has also undergone thorough consideration. Due to fire regulations, the main entry of the building must be situated within 15 meters fire truck access. Situating the daycare on the west side of the property along the back lane is not possible since emergency vehicles are not able to turn onto the back lane and there are no fire hydrants close enough. Our team is following up with the city again to explore if further options are possible.