Student Resources
September 27, 2023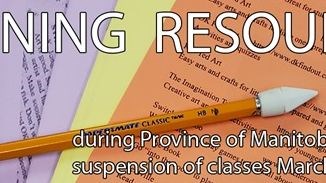 Learning Resources
Your child has an individual username and password ex. student@live.wsd1.org. If they do not have this information or are having difficulties logging in please call the school or email nnorth@wsd1.org. Students can use their username and password to access any Google Meet's the school is hosting, access their SeeSaw classroom, or other programs their classroom teacher has implemented.
Please monitor their use with this account. Digital Citizenship is very important and is something we practice at Mulvey School everyday when using technology. We wish for students to be responsible online whether at school or at home. Let's keep our community safe!
Please note that as a part of the grades 1-6 Mulvey School Math programming, students will continue to have access to the DreamBox Math computer online Math Program. This is a wonderful Mathematics online program that is supported by Winnipeg School Division.
Accessing the Mulvey School DreamBox Student Accounts
If your child says they have a DreamBox account already through school do the following: Use your internet browser and go to: https://play.dreambox.com/login/d7qd/mulveys
Your child will already know their username and password.
Please continue to monitor the Provincial news for any updates as well as our website: https://www.winnipegsd.ca/Mulvey/
Online Learning Resources:
Khan Academy: https://www.khanacademy.org Especially good for maths and computing for all ages. Note this uses the U.S. system, but it's mostly common material.
Seneca: https://www.senecalearning.com A variety of learning activities across the subjects. Mostly geared to grade 4, 5, 6.
Blockly: https://blockly.games Learn computer programming skills - fun and free.
Scratch: https://scratch.mit.edu/explore/projects/games/ Creative computer programming.
Ted Ed: https://ed.ted.com/lessons?content_type=animations&direction=desc&sort=publish-date&user_by_click=student.
All sorts of engaging educational videos for students National Geographic Kids: https://www.natgeokids.com/uk/ www.kids.nationalgeographic.com
Activities and quizzes for kids based in Science and Social Studies Duolingo: https://www.duolingo.com Learn languages for free!
Mystery Science: https://mysteryscience.com https://mysteryscience.com/school-closure-planning Free science lessons for students in Kindergarten and up.
The Kids Should See This: https://thekidshouldseethis.com
Wide range of educational videos Crash Course https://thecrashcourse.com
You Tube videos on Social Studies, Literacy, and Science Crash Course Kids: https://m.youtube.com/user/crashcoursekids
Prodigy Maths: https://www.prodigygame.com This website is used in some of our classrooms already and therefore your student may already have a free account. It is easy to sign up for a free account and is a great resource for practicing Mathematical skills. Intended for grades 1-6.
Nature Detectives: https://naturedetectives.woodlandtrust.org.uk/naturedetectives/ A lot of these can be done in an outdoor space.
Oxford Owl for Home: https://www.oxfordowl.co.uk/for-home/ Free resources for all students in a variety of subjects.
Big History Project: https://www.bighistoryproject.com/home Science videos and readings geared for students in grade 6.
Geography Games: https://world-geography-games.com/world.html Geography quizzes. Great for students in the intermediate grades.
Red Ted Art: https://www.redtedart.com Easy arts and crafts for little ones, prepared and guided by parents/guardians. Materials required.
DK Find Out: https://www.dkfindout.com/uk/fbclid=IwAR2wJdpSJSeITf4do6aPhff8A3tAktnmpaxqZbkgudD49l71ep8-sjXmrac Activities and quizzes.
The Imagination Tree: https://theimaginationtree.com Creative art and craft activities for the very youngest. This site requires some parent/guardian set up and support. Materials required.
Switcheroo Zoo: www.switcheroozoo.com Watch, listen, and play games to learn all about amazing animals!
Into the Book www.reading.ecb.org Go "into the book" to play games that practice reading strategies!
Suessville: www.seussville.com Read, play games, and hang out with Dr. Seuss and his friends!
ABC YA: www.abcya.com Practice math and reading skills for Kindergarten to Grade 6.
Fun Brain: www.funbrain.com Practice math and reading skills.
Starfall: www.starfall.com Practice your phonics skills with these read-along stories, good for Kindergarten to grade 3 students.
Storyline Online: www.storylineonline.net Have some of your favourite stories read to you by movie starts!
Highlights Kids: www.highlightskids.com Reading, recipes, crafts, science and more.