Physical Education
December 4, 2023
During the month of November, the emphasis was on the acquisition of manipulation skills (i.e., striking) as they apply to volleyball (for grades 4 to 6) and simple games and activities such as polo hockey, T-ball and balloon tennis (for N/K to 3). In addition to this, students have been engaging in a variety of games and activities to improve movement skills, personal fitness and enjoyment. In December, students continue to practice manipulative skills and participate in various holiday games and activities.
CLUB ACTIVITIES:
Students in grades 5 & 6 will take part in a volleyball tournament hosted by Sargent Park School on December 6 (AM). They have been practicing during lunch hours on Mondays and Fridays since November 10, 2023 in preparation of the event.
Twenty-six Mulvey students participated in the 2023 Fall Todd MacCulloch Hoop School Program hosted by our School in collaboration with Basketball Manitoba and NBA player Todd, a proud Winnipegger. This program was aiming to teach children the fundamentals of basketball, running from October 17 to November 28, 2023. Students in the program are invited to the University of Winnipeg to attend the Friday, December 1st game versus the University of Saskatchewan.
Thirty-one Mulvey students have been representing our school in the Annual Inner City Indoor Soccer League held at the University of Winnipeg during lunch hours. Our upcoming game in December is set for December 14 versus Fort Rouge School.
Skate Club: 50 Mulvey students have been practicing skating every Tuesday during lunch hours since November 7, 2023. The club activity will continue until February 20, 2024.
Intramurals: In addition to our Physical Education classes, students will be given opportunities to participate in our "Before School" as well as "Lunch Hours" Intramural Activities to develop movement skills, personal fitness, and enjoyment. Please refer to our monthly Intramural calendar.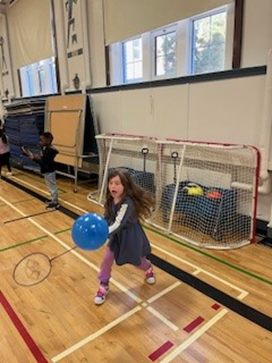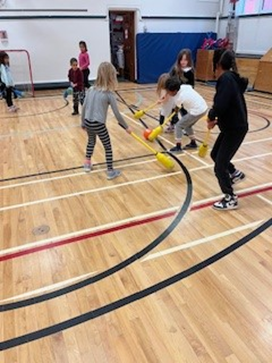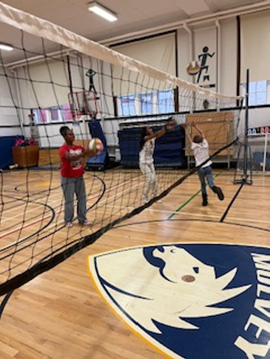 Mulvey School Physical Education Program Overview
2023 - 2024
Introduction
Acquisition of movement skills is a key factor for students choosing to lead physically active and healthy lifestyles. Students are less likely to participate in physical activities and recreational sport if they have not learned the skills or experienced success in applying them. The fundamental movement skills that we teach our students in our program are the foundation or building blocks of an active lifestyle during adolescence.
Physical Education Learning Outcomes Explanation
Mulvey School Physical Education Program is based on the Manitoba Curriculum Framework of outcomes for Active Healthy Lifestyles.
The aim of the program is to provide students with planned and balanced programming to develop the knowledge, skills, and attitudes for physically active and healthy lifestyles. The vision is physically active and healthy lifestyles for all students.
Curriculum Content and Learning Outcomes
Curriculum content is organized within the following five learning outcomes:
Movement: The student will demonstrate competency in selected movement skills, and learning experiences.

Fitness Management:

The student will develop physical activity habits, personal fitness and preparing them for lifelong physical activity and well-being.

Safety:

The student will demonstrate safe and responsible behaviours to manage risks and prevent injuries in physical activity participation.

Personal and Social Management:

the student will demonstrate the ability to work cooperatively with others, and to build positive relationships with others.

Healthy lifestyle Practices:

The student will demonstrate the ability to make informed decisions for healthy living related to personal health practices, active living, and healthy nutritional practices.
Instruction and Programming
For balanced programming in Physical Education at Mulvey School, students receive instruction in the following five physical activity categories:
Individual/Dual sports/games
Team/Group sports/games
Rhythmic/Gymnastic Activities
Fitness Activities
Assessment:
We use an assessment in our program as an educational process for the purpose of improving learning. We monitor student's progress throughout the year to provide ongoing feedback and adjust instructional strategies in order to meet student's learning needs.
Intramural Program
Intramurals are school sponsored non-competitive physical/recreational activities for all with the following objectives:
Give students the opportunity to participate in various activities for fitness and skill development.
Give students a chance to explore and practice movement skills.
Provide sport and recreational activities for all students
Promote leadership, social skills, and responsibility.
Intramurals can be categorized into four types:
Sport Limitations such as soccer, basketball, volleyball, badminton, hockey, etc.
Low organized/co-operative games such as dodgeball, tag, relays, etc.
Special events such as winter/summer fun day, etc.
Clubs such as soccer, volleyball, basketball, badminton, hockey, jump rope, etc.
Mulvey Physical Education Class Rules:
Follow Instructions
Always Try Your Best
Treat Others with Respect
Play Safe, Play Fair

Enter and Exit the gym Quietly
Please feel free to contact me with any questions or concerns about the program.
Mr. Ambaye
Physical Education specialist
The aim of the Physical Education program is to provide students with planned and balanced programming to develop the knowledge, skill, and attitude for physically active and healthy lifestyles. During the month of September, we have been focusing on establishing the routines, space awareness, moving into the general space safely, fundamental skills in soccer and fitness activities. The preparation is underway to participate in the Central Division Soccer Tournament, scheduled for October 10 and 12, 2023 at Tec Voc High School for grades 6 and 5, respectively.
Terry Fox School Run: Mulvey School is participating in the Terry Fox School Run and ready to accept donations. We are so proud to be part of this Canadian tradition in the fight against cancer. Please support our students fundraising efforts and donate today at https://schools.terryfox.ca/Mulvey
The Physical Education Department will offer Intramural program. The program provides safe and supervised physical activities for our school children. Students will be given opportunities to participate in various activities/games. Additionally, we offer Before School Open Gym from October to the end of May, giving our students the chance to practice movement skills and engage in free play from Tuesday to Friday. Please refer to the Intramural schedule.
Intramural schedule for October is attached to newsletter.